How to Avoid Over40Only.com Scams (REVIEW)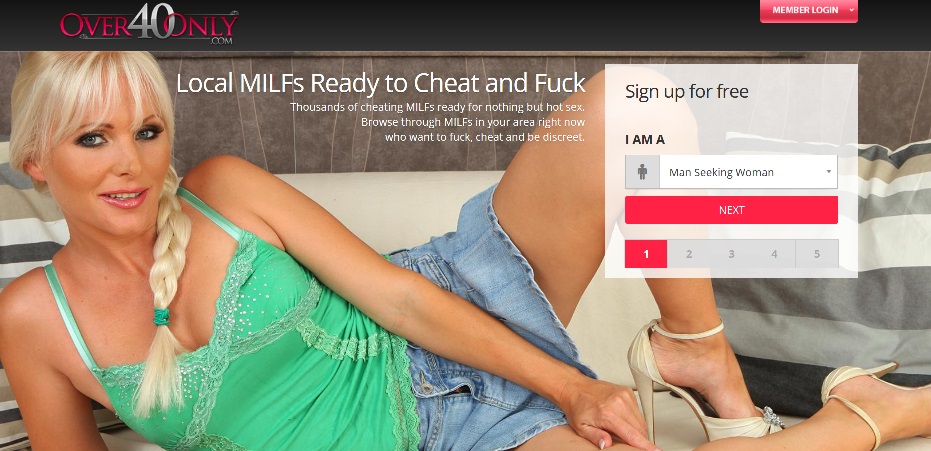 When you sign up on an online dating site, before you can move forward you have to always agree to the terms of use. However, it's a well-known practice that nobody actually reads the terms and conditions. In our investigation of Over40Only.com, it was proven why reading the terms of use document is important. Continue reading as we review the conning tactics of this site.
How Over40Only.com tricks you?
They count on your naivety. The matter of the fact is that if you are aware how online dating scams are operated, you will also know to distinguish a legitimate dating site from a fraudulent one. In fact, it's the non-experienced, naive people who get scammed most often. The fraud begins even as you are signing up and you have to agree to the Terms and Conditions of use, which inform you about the fantasy profiles called "Online Cupids". To make it difficult for users to notice the scam, they put the text in fine print, while seductive and nude photos of older women are flashing in front of your eyes.
How not to get scammed?
1) Don't trust the women on the site – they are fabricated profiles
You were warned about this in the beginning. The site uses fantasy profiles that are labeled with an "Online Cupid" logo. The problem is that almost every profile we viewed and clicked on was an Online Cupid. This means that most of the women's profiles have been created by the site to make it look like there are many women on the site.
PROOF: "THIS SITE USES FANTASY PROFILES CALLED ONLINE CUPIDS®: You understand, acknowledge, and agree that some of the user profiles posted on this site may be fictitious and operated by the Site or its contractors. These profiles and related messages are conspicuously labeled with the Online Cupids logo. Nothing contained in any Online Cupids® service profile or message is intended to describe or resemble any real person – living or dead. Any similarity between Online Cupids® user profile descriptions or images and any person is purely coincidental."

2) Don't pay for membership upgrade – the messages are automated
Besides using the fake dating profiles of women for luring you into signing up to the site, they also use their "Online Cupids" service to deceive you into believing that women are contacting you, chatting with you, and sending you messages. However, we came to understand that these communications are completely automated and computer-generated. Plus, when you try to read the messages from these women or write them back, the site asks you for your credit card information in order to upgrade your account. Here are your payment amount choices:
$1.95 to buy a 3 day trial membership period
$29.95 to buy a 30 day membership
$69.00 to buy a 90 day membership
PROOF: "Messages sent from our Online Cupids® service may be automatically generated with no human involvement. You further understand, acknowledge, and agree that, from time-to-time, Online Cupids® profiles may contact both free users and paid users via computer-generated Instant Messages or emails for purposes referenced above. These messages may be transmitted to multiple recipients at the same or similar time(s)."
3) Don't trust anyone on Over40Only.com – they may be the site's employees
Let's say you didn't detect the fraud and actually began your communications with women on the site. You are probably thinking that the message correspondence seems natural and not computerized. And you will be right because not all of the people on the site are fake. Over40Only.com actually hires and pays people to chat and exchange messages with you in order to keep you paying the monthly subscription fees for as long as possible.
PROOF: "Online Cupids® messages and/or correspondence may be generated by third-parties hired or contracted by Us. In the event the user responds to an Online Cupids® message, either via email or Instant Message, the user may receive one or more additional personal or automated responses from the Online Cupids® profile."
4) Don't think you will meet any dates here – you won't
In fact, the site's owners are aware that you cannot possibly meet anyone on their site, because they know that the dating profiles along with everything from the photographs, to personal information and interests, and all communications on the site are completely fake.
PROOF: "You understand, acknowledge, and agree that no physical meeting will ever take place between you and the individuals providing our Online Cupids® service, and that the exchange of messages between you and the Online Cupids® profile is for entertainment purposes, as well as to encourage further or broader participation in our site's services and/or to monitor user activities."
The verdict on Over40Only.com
This site does not only scam its users, but it also rips you off by using all the conning tools it can to get to your money. We have nothing against paying for online dating sites if you were getting the services you paid for. But, this is not the case for Over40Only.com. They are not interested in helping you find women over 40 years of age that would like to meet up with you. So, this site is a total waste of your precious time and money.
Over40Only.com Contact Info
Address: Dositheou, 42\nStrovolos, P.C. 2028, Nicosia, Cyprus
Email Contact: support@over40only.com
Free Phone Number: 1-888-649-9178
Report Over40Only.com
If you feel that you've been conned and/or ripped off by this site, you can go to the Better Business Bureau's online page to file a complaint and report Over40Only.com.