MyDailyFling Review: All Fake Everything, Read Before Joining
Today I cannot help but express how horrible of a mood I'm in. The good news is that it only helps bring out the honesty in my reviews. I recently landed on a site called MyDailyFling.com aka "My Daily Fling" and I couldn't help but stop to take a closer look at this website. Each and every time I come across a site that uses the word "Fling" in it I have no choice but to research the heck out of it.
"Why," you ask? To be completely honest with you, I think all other fling dating sites are trying to copy the original Fling.com website. They try and do so just to take advantage of innocent consumers and make them think they're joining the original site. That's just my personal opinion, by the way, nothing more.
At any rate, I wasn't going to sit here and let this happen. Nope, not on my watch! So, that being said, I took some time to explore the site, their terms and even dig deep into some of the so-called "premium features" that they offer. Before you take any action at all, give this a read. Trust me, you'll be glad that you did as will your credit card company.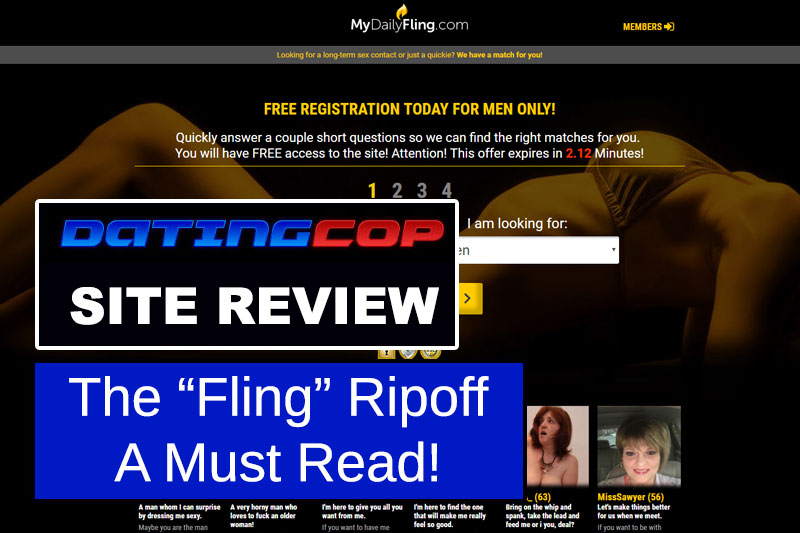 My Review of MyDailyFling.com
Before I get deep in the trenches here and start ranting and raving, I want you to know that this is all based on my personal opinion, nothing more. If you feel differently or want to take action to join the site and try it for yourself, then, by all means, go for it. However, I strongly suggest you read what I've got to share before doing so.
Now that we got that nonsense out of the way, it's time to get down to business. I'll just come right out and say it, Mydailyfling.com is not a good dating site. At first glance, it looks promising, but if you know what I know, then you're able to see right through the nonsense.
In fact, I hate to say it but there are literally hundreds if not thousands of dating websites that operate just like this one. It's just another one of those "entertainment" sites that often lead to zero hookups. I saw it right away within a few seconds of examining the homepage.
The Clock Is Ticking
You'll notice that on the homepage of My Daily Fling, they've got a countdown timer displayed. It states that the offer to join expires in 2.14 minutes. Now, I don't know about you but that's not how I even read the time here in the United States. They used a period instead of a colon to showcase the time. Bad move!
Not to mention the fact that the time literally does NOTHING. In fact, you can test this by refreshing the page. When you refresh www.mydailyfling.com, you'll notice that the time starts over again. That was the first red flag that I stumbled up when visiting the homepage.
Men Only
I also find it odd that the site is showing that it's free for men to register today only. Now, I went ahead and checked this site yesterday and the same copy was up and running. That tells me that this is nothing but marketing jargon and copyrighting to get you to take immediate action.
Fictional Profiles
I did some further digging and determined that quite a few of the profiles on Mydailyfling.com are fake. Yes, they are 100% fake and you've got no shot at meeting these people in person. There will be no physical encounter with them. In fact, there's a good chance that communicating with these profiles is nothing more than chatting and messaging bots.
The information is stated in the text at the bottom of the homepage. I mean, most dating sites bury this information in their terms and conditions. My Daily Fling, on the other hand, has decided to publish it at the bottom of every page. Quite ballsy of them to do so if you ask me.
Then, if you move on to the terms and conditions, they've stated in the second paragraph that they use "fantasy profile interactions." They even go as far as stating that, "It is not the intent of the Website to establish real-life contact between users of the Website." I mean, really? That right there is enough for me to never recommend this site to anyone, ever!
Fake Emails For Marketing Purposes
Now to top that off, the company will likely send you a ton of emails and messages trying to get you to take action. I'm not talking about a couple of emails, I'm talking about dozens, even hundreds possibly.
Their intentions are pretty cut and dry. They want you to communicate with the people sending you messages. However, it's going to cost you money to do so – in the form of credits. Guess what, those credits are not cheap and they're likely to go quickly. Not to mention, you're literally paying money to chat with bots. I mean, how stupid can it be, really.
No Profile Efforts Put Forth
Keep in mind, even if you don't build out a full profile you're still going to get these emails. They're a pain in the neck and that how you know they are 100% fake. No girl is going to send some random guy without a photo a message to chat and perhaps hookup. It's not in their nature and if you believe that, then you're crazy.
Terms Reveal Everything
If you're seriously still considering using My Daily Fling, then you best take the time to read the terms and conditions. They reveal literally everything that this website does and then some. As the datingcop, I cannot let you leave thinking that this is okay because it undoubtedly is 100% NOT okay. Terms disclosed or not, I can't suggest joining. There's no reason for it.
Conclusion: MyDailyFling Is A Waste Of Time & Money
After everything that I've shared about MyDailyFling.com, there should be no questions as to whether or not you should join this site. It's what I might consider the worst I've seen in a long time. In fact, you'd be better off joining one of these shady escort forums like USASexGuide instead and spending your money on some crackhead hooker posting there. But seriously, don't waste your time or money here on this wannabe Fling site. The "OG" Fling site is the best of the best, period.
If you're looking for a list of the best sites – SEE BELOW: