So far the Dating Cop team has reviewed many fake and scamming dating sites. It has gotten easier for us to differentiate the real ones from the scams, because the fake sites are usually using the same conning techniques. However, many users still fall for these online dating scams and that's how sites make their money. In this review we analyze SetForSex.com and we invite you to continue reading and learn how to protect yourself from online fraud.
Only the "Sign Up" is for free
As you can see in the image above, SetForSex.com is flaunting the word "free" in several locations on their main page. But this is just a psychological game of creating a comfortable setting for users; so that they begin see the site as legitimate.

In reality, this site is anything but free. Here is how much you will be asked to pay in order to communicate with anyone on the site:
$1.00 to buy a 3 day trial period
$34.95 to buy a monthly membership
$74.82 to buy 3 months of membership
$107.70 to buy 6 months of membership
$155.40 to buy a yearlong membership subscription
What are you paying for?
1) Email Messages Sent by Computer Software
You will set up a free membership account and when you will try to chat, send and email, read a message or interact in any way with female members of SetForSex.com, you will be taken to a page that asks you to pay in order to proceed communicating. Actually, you'll be getting emails within minutes after creating you free account. Their goal is for you to think that women are interested in you, and eventually take out your credit card.
EVIDENCE FROM THE TERMS OF USE: "The FC services will include the posting of information, pictures and communications to the Member and/or Subscriber's profile. The FC will contact both free Members and paid Subscribers via text based communication either within the Website and/or via email. The deployment of our FC services is to encourage broader participation in our services and to educate members regarding the sites various features and communication tools."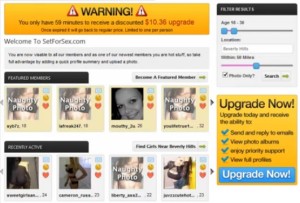 2) Non-existent Women Called "Fantasy Cupids"
If you read the small letters on the main page when you were signing up to the site, you have seen that you are automatically agreeing to the use of so called "Fantasy Cupids". Every female profile labelled with the letters FC –an abbreviation for "Fantasy Cupid" is NOT a real profile of a woman looking for some online fun. "Fantasy Cupids" are fabricated profiles created by SetForSex.com, and if you look further, you will see that you cannot find a single real woman on this site.
EVIDENCE FROM THE TERMS OF USE: "By accepting these Terms, all Members fully understand, accept and agree to the deployment of the "Online Cupids" service, and acknowledge that some of the profiles and Members displayed to them will be fabricated. By accepting these Terms you further acknowledge and agree that any information or pictures displayed to you via a FC's profile does not relate to an actual person but has been provided for the above mentioned reasons."
Why does SetForSex.com need "Fantasy Cupids"?
In the Terms and Conditions of use section, SetForSex.com claims that the use of the fake women's dating profiles also known as "Fantasy Cupids" is a program used to stimulate interaction between site members and for entertainment purposes only. We seriously doubt that unless your idea of entertainment involves paying a lot of money for nothing. We believe the truth lies in the fact that SetForSex.com has no real women ready to have fun on their site, so they have to invent them.
The verdict on SetForSex.com
This site uses fabricated women's profiles to send you email messages and deceive you in any way possible into paying for monthly and yearly subscription. If that wasn't a deal breaker, SetForSex.com is also associated with NaughtyOver40.com and JustHookup.com, which are well known and scamming online dating sites.
SetForSex.com Contact Info
Address: Station House, North Street, Havant, Hampshire, United Kingdom, PO91QU
33 Throgmorton Street, London EC2N 2BR
Email Contact: support@date-support.com
Report SetForSex.com
Contact the Better Business Bureau and file a complaint if you feel that you have been scammed or ripped off.