It's October 22, 2023, and I'm republishing my review of the site. Also, I'm here to officially say that Fling.com is the best dating site I've ever used. As the Datingcop.com, I've tested and investigated them all. The only conclusion I have here is that Fling works and it delivers an experience like non other. 
Fling is an online dating site we encountered on the web, and as our job is to investigate any site that comes our way, we set out to explore what Fling.com is all about. This site offers casual adult dating services to its members and makes search for the right match easy and fun. If you'd like to find out what we concluded from our investigation, continue reading this review.

How To Use Fling To Find Sex
After signing up as a free member on the basic membership model, you can check out the site's home page where you can see photos of male or female site members (based on sex preferences you selected), search for members within your close area and constrict your search to a desired mileage distance.
The site also has some interesting features you can use, such as:
Video Chat Rooms – to video chat and check out other members who use this feature
Blackbook – is your list of friends who you add as your private circle
Discreet Mode – for your profile picture, so only your blackbook friends can see
Who's Cute – a feature where you rate site users "Hot" or "Not" (like on tinder)
Safe Search – to disable viewing of explicit photos and videos
Live Cams – to virtually connect with gorgeous women
My Favorites – is a list of site members you've added as your favorites
Who's Viewed Me – to check and keep track of users who checked out your profile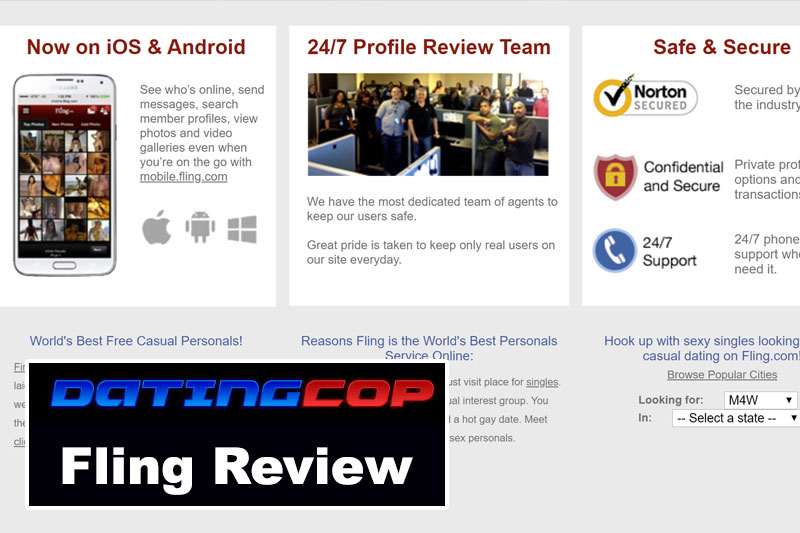 #1 Full Access as a Free Member
From all the dating sites we have reviewed so far, this is the first site to provide its free members with access to all features, services and functionalities. You can check out the site and whether you like it starting with a very inexpensive trial membership period, during which you can contact up to five other members per day, review photographs, video chat messages, instant chat messages, search for matches and specify your search based on age, sex, personal interests, sexual preferences, photographs, distance and location, ect.
#2 Fling.com Doesn't Extort Money OR Rip You Off
While we were almost certain that the payment options will raise a red flag and point towards scam, we found out that Fling.com is really free. Other dating sites will only flaunt the word "FREE" to deceive you, but Fling.com is at your disposal without extorting your credit card info. While other sites request paying a subscription fee and will automatically take you to a payment page whenever you try to open or read any kind of communication you receive or start a conversation with a member you like, Fling is not like that. Actually, you can look at other member's profiles, send and receive messages, create your profile and add nude photos, browse through directories, etc. However, the site includes two types of membership upgrades if you'd like to become an exclusive Fling.com member.

Featured Membership
$9.95 bi-weekly fee to show up above the fold on every search page
Silver Membership
$4.95 for a 3 day trial subscription period
$24.95 for a monthly subscription on the site
$49.95 for 3 months of subscription on the site
$99.95 for 12 months of subscription on the site
Gold Membership
$34.95 for a monthly site subscription
$59.95 for 3 months of subscription on the site
$119.95 for 18 months of subscription on the site
*Important: Note that both, Silver and Gold membership packages come with a 3 month guarantee, which means that if you don't find a match and hook up within those three months the site will grant you another three months of completely free of charge Fling.com membership.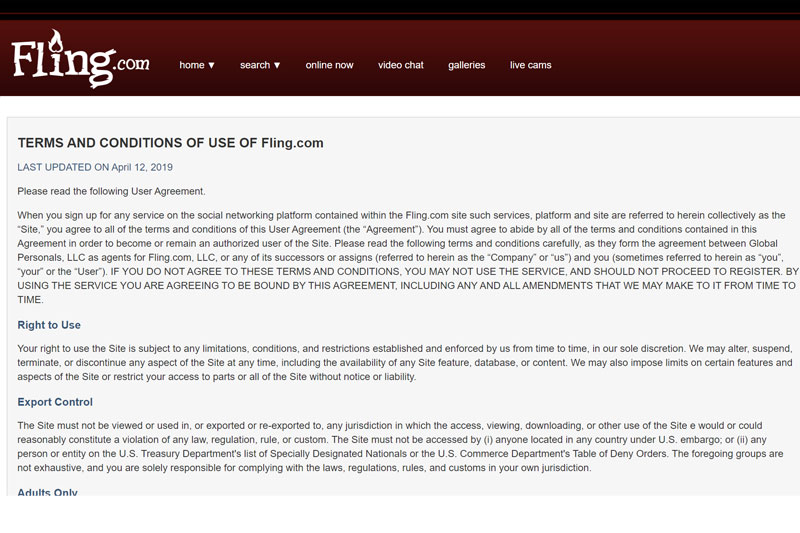 #3 Real Dating Profiles
The people who are members of this site are real and are not fabricated profiles created to scam you. When we do a review, we like to open as many profiles as possible and investigate by downloading the profile pictures and running them through Google's image search to see if they are widely used across other dating networks.
The ones we encountered on Fling.com were genuine and not replicated. Another thing that usually makes us suspicious and points to scam is if the people you see look like models and are too good to be true. But, members and photos on Fling.com look real and have stayed active on their profiles for a very long time which leads us to believe they are finding the dating service helpful.
#4 Fraud Team and Support Team
In our investigations, we like to carefully read the terms and conditions of use and figure out what's hiding behind the mask. On Fling.com's terms of use page, we encountered a section that explains how the site protects its members from conning and fraudulent actions. They have employees whose job is to guarantee you are safe while using the site.
They review reports of abuse and any flagged content, reported profiles, or postings and communications that violate the safety regulations. They will further address any questions or problems users send through the site's official email contact address. Moreover, they are responsible for running routine check-ups on random chat rooms and member profiles to make sure there aren't any activities that violate the terms of use agreement.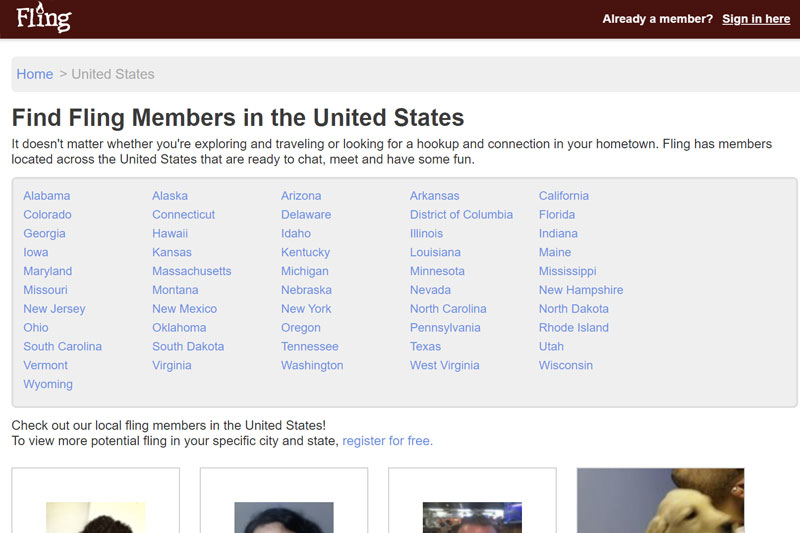 Why We Recommend You Join Fling
All in all, Fling is a legitimate and fun dating site to join and use. It offers free membership, it has genuine features and services, real site members and offers a 3-month hook-up guarantee on top of having a fraud detection and support teams. We say you check it out and explore the possibilities to see for yourself. As for us, we have already added Fling.com to our list of verified dating sites.
If you have any additional question, would like to share a personal experience you had on this site, or would like to give feedback on our Fling.com review, feel free to post in the comments section below. We try to provide a personal and prompt answer to all legitimate inquiries.
Fling.com Contact Info
Address: Lawrence G. Walters, 195 W. Pine Ave, Longwood, FL 32750
Email Contact: support@gpnethelp.com
Fax: (407) 774-6151
Get started with your profile on their Official Website.
How To Delete A Fling Account
We understand that some people get into serious relationships and no longer wish to casually date. When that happens, they often want to delete or cancel their dating membership. That's why if you fall into that category, you'll find instructions on how to easily cancel and delete your Fling account in a matter of seconds.
Honestly, this whole process couldn't be easier. Here's what you need to do if you decide you're ready to cancel your membership.
The first thing you need to do is log into the Fling.com website. Find your profile photo and click on it. You'll notice that there is a drop-down menu that exists. When you find it, click the Account Settings button and then lastly, click on the small checkbox that reads something like, "Make My Profile Inactive" and at that point, your account will be deactivated from the website.
Next, you'll want to cancel the charges. This is even simpler. Find the email that you received when you joined the site. It will state whether or not you joined via Epoch, CCBill, Segpay, or whatever other billers they may have used.
Contact that biller and tell them you've deactivated your account and you want the subscription associated with that account canceled. Presto, you're done! If you want to reach out to the company directly, then just email support@instahelp247.com and they'll be able to help further assist you.
Below is a screenshot of the instahelp247 / Fling support page. See how easy it is to cancel? You can do it in a matter of minutes.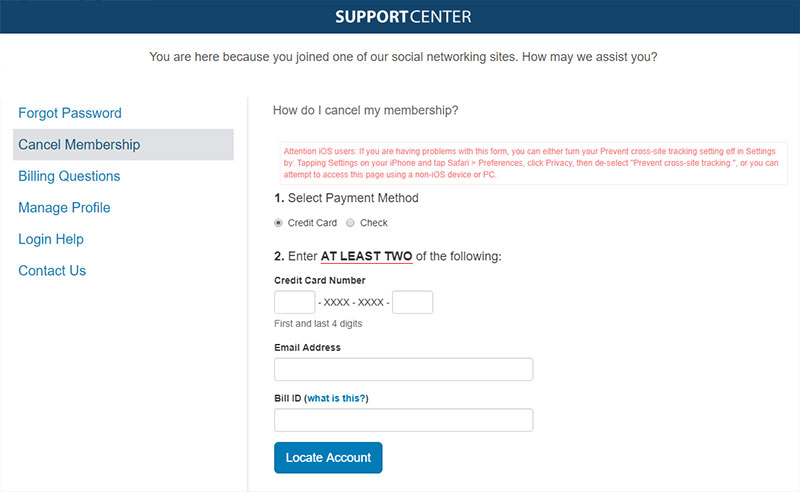 Common Words Spelled Incorrectly By Horny People
Did you know that many of the Fling visitors have trouble spelling? Yup! They definitely do. Here's a rundown of the most common spelling errors that we've seen when people are searching for the Fling.com brand on the Internet.
fling co
flingcom
flin glogin
fling.co.
fling.cpm
fling.c9m
fling.cm
fling.cin
fling cm
fling.om
flimg com
How To Searches The People Search For On Fling.com
If you've been interested in any of the following things, then Fling is likely right for you. These are ALL the top searches people are making to try and improve their sex life. If you are into doing any of these things, then this is for you – simple as that! I included the "cancel" search because that's a common search as well.
how to find an orgy
how to find orgy
how to find orgies
how to find a nympho
how to find a slut
how to meet a nympho
how to find nymphomaniacs
how to find nymphos
how to meet sluts
how do i delete my fling account <– See above for the answer!
how to find sex slave
how to find sluts
how to meet other swingers
how to meet local swingers
how to find swingers in your area
how to meet swingers
how to find slut
Conclusion: So, Is Fling.com Legit?
If you're looking for a dating network that covers just about everything you can imagine, including swinger sex and more, then the Fling.com app and site are the way to go. Trust me, I would not steer you in the wrong direction – EVER.
Now, if you want to and haven't had a chance to join the Fling dating site, then click here to get registered today!