Are you on snapchat? How about the online dating site called SnapSext.com that is similar, but allows you to trade private selfies and get hooked up? As other sites have called it, this site is the snapchat of sex application and is currently growing to become the most widely used social app. In this review, we will get to the bottom of the services and features SnapSext.com and explain why we find it to be a fun and safe service.
What To expect On SnapSext.com?
legitimate members who are ready to communicate
exchanging naked selfies and video chats
easy to break the ice and start chatting
find your dating match in your local area or near proximity
separate features that help you search for specifications, view who is online at the same time as you are, video chat and group chat, who are trending members, live cams, etc.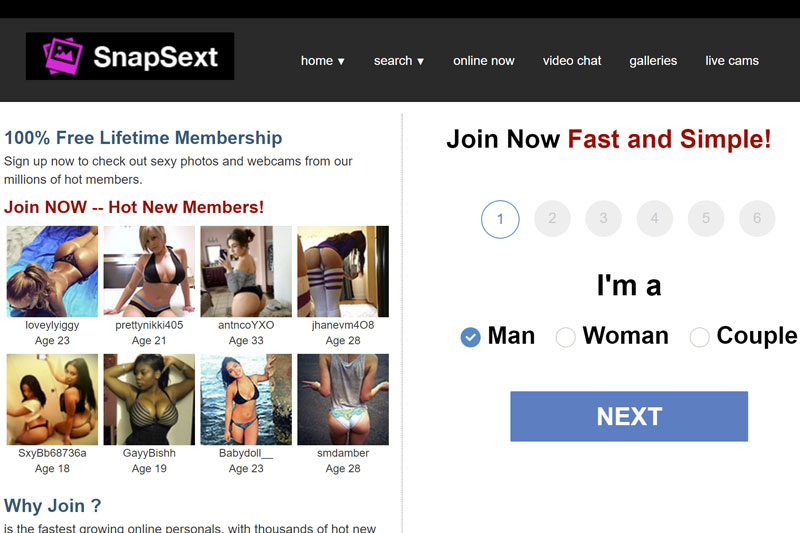 How Do I Use Snap Sext Dating App?
Signing up and creating a personal profile on SnapSext.com is very easy. In fact, we were ready to explore the site following a quick registration and the best thing was there were tips included to help us build a solid profile. From there, you can either use the tinder-like widget that helps you go through selfies posted by other members and rank the "hot" or "not". Also, to help you search, the site offers you to choose specific criteria that you prefer about the appearance, age, and distance.
Another awesome thing about SnapSext.com is that they guarantee to give you a free membership if you don't hook up during the period you paid for initially.
Investigating the legitimacy of SnapSext.com
Besides using the site itself to see how communications flows and how the site itself works, we went through the terms and conditions of use to see if SnapSext.com has anything hiding from the plane. These are our findings:
1) No Fabricated Profiles
The fabricated profiles are usually one of the easiest telltale signs of fraud. Other sites tend to create profiles of their own with other people's photographs and made-up information, which is completely not the case on SnapSext.com. Plus, there is no way to fabricate unique selfies of so many members.
However, just to be sure we ran some of the personal photographs through Google's image search to verify their uniqueness, and although some were found to be online, they were connected to private profiles on other social media networks which weren't dating sites. Plus, their names corresponded to the ones used on SnapSext.com.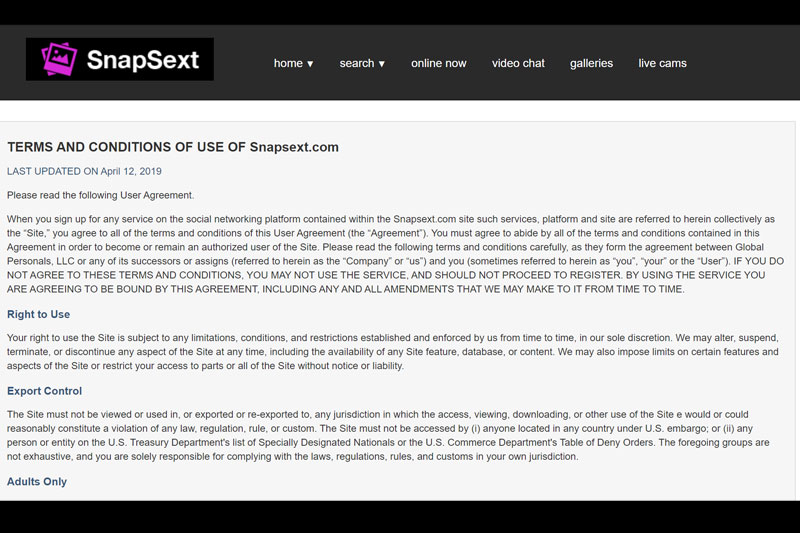 FROM THE TERMS AND CONDITIONS: "No Service Created Profiles. Unlike many competitors, this Site does not contain any profiles created by the Service whether to increase member numbers or entertain or otherwise engage with users of the Service nor for any other purpose."
Also, check out this video review to see how using the site looks like and learn more about what other people think of SnapSext.com.
2) Working To Keep You Safe And Secure
While there can never be a guarantee that a person with insincere intentions might also sign in and abuse the site, SnapSext.com works hard to keep real users safe and eliminate fraudulent ones that are not complying with the terms of use.
The site even has a fraud team and a support team that has a task to review reports of abuse, suspicious dating profiles or content, untruthful communications, or posting of information that are considered inappropriate. The SnapSext.com support team will promptly answer any of your questions or address issues. This way, the site succeeds to keep the dating clean of scammers, as much as possible.
FROM THE TERMS AND CONDITIONS: "The Service utilizes both a Fraud Team and a Support Team. Fraud Team members are tasked with reviewing abuse reports and flagged content, profiles, communications and postings. The Support Team is tasked with receiving and addressing account questions/issues, access problems, DMCA Notice response and receiving law enforcement inquiries. Random chat rooms and profiles may be reviewed from time to time as to whether or not the users in such rooms and profiles appear to be adhering to this Agreement."
SnapSext.com Contact Info
Address: 705 Washington Ave 2nd Floor, Miami Beach, FL. 33139
Email Contact: support@gpnethelp.com or Contact Page
Phone Number:  +1-305-712-6612 and  1-855-443-5464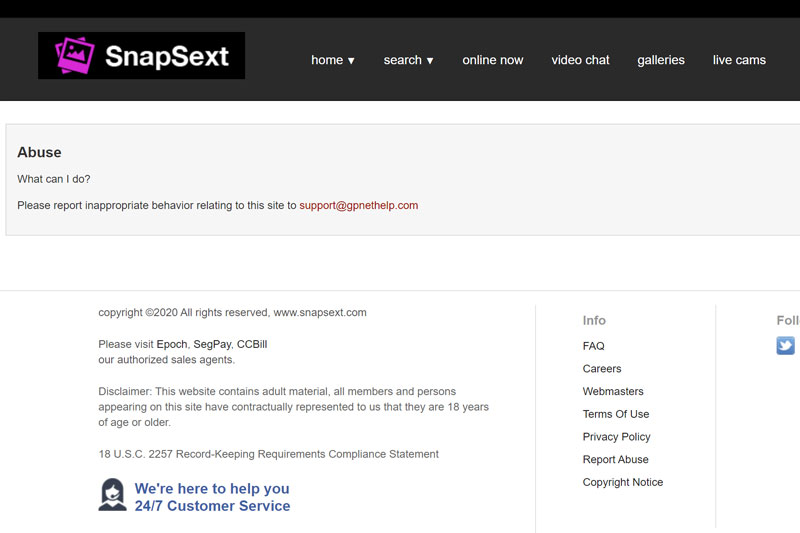 Frequently Asked Questions
Is Snapsext easy to cancel? Honestly, it couldn't be easier to cancel your subscription here. I've joined and canceled with no issues or effort period. In fact, it's one of the easiest that I've ever dealt with. 
Is there always support available? Yes, customer support is absolute money and perfect for anyone that might be technologically challenged. You can reach support on mobile or desktop. 
When I cancel, is my SnapSext profile deactivated and deleted? If you wish to delete and deactivate your profile, you can do so in less than 10 seconds so long as you have the login information for your profile. 
The Verdict On SnapSext
Snapsext is a legitimate and fun dating site to join and use and encountering sites such as this one is a rare thing. It provides you with genuine features and services, real site members, and has fraud detection and support teams. We give it a thumbs up and have already added it to the list of snap date sites that we consider safe for use and recommend. If you decide to check it out, feel free to come back and share your experiences with other readers. Your feedback, as well as any inquiries that you might have, are welcomed.
Well, that's all I've got to share and say about the Snapsext network. If you've still got questions, then please contact me with any of your questions or concerns.