I don't know about you, but I'm a weed guy and being that I am, I do like to hook up with girls who smoke. If you're looking for girls that smoke dank and like the D then you might want to check out 420Bang! I've gotten laid using 420Bang.me and I am pretty sure you can too. But before you do, I suggest you read my review.

My Review of the 420Bang.me Dating Site
If you're stoned half the time and you don't want anything too complex to get laid then you've found your match right here. There's nothing easier than logging into a user-friendly dating site to connect with a hot stoner that wants to smoke week and hook up. I came across this site after a night of passing the bong around with a few friends and decided I'd give it a shot.
What can I say other than I like weed, I like girls and most of all, girls that smoke weed. So I decided to try it out.
The Process
I wasted zero time signing up. In fact, in about two tokes I was completely joined and ready to lurk around the members area for some people in my local area. Given that finding people to date that are open about smoking weed isn't that easy in general, it was a breath of fresh air knowing that I was able to easily connect with girls that just wanted to smoke and poke so to speak, LOL.
I joined, set up my profile to the fullest extent (even though I was a bit too high to get into the nitty gritty of things) and I started searching the site heavily. The purpose of the site is pretty blatant and it doesn't take a rocket scientist to understand. If you're not a rocket scientist then you should join 420bang.me. If you are, well, it's probably not for you and you likely don't smoke weed anyway. I know, I'm being stereotypical here but with having such a good job working for NASA you probably don't have time to date anyway. Sorry, I digress…
Here's How To Get Started
Go through the motions of setting up the account by selecting your sex, who you want to meet, enter your zip code, your age, and type in your email address, choose a funky password that only you'll remember and click the "Continue" button to join. You'll need to verify your address by checking your email before getting your profile completed. At that point you'll have joined the website and you can then start browsing through all the girls in your local area. Be sure to enter your zip code so that you're only searching for people near you.
My personal experience was the first week was a blast! I ended up literally spending more time on this dating site then doing anything else. it was super fun and I've been on it ever since.
Did I get laid? That's a silly question. I wouldn't keep using it if I didn't. So the answer is, YES.
More About 420Bang
This dating site is legit for people that are open to smoking weed and those that are so called 420 friendly. The site has a ton of members from the United States primarily. I noticed that there were ALOT of members from California, Colorado and Florida on here. However, if you don't live in any of those states, you 're still in luck because there are plenty of people from all over the U.S. on here really.
The Cost
The site is absolutely free to join. It's literally not going to cost you a dime to become a member. I do need to let you know that if you want all the best features and to have the best success using the site then you'll want to choose one of the upgrade options that they offer. The cost is still cheap as hell. It costs less than a dime bag for a monthly membership if you join for a year.
My Favorite Site Features
Mobile App That I Can Use To Access Site Anywhere
Awesome Messaging System and Video Chatting
Cool Responsive Members That Love To Share Photos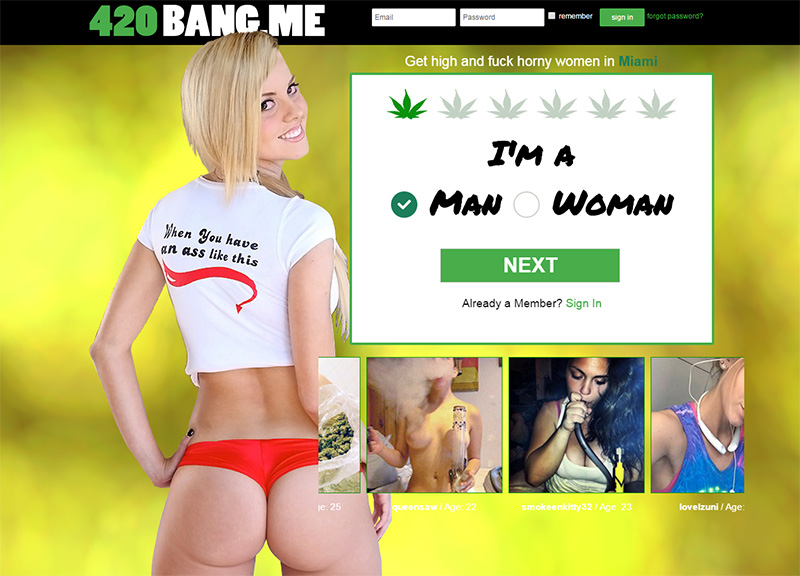 My Experience and Conclusion
First off, I already mentioned that I've been using the site for some time now. I spent about a week on it and met a few super cool college girls in my local area. We ended up smoking weed and banging that week. I've been connecting with other girls on the site ever since. If I had to guess, I'd say I hooked up with about 8 girls since joining. That's plenty for me too.
In conclusion, I'd say that if you're looking for a 420 friendly partner, then I suggest you join 420Bang.me today. The site's functionality is easy and the customer service is perfect. They even helped me get upgraded when I didn't know which option to choose.
If you're a weed lover then you'll love this site.