Sometimes even I run out of sex date ideas and I need to get creative when it comes to determining what types of things I can drum up for good night time fun. I've decided to share some of my favorite and most creative ideas below with you.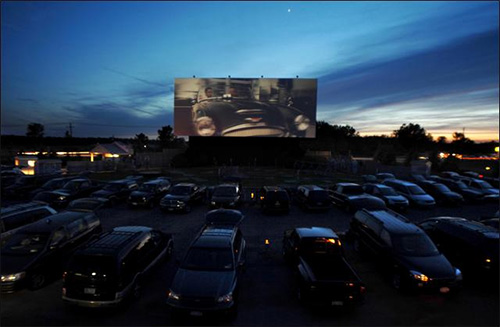 Sex Date Night Ideas To Get You Laid
Lining up the sex date night is just the first part of it. Actually going on the date is the tricky part when it comes to planning things out. Here are a few gems for you to think about when planning your trip!
Drive-In Movie
If you live by a drive-in movie theater then I'd suggest that you possibly think about taking in a movie with your hot date. Drive-in's are great because you can bring your own booze and even get laid occasionally during the movie. A worst case scenario is that you're getting to third base on your date. I've personally had sex while on a date with a girl at the drive in. It was awesome.  Perhaps it'll be hard to convince an older woman to do this, but with the younger women, you'll be just fine.
Sex Shop Trip
This one is a bit risky if you don't know her likes and dislikes in terms of sex, but it can be really fun. Sometimes women are a bit reserved and you could intimidate your date with this one so proceed with caution. However, if you find the person, you'll be in the sack in no time after picking up some toys to try out!  I'd recommend trying this with any woman you meet on SnapSext.
Restaurant Then Dance
The restaurant and dance option is relatively safe but it works and it's one of the  fun sex date night ideas that often actually turns into a sex once you both start touching each other, getting close and sweaty and the rest of all that stuff! It's worth giving it a shot for sure. Trust me on this and give it a go with someone you meet during a casual sex date.
Fine Wine Tasting
I love the idea of taking a date to a wine tasting event, getting her drunk enough to want to bang and then actually having sex with her! It's really something that's truly magical sounding to me and I'd love to do it this weekend even. If you haven't been to a wine tasting, I must warn you first. You're not supposed to drink too much wine. Just try some and buy a bottle of something that you like.
Raw Oyster Bar
Oysters turn some girls on and they make them horny enough to want to have sex. No, I didn't make that up. It's a well-known fact! Confirm that the girl you're going on a date with actually like oysters before making the plans, though.
That should be enough sex date night ideas for you to try and get your weekend off to a perfect start. Try to line up a couple dates and use my ideas. Don't worry, I don't need any credit for any of it. Just go get laid and have fun!
Need a date?  Click here to see our recommended dating sites.