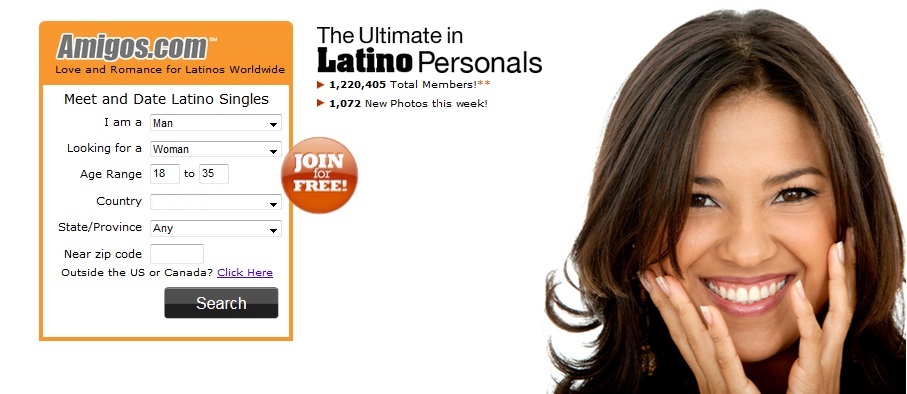 Amigos.com promises love and romance for Latinos Worldwide. But is it too good to be true or can this dating platform really provide matchmaking services for all Latinos wherever they are? We invite you to decide for yourselves after reading our review of Amigos.com. In the end, feel free to leave your feedback or questions and join in the conversation.
Facts about Amigos.com you should know
Amigos.com gains exclusive rights over your personal data posted on your dating profile. Then, they can lawfully distribute them across other dating sites without any notifying you.
This is not a free dating service although it misleads users by saying that they can join the site and find the right matches for FREE. But, you will be charged!
They justify computer-automated messages as being "electronic communications" needed for them to provide the service. These messages are used to scam you.
If you search well enough, you will find out that there are no real people behind most profiles and Amigos.com is a rip off.
How Amigos.com deceives you?
Other than creating a profile to help us explore Amigos.com, we thought it would be a great idea to read the terms and condition of use, as well as the privacy policy of the website. That was a good idea, as we were able to find solid evidence that prove Amigos.com is an illegitimate dating service.
1) Exclusive Rights Over Your Profile Data
Amigos.com gains all legal rights over all personal info that you upload on any public area of the website, including your dating profile. Whether it's your own photographs, information about your age, personal description, info about your race, interests or hobbies, or anything you write about yourself on the profile, it will no longer be yours after you post it on the site. Amigos.com then gains exclusive rights to do just about anything they want with your content, including taking, reusing, changing, and distributing these data to other dating sites within the same network, or even selling them to other dating sites and companies to use these info.
SCAM EVIDENCE: "Once you post, send or otherwise make publicly available any Content through the Services ("Personal Content"), you expressly grant us, and hereby represent that you have the right to grant us, a perpetual, irrevocable, world-wide, assignable, sub-licensable, and transferable right and license to quote, re-post, use, copy, reproduce, modify, create derivative works of, incorporate into other works, distribute, transmit, broadcast, communicate, publicly display, publicly perform and otherwise exploit such Content in any form or media, anywhere, and without any notice or compensation to you of any kind."
If you think that your personal communications with other site members are private, and therefor they won't be used for the site's purposes. Well, this is where you'd be wrong because even private communications belong in the public domain.
SCAM EVIDENCE: "You acknowledge and agree that your communications with other users or members via chats, conferences, bulletin boards, blogs, posts and any other publicly accessible avenues of communication through the Services are public and not private communications."
2) Subscription Fees and Paid Membership
When you come to Amigos.com and see all these gorgeous women and get many notification and emails, they all seem very real and genuine to you unless you are experienced in how some online dating sites work. The trick is this: when you try to send someone a message, or try to read an email you've received – YOU ARE UNABLE TO. Then, you are automatically redirected to a different page where they ask you to choose a payment plan and provide your credit card info. Here are the offered choices:
Silver Membership Plan
$9.99 for a monthly subscription to the site
$26.97 for 3 months of subscription to the site
Gold Membership Plan
$19.99 for a monthly subscription to the site
$35.96 for 4 months of subscription to the site
Fees to allow a standard member to contact you
$19.99 for one month of using the service
$35.97 for 3 months of using the service
Fees to highlight your profile
$9.99 for one month of using the service
$26.97 for 3 months of using the service
BUT there is a catch!
SCAM EVIDENCE: "In order to provide continuous service, we automatically renew all paid subscriptions for the Services on the day such subscriptions expire. Such renewals shall be for a period equivalent to the period of your initial subscription to the Services or a shorter period of time if specified, and in our discretion, at the price of the same or comparable Services then in effect."
The verdict on Amigos.com
If you are wondering why Amigos.com is taking and re-using your personal profile data and correspondence, then you should know this:
Amigos.com uses your info to create duplicate and false profiles on other networks.
Many dating profiles on Amigos.com are fabricated from the profile data other people once shared.
Messages and communications sent to you are also taken and reused, sent to you automatically through computers.
Your conversations are also used and distributed to others to make the whole scam look more real.
You are charged a renewable membership fee until you cancel your subscription.
Amigos.com Scam Questions
For anything you might have to ask or add, feel free to post in the comments section below. We'd love to read about your personal experiences on Amigos.com or answer any additional inquiries you may have.
Amigos.com Scam Questions
Address: 910 E. Hamilton Ave., Sixth Floor, Campbell, CA 95008, USA
Email Contact: privacy@friendfindernetworks.com and Contact Page
Phone Numbers: 1-408-702-1033, (408) 702-1040 and 888-575-8383 (US and Canada)
Report and File a Complaint
Contact the Better Business Bureau to report the site if you feel you have been deceived, scammed and/or ripped off.
These Work Better
If you're serious about finding some real friends online that want to bang, then I suggest you check out the sites listed below. They'll change your life, literally! Don't waste a single second of your time using Amigos.com, these are proven to work below or your money back.