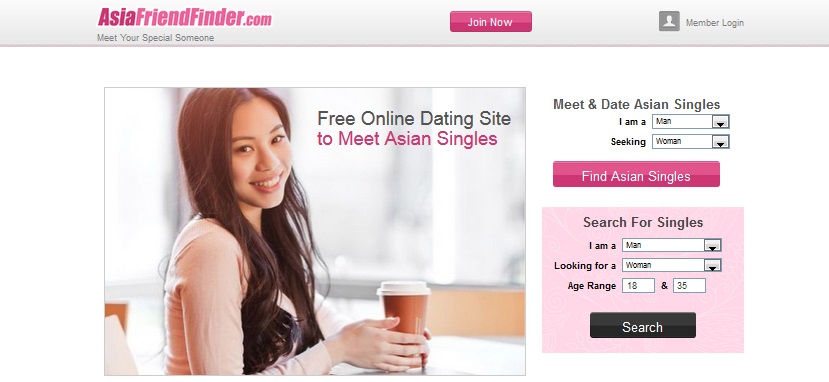 AsiaFriendFinder.com is an online dating community that promises local dating opportunities for single Asian people. But, it's not only oriented towards the Asian world, but claims that it has Asian men and women from all over the world, waiting to connect (over 7.5 million members to be more accurate). But is this really the truth? Can you find your true match on AsiaFriendFinder.com? Sadly, the answer is NO. But, continue to read here to learn how to protect yourself from the scamming tricks of AsiaFriendFinder.com and from future illegitimate workings of other websites.
Here is what we found about AsiaFriendFinder.com:
Your information is no longer only yours from the moment you upload them on the site
Personal profile data are distributed to other sites and used on AsiaFriendFinder.com to create false members' profiles
You agree to receive emails and notifications, many of which are computer automated
AsiaFriendFinder.com is not a free site and will rip you off
Scams we spotted on AsiaFriendFinder.com
After the initial sign up process, we continued researching and after carefully checking every corner of AsiaFriendFinder.com this is what we discovered in the Terms of Service agreement:
1) Your Data Are No Longer Yours
The first scam happens at the very moment you start building your profile, uploading photographs, posting personal information, and customizing your profile. If you don't read in the terms of use, then you won't even know that AsiaFriendFinder.com gains absolute proprietary rights over any content posted on a public area of the site. Your profile, as well as your messages and communications fall in the public domain of the site and can freely and legally be reused by AsiaFriendFinder.com. You will be surprised to see your photos and data on other dating sites that are owned by the same company as AsiaFriendFinder.com. You may also encounter your data on other dating sites outside of this dating network because AsiaFriendFinder.com also has all legal rights to give or sell these info to other dating networks they partner with.
FROM THE TERMS AND CONDITIONS OF USE: "Once you post, send or otherwise make publicly available any Content through the Services ("Personal Content"), you expressly grant us, and hereby represent that you have the right to grant us, a perpetual, irrevocable, world-wide, assignable, sub-licensable, and transferable right and license to quote, re-post, use, copy, reproduce, modify, create derivative works of, incorporate into other works, distribute, transmit, broadcast, communicate, publicly display, publicly perform and otherwise exploit such Content in any form or media, anywhere, and without any notice or compensation to you of any kind. You hereby grant us all consents, rights and clearances to enable us to use such Personal Content for such purposes."
2) Computer-Automated Communications
The messages you receive on AsiaFriendFinder.com are computer-generated and automated messages, sent to you and other site users continuously and simultaneously in order to deceive you into believing that other site members are interested in meeting you. AsiaFriendFinder.com confesses to using electronic communications in order to engage you into the site's services and get you to upgrade to a paid membership. But, make no mistake; these messages are all coming from fabricated profiles, created using the profile data other members once uploaded, while the SMS, chats, email and instant messages are also "stolen" communications once sent by other people.
FROM THE TERMS AND CONDITIONS OF USE: "By using the Services, you consent to receiving electronic communications, e.g., email, from us or our subsidiaries and affiliated entities. These communications will include notices about your Account and information concerning or related to the Services. These communications are part of your relationship with us and you receive them as part of your membership."
3) Subscription And Automatic Renewal
Although the people and the communications on AsiaFriendFinder.com are fabricated and false, this is not an Asian online dating service that is free of charge. In fact, when you sign up for free, the site will automatically take you to a page where you are required to pay a fee and upgrade your basic membership to a paid one. Moreover, if you want to start a conversation with someone and try to write an email or a chat message – you will be unable to do so unless you pay. Also, you are blocked to open and read messages until you upgrade. This subtle extortion on AsiaFriendFinder.com will cost you:
Silver Membership
$14.99 for one month of subscription (monthly renewable)
$29.97 for three months of subscription (monthly renewable)
$71.88 for 12 months of subscription (monthly renewable)
Gold Membership
$18.99 for one month of subscription (monthly renewable)
$50.97 for three months of subscription (monthly renewable)
$107.82 for 12 months of subscription (monthly renewable)
FROM THE TERMS AND CONDITIONS OF USE: "In order to provide continuous service, we automatically renew all paid subscriptions for the Services two (2) days prior to the date such subscriptions expire. Such renewals shall be (i) for a period equivalent to the period of your initial subscription to the Services or a shorter period of time if specified, and (ii) in our discretion, at the price of the same or comparable Services then in effect."
The verdict on AsiaFriendFinder.com
All the results of our investigation point towards one thing: AsiaFriendFinder.com aims to take your money. We do not recommend this online dating service, for the following reasons:
it takes and reuses your personal data
fabricates profiles to populate the site
sends you automated messages
once you subscribe and pay for a membership they keep charging you without any further notifications until you cancel your membership
it claims to provide services for "entertainment purposes"
Well, we do not consider that being ripped off or have your photograph distributed throughout dating websites on the internet is entertaining. We advise you to always be cautious when joining an online dating community and to always read the terms and conditions of use and privacy policy agreement to discover such scams on time.
AsiaFriendFinder.com Scam Questions
Do you have any other questions regarding the work and scamming tools AsiaFriendFinder.com uses to rip off users? Feel free to post them in the comments section below. Your feedback and personal experiences are also welcomed and may help prevent other readers from getting scammed.
AsiaFriendFinder.com Contact Info
Address: 910 E. Hamilton Ave., Sixth Floor, Campbell, CA 95008, USA
Email Contact: privacy@friendfindernetworks.com
Phone Number: (408) 702-1040, 1-408-702-1033 and 888-575-8383 (Toll FREE for USA and Canada)
Report and File a Complaint
Contact the Better Business Bureau to report the site if you feel you have been deceived, scammed and/or ripped off.