Here's what you need to know about the Casual Sex Meet website. I've laid out all the issues that I found about the site and the one thing I'll say is that it feels good to bust scammers. Something that is tough to do today. If you've read any of the reviews we publish on DatingCop.com, you'll know that these are really in-depth reviews and they lay out the exact issues that I have with the networks.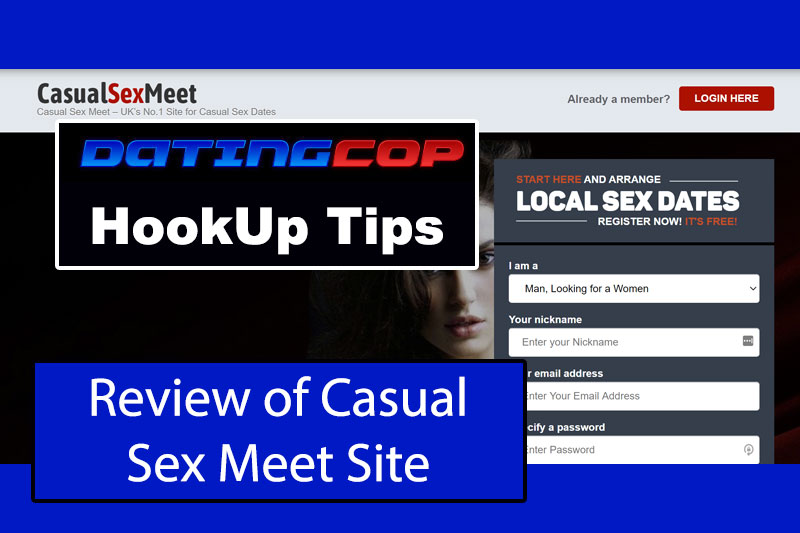 Casual Sex Meet Review: It Is A Casual Scam
Lots of people like to have sex. It's the best way to pass the time when there's nothing more important to do. As such, there are tons of sites on the internet that only exist to help you have it. They work to get you in touch with other people who enjoy having sex.
These aren't sites, these are hook up sites. Men and women sign up and use them for sex and nothing more. It sounds like a great concept, and it is when it works. That doesn't mean that they usually do, though.
The problem is that people looking for sex are extremely easy to scam. When you're horny, you're not paying attention to any of the details. That's how you get sites like Casual Sex Meet. It works to take your money from you and give you nothing at all in return.
The Messages Start Quickly
As soon as you sign up for this site, you're going to start getting messages. They're going to fill up your inbox within a few hours. They won't stop coming, either. It's going to be a constant. The site will be working its hardest to make you believe that there are tons of people on the site who are begging to talk to you.
None of it is true, though. Not a single one of the messages you're getting are real. They're all fake. The site is sending them to you. They're creating profiles and using them to send you the messages. The scam comes in when you try to respond to these messages.
If you want to do that, you'll have to upgrade your membership to VIP. That's going to cost you money. Since the messages are fake, it's a total waste of your money.
Look At The Profile Pictures
Now that you're inbox is filled with messages, all you have to do is run a search on the profiles that sent them. You can pick any of them that you want. Just take the profile picture and run a reverse image search on it. You can do it for free anywhere you want.
What you're going to see is that the images are all over the internet. That's because they're all stock photos. They're sold by companies to sites like this to make their fake profiles. It's an entire industry based on scamming you.
Conclusion: Just Avoid Casual Sex Meet
There's no reason for anyone to go to Casual Sex Meet. It's just a scam. It doesn't have a single real person who wants to talk to you. There are actual hook up apps and sites on the internet that you could be using to hookup. Just visit those ones instead.
The second you start getting messages from people who haven't interacted with you, just back away. It's a very common scam tactic that a whole lot of sites like this use. You'll never get anything that you're looking for here. It's a scam site and always will be.
If you're looking for real sites that have been reviewed and verified by real users, then I suggest starting with this network above all.