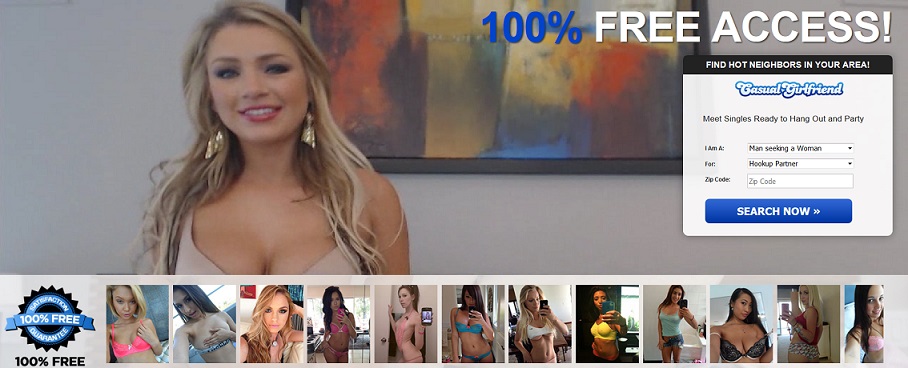 Seems like a genuine and harmless website, doesn't it?! But, wait until you read what we found out about CasualGirlFriend.com and the ways this site operates. One thing is for sure, it is not a legitimate service that helps men and women meet. So, continue reading to learn details of our investigation.
Facts about CasualGirlFriend.com:
The site creates fictitious profiles of women to fill up the site
You receive computer-automated messages that look like real communications
The end goal is for you to pay for the use of services and features
How CasualGirlFriend.com scams you?
In order to find solid evidence for the scamming details on CasualGirlFriend.com, the Dating Cop Team signed up and used the site for a while, then carefully read the Terms & Conditions of use document. It was actually on this page where we found the proof for CasualGirlFriend.com scams. Here are the details.
1) What Are Love Stars?
CasualGirlFriend.com fabricates women's dating profiles and uses fake photographs, personal information and interests to create such profiles. These member's accounts are called Love Stars and are created to make the site look full of gorgeous ladies, when in fact, the truth is that CasualGirlFriend.com has almost no real members.
But, wouldn't a dating site be doomed without women? Yes. And, that is why CasualGirlFriend.com makes them up, and then earns money by double-crossing naive or uninformed male members.
TERMS OF USE EVIDENCE: "You understand, acknowledge, and agree that some of the user profiles posted on this site may be fictitious or models or bots related to our "Love Stars" (LS) program. Our LS work for the site in an effort to stimulate dialogue with users and to stimulate user participation on the Website and Services, advertisement of the Website and Services, and the creation of user profiles. You further understand, acknowledge, and agree that, from time-to-time, LS may contact Website and Services users and members via electronic messaging, including for example, email, instant messages, and SMS."
2) Who Is Contacting Me?
Since it's only a matter of few minutes before you to start getting messages, don't you think it is odd that dating profiles of non-existing people are contacting you? But, trust us when we say that all messages sent to you are computer-automated, operated by software and require no human involvement. We have done quite a lot reviews on dating websites and we were able to detect the smell of scam immediately. CasualGirlFriend.com will send you emails, chat messages, sms, instant messages, etc. with the goal to make you believe that there are real people who are using the site and who are interested in meeting you.
TERMS OF USE EVIDENCE: "You further understand, acknowledge, and agree that, from time-to-time, LS may contact Website and Services users and members via electronic messaging, including for example, email, instant messages, and SMS, for purposes of encouraging further or broader participation in our site's Services and/or to monitor user activity. Messages from LS will contain the uniform designation "LS" or "Love Stars" to notify the user or member that a message has been received from Love Star(s)."
3) Is The Membership On CasualGirlFriend.com Free?
No. Using CasualGirlFriend.com is not free of charge.
In fact, you are distracted so that you won't notice that you are being charged monthly membership fees on CasualGirlFriend.com from your credit card. And, if you are wondering why an online dating service would go through so much trouble to deceive you in so many various ways – it's because it is after your money. When you are asked to submit your credit card information that is not required in order to verify your identity or to make sure you are over 18 years of age. Even though they say "Free Lifetime Memberships" and "Activate your FREE account" that is a lie and here is how much you will be charged:
$49.95 to buy a monthly membership to CasualGirlFriend.com
$39.61 to buy a monthly membership to VibeVideo.com
$28.87 to buy a monthly membership to VideoErotic.com
The verdict on CasualGirlFriend.com
We can safely say that CasualGirlFriend.com is a complete scam and rip off. We hope this review will help you avoid getting in financial trouble, and don't forget to so warn your friends too. One tip from us is to always read the Terms and Conditions of use before you start using, or at least when you give your credit card info to a site on the internet.
CasualGirlFriend.com Scam Questions
We encourage you to send us your personal take on CasualGirlFriend.com. Information that you may share about your experience of using this site can help others avoid getting scammed and ripped off. Also, if you have any questions regarding this subject, you can post them in the comments section below.
CasualGirlFriend.com Contact Info
Address: Stasinou, 1 Mitsi Building 1, 1st floor, Office 4 Plateia Eleftherias, Nicosia Cyprus 1060
Email Contact: cs@casualgirlfriend.com
Phone Number: 877-597-3436
Report and File a Complaint
If you feel you have been deceived and overcharged by this site, there is something you can do. Contact the Better Business Bureau to file a complaint and report the site after you cancel your paid membership.