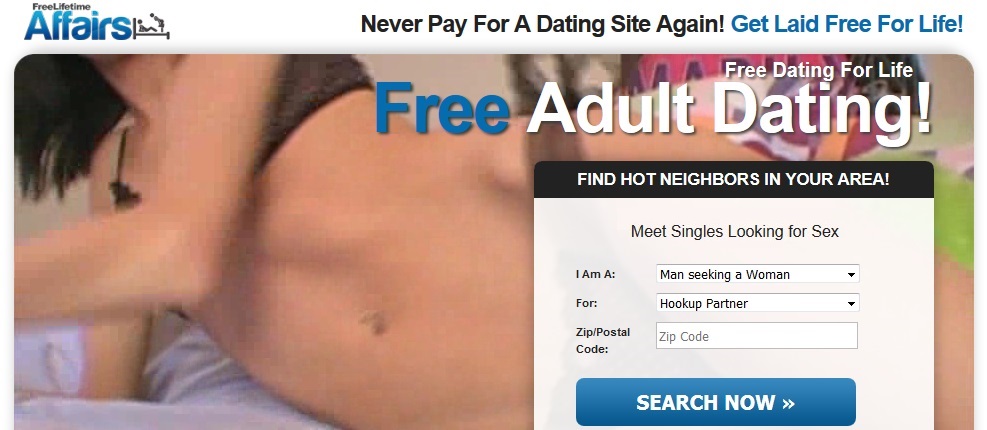 Have you come across FreeLifetimeAffairs.com while looking for a genuine dating service? While this site promises a 100% free dating for life to anyone who signs up and creates a dating profile, it is still left to us and other users of the site to verify its authenticity and legitimacy. So, is FreeLifetimeAffairs.com a safe place to be looking for an online affair? We provide all answers in the text below and invite you to continue reading.
What are some important questions you need to ask?
When accessing a dating site, there are several clues that can lead you to conclude it's a scam and avoid getting ripped off. Here are several questions that may help you determinate the legitimacy of a online dating service:
Does the site promise free membership but ask for your credit card information?
Do the photographs of members seem too good to be true?
Are you being contacted by a number of site members but cannot reply?
Sometimes, when things seem too good to be true, they probably are. Also, sites like FreeLifetimeAffairs.com tend to promise free of charge services and will charge you big time, have no real dating profiles of other members, and deceive you in all possible ways just to get you to upgrade to a paid membership.
The truth about FreeLifetimeAffairs.com
To verify our suspicions we visited the terms and conditions of use, as well as the privacy policy page on FreeLifetimeAffairs.com and we found solid proof that the site aims to scam you and get your money without providing you with the services you pay for.
1St Sign Of Scam: No Free Dating
FreeLifetimeAffairs.com doesn't really offer a free lifetime membership to its members. After you sign up and create your profile, you are taken to the payment page and asked to fill in your credit card information. Don't be fooled by the claims that it is done out of security reasons or to verify your identity. Once you enter your credit-card information you will be automatically charged money on a recurring monthly basis. It is good to always read the whole content of the page before giving your data online. And, for example, if you scroll to the bottom of the payment page you will discover that there is a small text informing you that you are subscribing to a recurring membership on FreeLifetimeAffairs.com and to two other sites for as long as you don't cancel your membership.
$49.95 for a monthly subscription to FreeLifetimeAffairs.com
$39.61 for a monthly subscription to VibeVideo.com
$28.87 for a monthly subscription to VideoErotic.com
2nd Sign of Scam: Dating Profiles Are Created
There are "Love Stars" dating profiles which are completely fabricated and have no real people using them. Basically, nothing in these profiles is real, including their pictures, personal information, descriptions and interests. The fabricated profiles are created by the company who owns and runs FreeLifetimeAffairs.com, in order to fill up the site with gorgeous women (when in fact there are none) and to use these profiles to send you computer-automated messages (to make it look like women are trying to get in touch).
How do they fabricate the dating profiles? Well, any information that is made public by posting or uploading on your behalf, is automatically owned by the site. So, they gain all proprietary and legal rights to use, reuse and distribute your information however they wish, and this includes translating, mixing-and-matching yours with someone else's info, and posting these profiles with your data on all websites within their network.
PROOF OF SCAM No.1: "By posting Content to any public area of FreeLifetimeAffairs, you automatically grant, and you represent and warrant that you have the right to grant, to FreeLifetimeAffairs an irrevocable, perpetual, non-exclusive, fully paid, worldwide license to use, copy, perform, display, and distribute such information and content and to prepare derivative works of, or incorporate into other works, such information and content, and to grant and authorize sublicenses of the foregoing. Specifically you agree and acknowledge that your profile and related information and content may be utilized and displayed on other sites which are owned by related companies or authorized services providers ("Network websites")."
PROOF OF SCAM No.2: "You also understand and acknowledge that some users and members may provide inaccurate information, messages, and profile data and you agree that FreeLifeTimeCheaters shall not be liable to you in any manner for the same. You understand, acknowledge, and agree that some of the user profiles posted on this site may be fictitious or models or bots related to our "Love Stars" (LS) program. You understand, acknowledge, and agree that the information, text, and pictures contained in the LS profiles do not pertain to any actual person or member, but are included for entertainment purposes only."
3rd Sign of Scam: Computer-Automated Conversations
Through the fake "Love Stars" profiles, FreeLifetimeAffairs.com will send you computer-automated communications in the form of emails, sms, chats, instant messages, etc. You will start to receive messages immediately after creating your profile, but the trick is that you cannot write to anyone, or read a message you've received, or reply to that person – unless you upgrade to a paid membership. Don't fall for this because the computer-sent messages are yet another mechanism that FreeLifetimeAffairs.com uses to get to your money by deceiving you.
PROOF OF SCAM No.3: "Our LS work for the site in an effort to stimulate dialogue with users and to stimulate user participation on the Website and Services. You further understand, acknowledge, and agree that, from time-to-time, LS may contact Website and Services users and members via electronic messaging, including for example, email, instant messages, and SMS."
The verdict on FreeLifetimeAffairs.com
This is just another dating site aimed at scamming people in order to get their money. People are being scammed on FreeLifetimeAffairs.com to buy a membership without getting anything in return. The website says it offers "entertainment", but we don't see how deceiving you and getting your money is entertaining.
FreeLifetimeAffairs.com Scam Questions
Did we not answer anything else you wanted to know? Well, feel free to ask us your questions in the comments section below. We also appreciate your feedback, so if you found this review helpful we'd be happy to know.
FreeLifetimeAffairs.com Contact Info
Address: Stasinou, 1 Mitsi Building 1, 1st floor, Office 4 Plateia Eleftherias, Nicosia Cyprus 1060
Email Contact: cs@freelifetimeaffairs.com
Phone Number: 877-597-3436
Report and File a Complaint
If you feel you have been deceived and overcharged by this site, there is something you can do. Contact the Better Business Bureau to file a complaint and report the site after you cancel your paid membership.