Having spent years researching and investigating dating sites, I've stumbled upon my fair share of illegal websites. There are some sites that hold no regard to the law and more often than not, they are escort sites. Well, one of the sites that I stumbled upon was none other than the Erotic Monkey. This site has quite the reputation and I mean that in the most negative way possible. It's an only escort directory that basically is good for absolutely nothing.
The site isn't free, it's restricted and offers premium access to those willing to waste their money for invaluable information. Before you go wasting your precious time and money reading these escort reviews, I want you to take a closer look inside the site and what they do by reading my official review.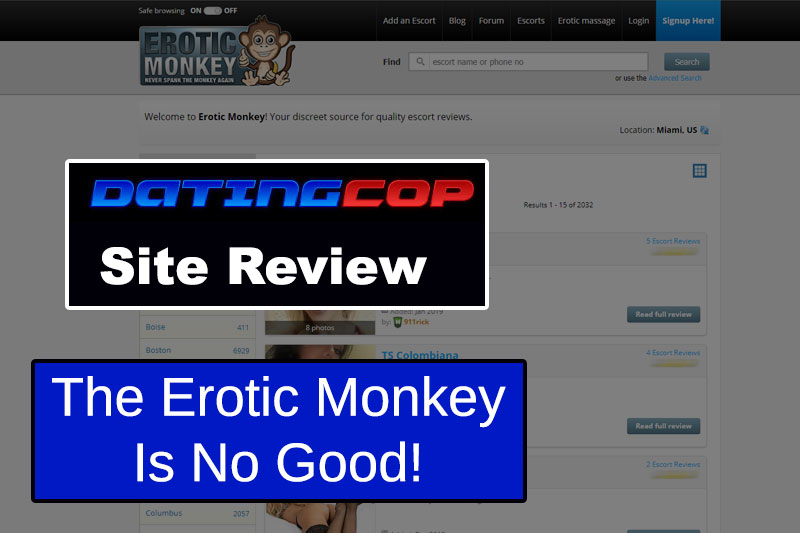 The Erotic Monkey Sucks – Full Review
Have you ever been to the zoo? You know the cage that's filled with monkeys? Well, they typically are throwing their crap at each other and it's a stinky mess, right? Yes, the same applies to the EroticMonkey.com.
The website is basically a huge ripoff and then some. Most of these escort review sites are free but not this one. It's actually very expensive and not worth the money at that. They use the freemium method of luring surfers in for nothing but trouble.
What You Get For Free On E.M.
If you decide to foolishly join the Erotic Monkey, then you'll eventually end up getting access to the site and a bunch of reviews but nothing is actually accessible on the site. They give you access to these escorts profiles but you cannot read the reviews and you certainly can't connect with any of them online either. Not as a freemium member at least!
So, when it comes to using the site for free, you basically get absolutely nothing at all but access to a page that's blank or with hidden data.
Girls Might Be Fake
It's possible that some of the escort ads posted on EroticMonkey.com are completely fake. I say this because I tried calling some of the women via their numbers on the website and I did not get anyone to pick up the phone. If escort models in reviews don't even answer their phone, how on earth can you trust that they are real?
I have no physical evidence that any of these girls are in fact real hookers. Not that I would hire any of these girls to begin with. My guess is that some of these girls may be undercover agents posing as girls. You've been warned!
Massage Girls Are No Different
You'll notice that some of the massage parlors and massage therapists have posted their services on Erotic Monkey. I need you to understand that these are cover-ups for escorts and paying for sex. Any so-called "massage service" that you come across is a load of crap. They're girls that want your cold hard cash and they're willing to do anything (legal or illegal) to get it.
Paying For Reviews Is Foolish
People that use eroticmonkey.com often pay for access to reviews. This is probably the most foolish thing I've ever heard of in my entire life. For all you know, the reviews could be fake or even worse, they could be written by the actual escorts themselves posing as other people.
You may come across some girl that has smoking hot pics and reviews but that person on the other end might be a police officer trying to catch you in soliciting or being willing to pay cash for sex.
The premium memberships are not worth your time and paying for them just to read testimonials about girls is insane – literally.
How Much Do The Girls Cost?
Don't forget that in addition to paying for your membership, you're going to have to pay the girls to have sex with you. This is not cheap and often not worth paying for. There are incall and outcall rates, both of which end up costing between $200 and $450 for 30-60 minutes worth of fun.
As for the membership to Erotic Monkey be ready to pay a monthly fee of $29.95 or an annual fee of $279.95.
Conclusion: Erotic Monkey Is An Expensive Rip-Off
Assuming you're into having sex for as little money as possible, you'll be happy to learn that they Erotic Monkey is a waste of time and money. Unless you're dumb or totally lacking confidence needed to find someone willing to have sex, then I wouldn't use this escort review site. With all the options available out there, it only makes sense that you do what's necessary to meet people to bang. However, that means joining the best dating sites listed here and not wasting your time with gross escorts.