Hey yooooo! The Datingcop.com is back and this time I'm here to make some arrests! There's a good reason for me wanting to do this and I'm here to set the record straight about one dating site in particular. It's called MeetBangNow.com.
You'll be happy that you're reading this and not simply joining the site because I'm about to rip this site apart. Well, not really, but I'm going to be sharing everything that I learned during my full investigation. Why am I sharing this? Well, for starters, there are way too many scummy dating networks out there and secondly, I'm the dating cop. What else am I supposed to do aside from taking down sites that are on the other side of the law!
Full disclosure: No one was arrested as a result of this review. I don't really have the authority to arrest someone, but if I could, trust me – I would on many occasions!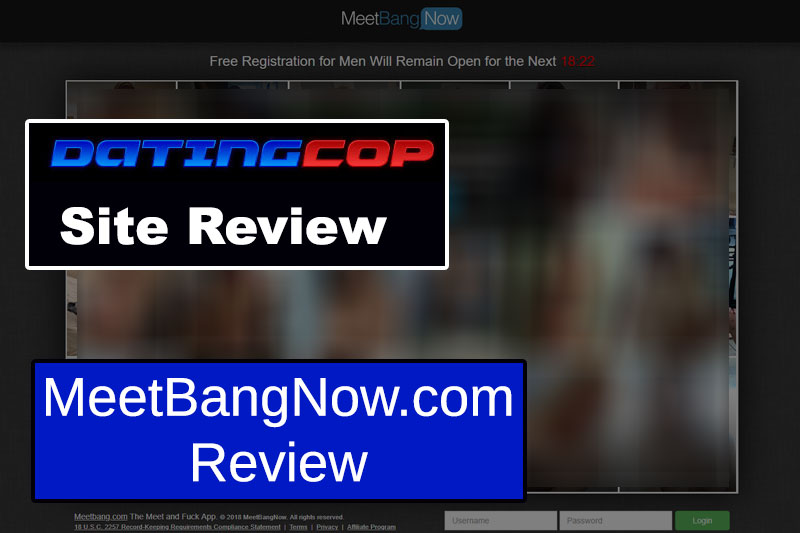 My Review Of MeetBangNow.com
This is not a site you want to mess with. If you've read any of my reviews, then you know that I do not take dating scams lightly. Not everyone is truly aware of just how common dating site scams are. They are literally everywhere and they're rampant.
As a result of this general ignorance, there is an entire universe of dating scam sites that exist that try and take advantage of people who are looking for romance and new sexual experiences. Meetbangnow.com is a notorious scam site that is connected to over a dozen similar scam sites.
The persistence of these sites is tied to the fact that they are in fact incredibly successful at getting people to give up their credit card information. Like other successful scam sites, Meet Bang Now accomplishes this by ripping off the design of legit dating member sites and luring people in with pictures of attractive women they've stolen from all over the internet.
The Membership Costs
Meetbangnow.com offers the typical range of membership options that go from a few dollars for a few days, to over a hundred dollars for a six-month membership. What you have to understand is that all of these membership options are automatically recurring.
Even the $3 multi-day membership immediately renews to a forty dollar subscription after a few days. These type of business practices are a telltale sign for fraud. Sites like this are purposely being deceptive about the membership process because that's how they get your money.
The way they lure you into getting into these fraudulent membership rates is by forcing you to get a paid membership to interact with literally any feature on the site. The first fraudulent feature you will encounter is the use of "Love Stars." The site immediately tries to get you to agree to be contacted by these profiles because all of these profiles are completely fake. They are generated by the company, feature stolen pictures, and are run by computer bots.
Here's How It Works…
When you sign up, these accounts will be the first to contact you claiming they want to hook up. You will be reached by email, instant messages, and will be bombarded by a variety of notifications that claim these women are trying to hook up.
The moment you try to read or respond to these messages, however, you are hit with a prompt to upgrade to a paid subscription. Right then and there you need to understand that this entire thing is a scam. All they care about is getting your credit card information so they can charge a variety of recurring fees to your card.
The Terms
Sure, if you read the terms and conditions, you will find that they disclose a lot of this information to consumers. In fact, I'd say most of it if not all of it is disclosed. However, the issue that I see here is quite simple.
It's not the fact that they don't disclose because they do. It's merely the fact that they practice as they do and they're trying to circumvent legal ramifications through the use of hidden terms of service. We all know people looking to bang are not taking the time to read any terms and conditions.
Conclusion: MeetBangNow.com Is A Big Scam
Meetbangnow is one of the worst offenders in the scam business. They will send pre-recorded webcam messages to your account that they claim are from hot girls who want to hook up with only you. Everyone receives these messages.
If you're unlucky enough to sign up for a paid membership, you will find that you were upgraded to a VIP package that signs you up for two separate porn sites that charge recurring fees of over forty dollars a month to your account.
Trust me, if you are not careful, your three-day trial will immediately turn into over a $100/mo of recurring fees. It is dangerous to interact with meetbangnow.com and any of its partners, and you would be wise to get as far away as possible.
Oh, and you need to stay away from meetbang.com too! That's no good either.
What are your options now? 
Well, you've got a few options to consider. One of which is to join any of the sites I've listed below. They're awesome and will definitely help you get laid. You won't have to worry about fake profiles or crazy expensive upgrades. Just hooking up, that's it!