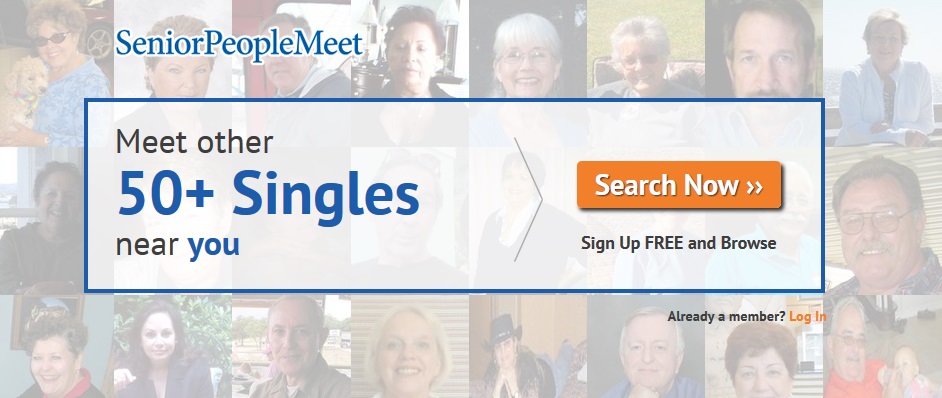 SeniorPeopleMeet.com is an online dating service for the senior and mature population, which claims to help bring older singles together for friendship and dating. But, with one look at the site we spotted that it's affiliated with Match.com, Chemisty.com, BlackPeopleMeet.com, LoveAndSeek.com, BabyBoomerPeopleMeet.com, and is also part of the People Media 50+ Network that also includes OurTime.com and SeniorsMeet.com. Some of these sites are next on our list to investigate, while some we have already done a review on and they turned out to be scamming and fraudulent websites.
Will SeniorPeopleMeet.com be proven as a legitimate dating service or join its affiliated dating websites as another online dating scam? We reveal in the following text and invite you to continue reading.
Facts about SeniorPeopleMeet.com you should know
Just like the websites it's affiliated with, SeniorPeopleMeet.com uses the same conning tricks to get to your money and rip you off for as long as possible. We already suspected that some of the following scams were taking place on SeniorPeopleMeet.com, but in the terms of use document we found proof written in black and white.
1) Anything You Post Is No Longer Yours
This part of the terms and conditions of use is scary and is a real example of how naive people get conned on online dating sites. Since SeniorPeopleMeet.com can gain all rights over any information you post on the site, they can freely translate, change and reuse them, and also post them on other dating networks. The moment you post information about yourself – they are no longer yours. This is not a new type of scam, and we know for a fact that the process to take down your photographs from all sites they have been distributed to is difficult.
We know of a case where a lady that posted photographs on her online dating profile on another site which also had all rights over her data, and had a very humiliating experience trying to take them down. She even had to send more nude photographs of herself to the owner company, so that a process of verification can be done. We do not wish this to happen to anyone else, so we kindly advise you to be extremely careful what you post and where you upload your personal information.
FROM THE TERMS OF USE: "By posting Content on the Website or as part of the Service, you automatically grant, and you represent and warrant that you have the right to grant, to the Company, its affiliates, licensees and successors, an irrevocable, perpetual, non-exclusive, fully paid-up, worldwide right and license to (i) use, copy, store, perform, display, reproduce, record, play, adapt, modify and distribute such Content, (ii) prepare derivative works of, or incorporate into other works, such Content, and (iii) grant and authorize sublicenses of the foregoing in any media now known or hereafter created."
2) Test Profiles And Electronic Communications
As you will read in the excerpt from the terms and conditions on SeniorPeopleMeet.com below, the site informs you that they will contact you through email messages once you become a member of the site, and add that these communications will be related to relationships on the site. Moreover, they go on to admit they are creating dating profiles, but we doubt they use them only for the purposes that are numbered.
It is possible that SeniorPeopleMeet.com takes your profile information (including photographs, communications, personal information about yourself and your interests), reworks them and distributes them throughout other dating sites. So, who guarantees that the profiles you see on SeniorPeopleMeet.com are not fabricated using other people's personal profile data? After all, you are not notified and don't stand behind your replicated profiles on other sites.
FROM THE TERMS OF USE: "When you become a Member, you agree and consent to receive email messages from us. These emails may be transactional or relationship communications relating to the Service. From time to time, employees of the Company (or its parent or affiliated companies) may create test dating profiles for the purpose of testing the functionality of our Service and website processes to improve service quality for our Members."
3) Full Membership Is Costly
It is clear that this site is rather a scamming service than a dating service. Not only does SeniorPeopleMeet.com claim property over your personal profile information, but they use them to create other profiles on different sites and use those to send computer-automated communications, which are used to scam even more people. If you have been deceived and have given SeniorPeopleMeet.com your credit card information, act fast before it's too late. You are paying for a bunch of lies that are a waste of your time and money.
But, how much will your paid memberships cost you? Well, you can choose from several different subscription periods, which are automatically renewed after the initial package expires. Here are the details:
$23.99 to purchase a monthly subscription
$53.97 to purchase 3 months of subscription
$77.94 to purchase 6 months of subscription
FROM THE TERMS OF USE: "Your subscription will continue indefinitely until cancelled by you. After your initial subscription commitment period, and again after any subsequent subscription period, your subscription will automatically continue for an additional equivalent period, at the price you agreed to when subscribing. You agree that your account will be subject to this automatic renewal feature."
The verdict on SeniorPeopleMeet.com
This is one scamming and cheating site. Please be careful and remember to always read the terms and conditions of use before you give your money to a website. We take this matter seriously and so should you. SeniorPeopleMeet.com is a scam aimed at the elderly and works by ruthlessly charging people a lot of money. Dating in this period of your life should not be stressful, but rather relaxed and fun, but getting ripped off is not entertaining.
SeniorPeopleMeet.com Scam Questions
We understand you may have further questions regarding the workings of SeniorPeopleMeet.com after reading this review. We welcome you to post them in the comments section below in order to get answers. Also, we encourage those readers who have had a personal experience with SeniorPeopleMeet.com to share it with others. You never know whom you may help.
SeniorPeopleMeet.com Contact Info
Address: People Media, Inc. 8300 Douglas Ave, Dallas, TX 75225, USA
Cancel Your Membership: Contact Page
Email Contacts: customercare@support.seniorpeoplemeet.com and customercare@peoplemedia.com
Phone Numbers: 1-866-727-8920, (323) 603-0188 and (866) 727-8920
Report and File a Complaint
Contact the Better Business Bureau and file a complaint if you feel that you have been scammed or ripped off.
What Actually Works If You Want To Meet Seniors And Hook Up?
If you're looking to meet seniors or older people looking to hookup, then the Datingcop has got you covered. There are plenty of options out there for meeting older men and women that just want to have some fun. In fact, all the sites on the top list below have members that are of all ages and many of them are older women looking to have sex with single men. Give one or two a shot!