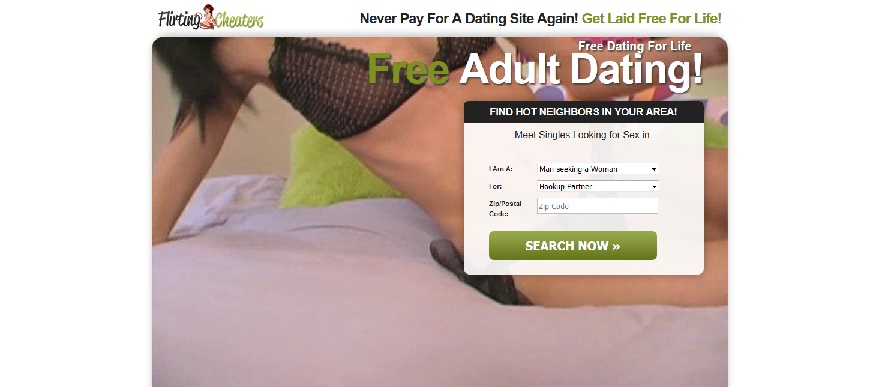 FlirtingCheaters.com is yet another dating site that uses scamming tools and tactics to get to peoples' money. They claim that the site is free, but be careful not to get ripped off. If you did your own research you'd have to be skilled to know where to look and find FlirtingCheaters.com's fraudulent workings. That's why we, The Dating Cop Team, did the hard work and will now present solid evidence that indicate FlirtingCheaters.com should not be trusted. So, continue reading to learn more.
FlirtingCheaters.com scams and rip off
Besides creating a dating profile on FlirtingCheaters.com to better explore the website, we thought it would be a great idea to read the terms and condition of use, as well as the privacy policy documents on FlirtingCheaters.com. Here is what we found out.
1) FlirtingCheaters.com Gains All Rights Over Your Data
We noticed several conning workings of FlirtingCheaters.com while investigating it. You should be aware that FlirtingCheaters.com has the right to use your information from the moment you upload them on the site, including photographs and written text. Then, they have an exclusive right to do whatever they want with them, starting from distributing them to other dating services, modifying them in any way, etc. All these actions require no need for you to be notified and once you discover what has happened the take-down procedure can be humiliating and difficult (plus there is no guarantee other sites will be willing to take the information down).
PROOF OF SCAM: "Once you post, send or otherwise make publicly available any Content through the Services ("Personal Content"), you expressly grant us, and hereby represent that you have the right to grant us, a perpetual, irrevocable, world-wide, assignable, sub-licensable, and transferable right and license to quote, re-post, use, copy, reproduce, modify, create derivative works of, incorporate into other works, distribute, transmit, broadcast, communicate, publicly display, publicly perform and otherwise exploit such Content in any form or media, anywhere, and without any notice or compensation to you of any kind."
2) Computer-Sent Communications
Do you think that the instant and email messages you receive are real? Well, it turns out that they aren't. FlirtingCheaters.com cheats you to believe that the messages sent to you are coming from honest and real women who are looking for online fun. But, you shouldn't fall for these scams! The messages are in fact, sent through computer softwares programmed to interact with members.
PROOF OF SCAM: "You further understand, acknowledge, and agree that, from time-to-time, LS may contact Website and Services users and members via electronic messaging, including for example, email, instant messages, and SMS, for purposes of encouraging further or broader participation in our site's Services and/or to monitor user activity."
3) Subscription fees are automatically charged
If you were cheated into believing that FlirtingCheaters.com offers a free of charge membership – you were wrong. FlirtingCheaters.com will try to extort your credit card information from you basically by blocking you from freely using many of the site's services and features. More specifically – every time you get a message and try to reply – you are asked to pay. Every time you see someone and would like to start communication – you are taken to the payment page, where you can choose one of the following payment plans:
$49.95 for a monthly membership to FlirtingCheaters.com
$39.61 for a monthly membership to VibeVideo.com
$28.87 for a monthly membership to VideoErotic.com
The verdict on FlirtingCheaters.com
We most kindly recommend that you read the terms and condition of use document when signing up to an online dating service. If not then, you should at least pay close attention when giving them your credit card info. As you can see, much valuable information can be hiding in this document and may just save you from the scamming tactics of such sites.
FlirtingCheaters.com Scam Questions
Got any questions that we didn't get to answer in our review? We welcome you to post them in the comments section at the end of the page. Also, don't hesitate to share your personal experience if you are a former user of FlirtingCheaters.com. You never know who you may be helping with your honest testimony.
FlirtingCheaters.com Contact Info
Address: Stasinou, 1 Mitsi Building 1, 1st floor, Office 4 Plateia Eleftherias, Nicosia Cyprus 1060
Email Contact: cs@flirtingcheaters.com
Phone Number: 877-597-3436
Report and File a Complaint
If you feel you have been deceived and overcharged by this site, there is something you can do. Contact the Better Business Bureau to file a complaint and report the site after you cancel your paid membership.