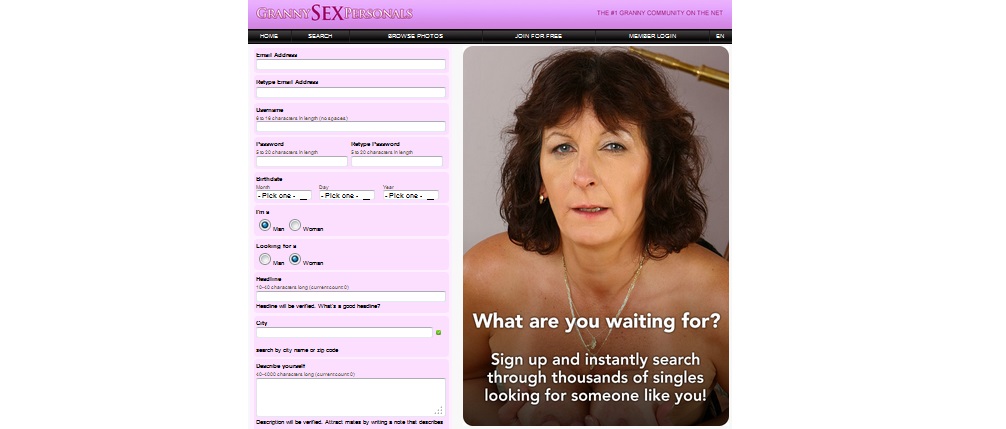 Every day on the internet we encounter many dating sites that are simply fraudulent. GrannySexPersonals.com is full of beautiful elderly women, who post nude photographs and are sending you chat and email messages. Although this sounds amazing, it gets a little too good to be true. In order to get to the bottom if this issue we, the Dating Cop team, did a research on GrannySexPersonals.com. We invite you to continue reading and learn all the facts about how this site operates.
What should you know about GrannySexPersonals.com?
1) Claiming Rights Over Your Uploaded Content
Starting from photographs you upload on your profile, to your descriptions of what you want and who you are, to the onsite communications you have with others – GrannySexPersonals.com will store and and gain absolute rights over this content. The data you post can be then freely reused and shared on any other dating services or networks affiliated with GrannySexPersonals.com. They can also sell these information to other third party contractors.
Basically, once you post your photograph on GrannySexPersonals.com, it will soon be available and distributed to many other dating sites, and you won't even know about it since there are no evident notifications, other than in the Terms of Use.
SIGN OF SCAM: "Any and all images and other profile elements uploaded to the Company become property of the Company and may be used by the Company, without restriction, as marketing materials. By accepting this Agreement and its terms and conditions you specifically authorize us to use any content and/or images you upload to the Company for marketing the Site in our sole discretion."
2) Communications and Notices
It's actually not that easy to detect fraudulent messages if you are unexperienced at detecting this kind of frauds, and that's what sites like GrannySexPersonals.com are counting on. They use computer software to send out different messages and communications to free site users to make it look like women are interested in them. You can see that someone sent you a message, you can see their photograph and their name, but you cannot read the content of the message or reply back. But, this is just one of their techniques of extorting paid subscriptions.
SIGN OF SCAM: "Notices from "Service" to Subscribers may be given by means of e-mail, by general posting on "Service", or by conventional mail. Communications from you to the COMPANY may be made by e-mail, conventional mail or telephone."
3) Membership Subscriptions and Renewal
When we set up our profile and started getting emails from women on GrannySexPersonals.com we knew it was too good to be true. You may say that it's not a bad thing, after all a dating site is supposed to connect people, BUT there is a catch and you shouldn't fall for it. In order to read these emails you are asked to upgrade to a paid membership. Here are the amounts and time on GrannySexPersonals.com you can purchase with your credit card:
$7.95 for a 3 day trial membership period
$29.95 for a 1 month of membership
$39.99 for 3 months of membership
SIGN OF SCAM: "You must cancel your membership at least twenty-four (24) hours before your monthly anniversary date to avoid being charged for another month of membership."
The verdict on GrannySexPersonals.com
We advise you to stay away from GrannySexPersonals.com, since it's not as legitimate and well-intentioned as it seems. We advise you to always read the Terms and Conditions of use on online sites before agreeing to them or paying to use a dating service.
GrannySexPersonals.com Scam Questions
If you have any further inquiries and would like to know more, feel free to post your questions in the section below. Also, if you have a personal experience using GrannySexPersonals.com, we welcome you to share it with other readers. You never know who when someone might find your input useful.
GrannySexPersonals.com Contact Info
Address: 77, Strovolos Ave., Strovolos Center,Off. 204 / 2018 Strovolos, Nicosia, CYPRUS
Email Contact: GrannySexPersonals.com/contact
Phone Numbers: 1-800-868-5182 or 1-800-848-5413
Report and File a Complaint
You can contact the Better Business Bureau to report this site and file a complaint if you feel that you've been conned or ripped off.