In the beginning of our investigation on HousewifeWanted.com we found that this site is affiliated with another site called fuckbook.com. In this review we will go through the details that lead us to believe that HousewifeWanted.com is a scam. Continue reading because you are entitled to know the truth.
HousewifeWanted.com uses generated Cupid profiles
As early as setting up an account of the website you will encounter the tools this site uses to double-cross you. They let you know that by submitting you sign-up information you are agreeing to the terms and conditions and to the use of "Cupid profiles". But, who reads the small letters, right?! Well, you should especially since you don't know if the site is legitimate or not.

At first, many people think they shouldn't care about any terms and conditions, because the site is free (later we found out that also wasn't true). But let's go back to the fake dating profiles of women called "Cupids". If you are signing up to a dating service, you are expecting to find real people there, people you could perhaps meet. The women on HousewifeWanted.com are not real at all. In fact, their profiles are generated by the site to make it look like many women are using the site. So, if you became a member of this site, you are practically losing your time, since these women have fake photos and personal information on their profiles. Plus, there is no way you can ever meet any of them in real life.
If you'd go to the site's page for Terms and Conditions you can read what we found as the proof they create and use "Cupids" which are as fake as can be. Here is a short excerpt:
FROM THE TERMS OF USE: "You acknowledge and agree that some of the profiles posted on the Website that you may communicate with as a Registered User may be fictitious."
"We may create several different user profiles that we attach to a given picture. You understand and acknowledge that we create these profiles and that these profiles are not based on or associated with any Registered User or Member of our Service or any other real person."
During your time on the site you will also be receiving "friend requests" from these generated profiles, which are also fake. They use these tactics to lure you into paying a monthly fee to be able to connect and communicate with these women. However, we see no point in paying to communicate with somebody who doesn't exist.
The "Cupids" will send you messages
The "Cupids" have another role except for filling up the site with gorgeous-looking housewives. Actually, the site uses these profiles to send you computer-automated messages and deceive you into believing these beautiful ladies are interested in you. You will see there is a catch to reading any email messages sent to you, and you cannot reply to them or contact anyone without paying for a membership upgrade.
Here is how much will a paid membership subscription cost you for an estimated period of time:
$29.95 for monthly paid subscription
$14.95 for a 3 month paid subscription
$95.40 for 1 year paid subscription
$199.95 for a lifetime membership subscription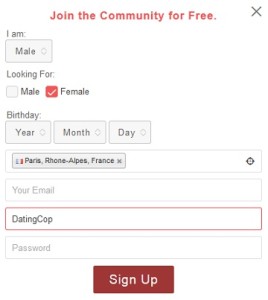 Of course, this is a rip off and a scam you should not fall for and please be careful when in the future a dating website asks for your money. The reality of the situation is that there are no real women trying to communicate with you, it's just computer software made to trick you.
FROM THE TERMS OF USE: "The messages "Cupids" send are computer generated. Messages from the user profiles we create attempt to simulate communications so that should you become a paid Member and you are encouraged to participate in more conversation and to increase interaction among fellow paid Members."
"Any one of these user profiles may message with multiple Registered Users at the same or substantially the same times just like our Registered Users and Members. We will, send automatic electronic communications to Users to stimulate conversation between members. Additionally, we will utilize our automated system profiles to communicate with Users to enhance our Users' entertainment experience."
The verdict on HousewifeWanted.com
HousewifeWanted.com claims it's a site that works for entertainment purposes only. Unless your definition of entertainment is paying your hard earned money for someone to lie to you, scam you and rip you off, then we do not suggest you use this so called "dating service". The worst thing is that you cannot legally prosecute the company who owns this site, first because they are based outside the US, and second because they can say it's your fault for not reading the terms and conditions of use.
We hope this was enough info to prove to you that HousewifeWanted.com is not worth your time or money. The Dating Cop team hopes that you will remember the take-home-lesson which is to be careful on the internet and ALWAYS read the terms of use.
HousewifeWanted.com Contact Info
Addresses: Cargo Media AG Untere, Rebgasse 22, 4058 Basel, Switzerland
Email Contact: support@housewifewanted.com
Phone Number: +41 (0) 91 60 464 86
Report HousewifeWanted.com
If you feel you have been ripped off and conned by this site, you can file a complaint by visiting the Better Business Bureau.