As hard as it may seem to believe that people are still falling for these online dating scams, it's not in the past. Although it may seem like NFMature.com is a new kind of a dating scam, it uses the same tactics as almost all other dating sites built to cheat you. Here, we'll review why NFMature.com is a scam you shouldn't fall for. So, continue reading.
Sign up for free? NFMature.com is NOT a free service!
This should be a red flag for anyone out there who's trying to find some online fun. Especially since this website will use all tricks to get you to pay for a subscription. Of course you will first go for the trial subscription option and it will cost you $4.47 for a 3 day trial period. If you would like to stay active on the website longer, you will have to pay. Here are the prices NFMature.com will charge you for the longer subscription periods:
$39.99 for a one month subscription
$83.97 for a 3 month subscription
$119.94 for a 6 month subscription
What are you paying for?
#1 You Get Automated Messages From Copmuters
It's no doubt that you will start receiving messages right away. If you think that this is the point you may stop and rethink what you are doing, the website uses all tools to make giving up difficult. You can see the messages are sent from completely nude or obscurely dressed women. Think this is a coincidence? Try to read any of these messages and you'll be automatically asked to upgrade to a paid membership.
PROOF: "Messages from the user profiles we create attempt to simulate communications so that should you become a paid Member you are encouraged to participate in more conversation and to increase interaction among fellow paid Members. The messages they send are computer generated."

#2 NFMature.com Fabricates its Dating Profiles
There are NO women who have created profiles on NFMature.com and are sending you messages. Those are not real women, the profiles are artificially generated by computers and the ending goal is for you to use your credit card. If you are wondering who's actually sending these messages to you, let's just say that programmers who create computer software programs are doing a great job, only not you're your benefit. If you do pay for subscription, you will be basically interacting with a computer system.
Actually, NFMature.com knows that while there is an abundance of male site users, there aren't really that many women. And what is a dating site without any female members who are ready to chat and have fun? So, NFMature.com and similar dating websites create false profiles of female members to attract more male viewers who might be willing to pay. If you think it can be easy to detect a fraud, don't forget that these websites will often do everything they can to look as real as possible. That's why they include nude photos and personal information such as age, location, hobbies and so forth. You need to be careful not to overlook these traps and just end up paying a lot for nothing.
PROOF: "We create user profiles for use by our customer support representatives for the support, marketing, improvement of the Service. You acknowledge and agree that some of the profiles posted on the Website that you may communicate with as a Registered User may be fictitious."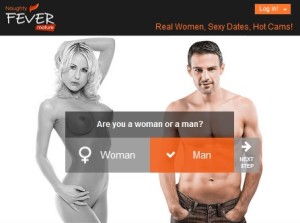 #3 Fake Notifications for Profile Views
Another mechanism of this website to get your money is the profile views. You will think you are being notified when someone views your profile, but this is also not true NFMature.com uses computer software to deceive you into thinking someone is viewing your profile. The goal here is that you are expected to communicate with these women if you see they've been checking you out, and this is the time the website will ask you to purchase and upgrade your membership in order to keep in touch with anyone on the site.
PROOF: "You understand and acknowledge that we create these profiles and that these profiles are not based on or associated with any Registered User or Member of our Service or any other real person. You also acknowledge and agree that the descriptions, pictures and information included in such profiles are provided primarily for your amusement and to assist you navigate and learn about our Website. Additionally, we will utilize our automated system profiles to communicate with Users to enhance our Users' entertainment experience."
The verdict on NFMature.com
We hope we succeeded to shed light over the discussion whether this site is a legitimate one or not. It's obvious that NFMature.com is using all conning tools it can to deceive people and make them believe they can meet someone on the site, but take their money instead. We advise you to read the NFMature.com Terms of Service and to never give your credit card information online before reading the terms and conditions of use document.
NFMature.com Contact Info
Addresses: P.O. Box 146, Trident Chambers, Road Town, Tortola, British Virgin Islands
Office 202, 6 Ioanni Stylianou, Nicosia, 2003 Cyprus
Cancel Your Membership: payment@nfmature.com
Email Contact: admin@nfmature.com
Phone Number: 1-888-414-3752
Report NFMature.com
Contact the Better Business Bureau and file a complaint if you feel that you have been scammed or ripped off.