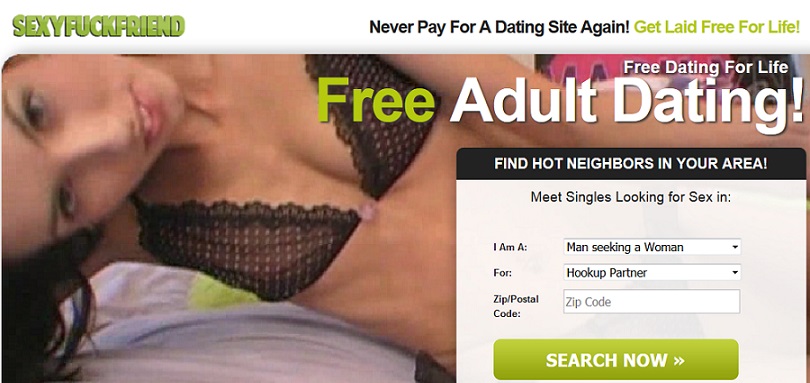 How can a dating site that says "Free Dating For Life" or "Never Pay For A Dating Site Again" or "Get Laid For Free!" ask you for your credit card information? Well, this scam is not the only way SexyFuckFriend.com earns off of you and we will uncover all illegitimate actions. We hope our investigation and review will help prevent you from getting ripped off.
Is SexyFuckFriend.com legitimate?
During our SexyFuckFriend.com research, we were able to spot many irregularities that made us suspicious of the true nature of this online dating service. But, it wasn't until we went to read the Terms and Conditions of Use agreement that we discovered proof to back up our suspicions. The real problem is that nobody reads the terms of use and just clicks "I agree" , and that's how you get scammed. Learn these following facts to be able to tell when you see a scam next time.
1) No Free Dating
SexyFuckFriend.com doesn't really offer a free lifetime membership to its members. After you sign up and create your profile, you are taken to the payment page and asked to fill in your credit card information. Don't be fooled by the claims that it is done out of security reasons or to verify your identity. Once you enter your credit-card information you will be automatically charged money on a recurring monthly basis. It is good to always read the whole content of the page before giving your data online. And, for example, if you scroll to the bottom of the payment page on SexyFuckFriend.com you will discover that there is a small text informing you that you are subscribing to a recurring membership on SexyFuckFriend.com and to two other sites for as long as you don't cancel your membership.
$49.95 for a monthly subscription to SexyFuckFriend.com
$39.61 for a monthly subscription to VibeVideo.com
$28.87 for a monthly subscription to VideoErotic.com
2) Love Stars Instead Of Real Members
We did find it suspicious that this site claims to have so many members from our local area that somehow we have never encountered. Now, this may not be suspicious for someone who lives in a big city, but our location is in a smaller town, where most people know each-other. With the terms of use we confirmed that SexyFuckFriend.com fabricates dating profiles of women and calls them "Love Stars". These profiles are completely made up and created by the site to fill it up with plenty of beautiful women – since there aren't any. None of the profiles we checked were real women…and we checked many. Basically, everything you can see on a dating profile, from photographs, to personal interests and information is completely made up.
EVIDENCE OF SCAM: "You understand, acknowledge, and agree that some of the user profiles posted on this site may be fictitious or models or bots related to our "Love Stars" (LS) program. You understand, acknowledge, and agree that the information, text, and pictures contained in the LS profiles do not pertain to any actual person or member, but are included for entertainment purposes only."
3) The (Re)use Of Your Personal Information
If you read through the terms and conditions of use agreement carefully, you will learn that SexyFuckFriend.com gains legal rights over all information you post in a public area of the site. They don't only keep them out of security reasons or out of any other honest reasons. Instead, it is absolutely legal for SexyFuckFriend.com to modify, translate, mix-and-match, reuse and distribute the gathered info throughout their affiliated dating websites. This explains why the profiles you see on SexyFuckFriend.com are not real people, but fabricated Love Stars profiles created with the data taken from other naive people who once created a profile.
EVIDENCE OF SCAM: "By posting Content to any public area of SexyFuckFriend, you automatically grant, and you represent and warrant that you have the right to grant, to SexyFuckFriend an irrevocable, perpetual, non-exclusive, fully paid, worldwide license to use, copy, perform, display, and distribute such information and content and to prepare derivative works of, or incorporate into other works, such information and content, and to grant and authorize sublicenses of the foregoing."
4) Computer-Automated Communications
Automated and false messages are actually the first deception you can spot on SexyFuckFriend.com, since it takes only a few minutes for you to start getting messages from local women who seem to be very interested in you and flirting. Believe us when we say that all messages sent to you are made-up and sent by computer software to you and many other SexyFuckFriend.com members at the same time. Also, while reading the terms and conditions of use document we found out a paragraph that confirms that.
EVIDENCE OF SCAM: "You further understand, acknowledge, and agree that, from time-to-time, LS may contact Website and Services users and members via electronic messaging, including for example, email, instant messages, and SMS, for purposes of encouraging further or broader participation in our site's Services and/or to monitor user activity."
The verdict on SexyFuckFriend.com
SexyFuckFriend.com is a site that is not free! You cannot check anyone out except for the fake profiles, and there will never be any hooking up since the only communications are guided through computer software. The only interest this site has is to rip you off, without even notifying you first.
SexyFuckFriend.com Scam Questions
In case we missed out to answer anything else you wanted to know, feel free to ask us through the comments section below. We also appreciate your feedback, so if you found this review helpful we'd be happy to know.
SexyFuckFriend.com Contact Information
Address: Stasinou, 1 Mitsi Building 1, 1st floor, Office 4 Plateia Eleftherias, Nicosia Cyprus 1060
Email Contact: cs@sexyfuckfriend.com
Phone Number: 877-597-3436
Report and File a Complaint
If you feel you have been deceived and overcharged by this site, there is something you can do. Contact the Better Business Bureau to file a complaint and report the site after you cancel your paid membership.