After landing on this site called LocalTemptaion.com, I was tempted to join (pun intended). I did the unthinkable and got myself a premium membership to use this site. I'm going to come right out and say that I personally feel that this site is a bunch of smoke and mirrors. I'll explain why I feel that way and how I came to that conclusion. All you need to do is keep reading to learn everything you must know about this website.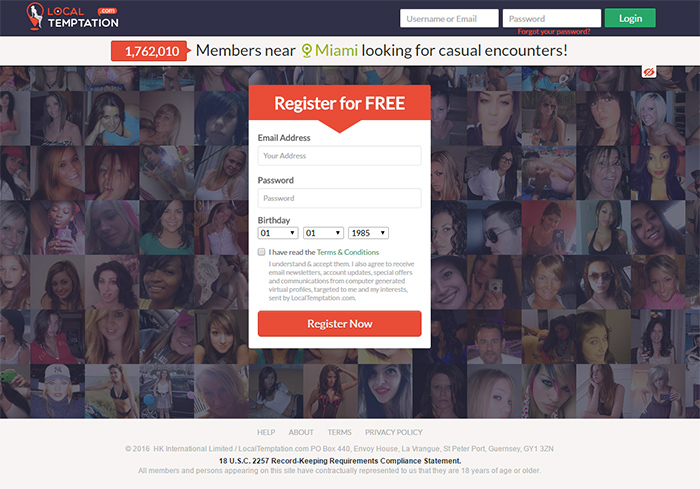 LocalTemptation.com Site Summary And My Personal Overview
The first thing that I want you to be made aware of is that I've been using adult dating sites like this forever. After meeting local women on a regular basis for sex, I know what to be on the lookout for. That's why when I say LocalTemptation.com, I knew it was my duty to buy a premium membership, get inside, and determine once and for all what this company was truly up to. I conducted a full investigation after upgrading to a monthly paying member for $29.95. The upgrade process was pretty simple. They don't want to make it tough on your obviously.
Before I begin my rant here, I want you to understand the basics of why I think this site is a total waste of time and money. It all stems from the list below.
Ripped Images From Third-Party Sites
Virtual Profiles in Terms
Employee Communications
One Specific Term (That Will Blow Your Mind)
Fake Messaging
Now, let me dive right into things here and tell you exactly what LocalTemptation.com is doing to tempt you into upgrading your membership status from free to paid.
The first thing that you'll notice is that they let you register free of charge. This is something that most adult dating sites allow you to do today. It's a way for them to get you into their funnel. No harm or quarrels with that. However, what I do have a problem with is the text on the registration form.
See that red highlighted text on the image below? You'll notice that it states that you agree and accept the terms they've set forth. While, within those terms, they are basically telling you that you'll be receiving messages and communication from fake users. These are communications that are sent by the company itself. Take a closer look at the terms below.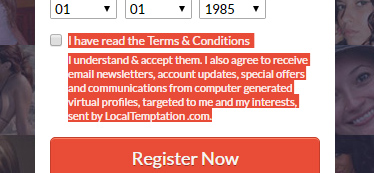 Now that we've covered that it's time for me to dive right in here…
Ripped And Stole Images
One thing that I was able to determine was that this company incorporates images from other sites within their profile database. What does that mean? Well, it means that they probably steal or rip images off of sites and use those images to create fake profiles. I was able to verify this through the use of a reverse image script that I ran on their site. No sooner did I notice that images were being pulled from all over the web and even from other dating sites. I can't tell you how much this pisses me off.
Virtual Profiles in Terms
Another reason that I'm not too happy about this service is due to the virtual profiles that they incorporate into their terms and conditions. Even worse, these virtual profiles are scattered throughout the member's area. Unknowingly, you may be communicating with a virtual profile that isn't even really someone you can meet for sex. How frustrating does that sound? It's certainly not something that I'd incorporate if I were running LocalTemptation.com. Heck, it's just a bad idea altogether for a company to create virtual profiles. Another reason why you need to read the terms carefully.
Employees Communicating With You
Let me paint a visual for you. Imagine spending a ton of time chatting with someone on a dating network. You're going through the motions working hard to get them to agree to meet, then you find out they work for the company. Do you really think they're going to meet you in person and fuck? Or better yet, do you think you'll even get them on webcam to do a video sex chat session? Not a chance in hell! Local Temptation has employees that work for them that are on staff and are posing as real users of the site. Who the fuck wants to talk to some employee.
You Can't, But They Can
This is really something else. I thought I had seen it all, then I came across a specific piece of legal language within LocalTemptation.com terms. They actually state that you're not allowed to create any fake profiles at all. Yet, they are allowed to do so and they do it frequently. I mean, how ass backward and one-sided is this site? The terms are literally listed in section F of the sites TOC page. I'd love to show that to you but last time I checked, the page didn't even load properly!
Fake Messaging
The last thing that I want to mention to you is the fake messaging. I'm fed up with sites thinking it's okay to send fake messages to users. They fire off rounds of auto messages from fake girls to try and get you to pay for your membership. Once you do, you're then locked into their recurring subscription and it's going to cost you money monthly until you cancel.
Contacting The Site
If you feel as though you've been ripped off enough and you want to contact them, find the info to do so below. I would suggest using email over any other method.
Email: support@localtemptation.com
Address: HK International Limited, PO Box 440, Envoy House, La Vrangue, St Peter Port Guernsey, GY1 3ZN
Conclusion
LocalTemptation.com is a huge waste of time and effort. Assuming that you're spending your hard earned money on your dating subscription, I'd think twice before joining. The site did not help me get laid at all. In fact, I've basically blacklisted the site due to the impact it had on my dating experience.