I've been checking out these mature dating sites for a long time now. Most of them are not that great to say the least. The one that I've spent a lot of time focusing on lately is MaturesForFuck.com. Good news for you, if you're reading this update on my Datingcop.com site and you haven't taken action, then you're definitely going to save a lot of time and money.
There are too many scams out there and to be quite honest, dating scams e.g. scam sites come in a variety of forms. Most people don't realize just how deep and extensive these networks of fraudulent sites go, and how much effort they put into looking like a reputable business.
Some of these sites are tied to vast networks of scam sites that all work together in defrauding consumers. I'm going to touch upon all of this and let you know my thoughts on things here.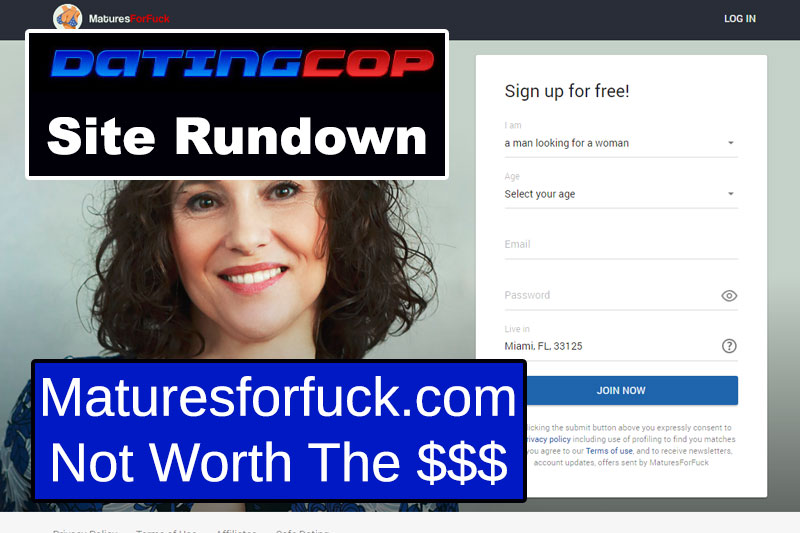 My Review of MaturesForFuck.com (Why You Must Avoid The Site)
Circling back to one of the issues previously mentioned, these scam dating networks have been at this for over a decade and most people don't realize just how successful these sites are.
They work because the scam is taken very seriously.
Maturesforfuck.com is one of the many sites doing this stuff. The site goes out of its' way to present itself as something trustworthy. This couldn't be further from the truth, however, and a basic run through the site will reveal that these people are only out to steal your money.
Here's what you'll find…
The Site Itself
You will find typical dating site features once you come upon maturesforfuck.com, and this is how they lure you in. They have a search option, messaging, chat rooms, and picture galleries. The membership for the site runs from about three dollars for a 3-day trial, up to $80+ for a 6-mo trial.
Red Flag
The first real red flag you should understand and acknowledge here is due to the sheer number of other dating sites it's linked to. This is a common tactic of dating site scams. They often exist in one large network that is run by one or two companies. This is because once the scam is revealed, the company has to put up a new site.
Free Membership Ploy
So say you are not aware of these tactics, and you are lured in by the alleged free membership. First of all, not five minutes after you set up your account, you will find several messages in your inbox.
This makes no sense and should set off your alarm bells. Why would these hot women want to instantly hook up with an incomplete/blank account that has no profile picture? That's because the messages you are receiving are from an automated bot.
Bots Send Messages
The site has these bots set up to spam your account as soon as possible. Once you start to think these women are interested in you, you'll want to read and respond to the messages. That's when you'll be hit with the prompt to upgrade to a paid membership. Nothing on this site is actually for free.
Profiles Might Be Fake
If they are using these types of shady tricks, it's obvious that the very profiles on the site are completely fake. If you're suspicious why all these hot girls are gathered on this site, your suspicions will be confirmed once you do a reverse image search on the photos.
These pictures have been ripped off from other places on the web. Not only that, but the whole scheme is laid out in the terms and conditions.
Okay, Terms Confirm Fakes As Well
The site admits that profiles exist for promotions, that the notification system also is just for advertising, and that they maintain "staff profiles" on the site. All of this is just legal cover for them to scam you on a site that has no real people on it. Sadly, you won't find anything but heartbreak on this site. Avoid this website at all costs.
Conclusion: MaturesForFuck.com Is not Good
Here's the bottom line, this website wants to take your money and that's about it. In my humble opinion, you're not going to find anything positive here and you're most likely never getting laid here even if you give it all you've got.
Where can you get laid? There are lots of other sites that you can use if you want to bang local people. My first suggestion would be to give the Snapsext website a shot before all others.