I took the time out of my busy schedule today in order to write a review on a dating site that I've somehow stumbled across. The site immediately caught my eye and I wasn't sure what type of action I was going to get from using it. I'll give you a simple rundown of everything that I learned while investigating this site. What you need to understand is that the opinions expressed are those of my own and they don't necessarily mean that they've been 100% confirmed. I can only share my own personal experiences. That said, let me dive right into PassionDesire.com and tell you what I know about this site…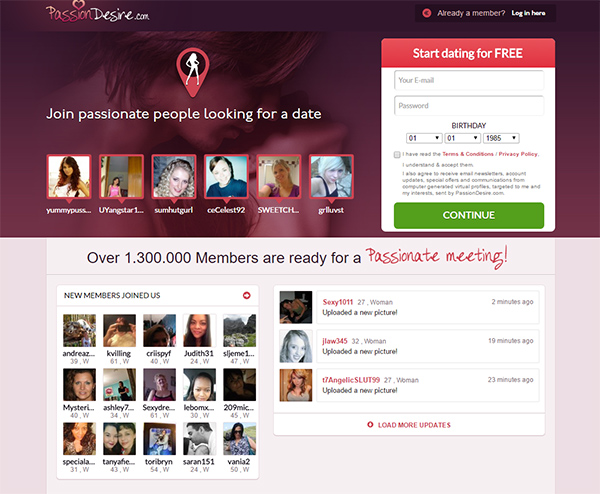 My PassionDesire.com Summary And Complete Dating Experience
Let me kick things off by telling you what this sites going to cost you. I'm sure you're well aware that dating online isn't free. It costs money and you shouldn't be against paying for it (all the time). Some websites require payment and they work well enough to warrant doing so. Anyway, this site's going to cost you about $30 a month if you join. The other option you have is joining for a full year at $120. The question is does doing so help you meet people for sex?
Everything you need to know about this site has been summarized below. I'm going to cover all the most important topics one at a time.
Associated with many other sites
Virtual profiles used
Fake users
Images found all over Internet
Emails from virtual users
Contractors hired
All in the TOS
Other Dating Sites
Okay, so the first part here that you need to understand is that this website is owned by a company that operates a ton of other dating sites. They have a whole network of sites which they've created in an attempt to expand the number of users that join. It's something that most big hookup companies attempt to do eventually. This particular website is linked to xdating.com, NoStringsFun.com and a few more. If you've joined any of those sites mentioned above, then you'll understand what you're in for when joining PassionDesires.com.
Virtual Profiles
The next thing you'll want to know is that based on my personal research, I was able to determine that it may be possible that the site uses virtual profiles within their member's area. How do I know that? Well, it's in the terms for starters. Second, right above the "Continue" button on the landing page, you can see where the company states that they use computer generated virtual profiles. Not something that I'd be proud of doing if it were my site but I'm not here to judge.
Fake Users?
What exactly does that mean? Well, it means that PassionDesire likely has fake users floating around the network. Sure, they are mostly likely flagged as being "fake" or "virtual" but in my humble opinion, I rather not use sites that partake in these antics or marketing strategies. It's just not my cup of tea to be quite honest with you.
Pics From The Web
One other thing that you might notice is that some of the images of girls that you see on the site may look familiar. Do yourself a favor and run the site through a reverse image checker. I bet you'll find that some of the photos are also posted on other random forums and sites alike. Just an odd thing to have occurs in my personal opinion.
Auto Messaging
The company might send you auto-generated messages at times and I have got to be honest with you. I absolutely can't stand getting these auto messages. Some send via email, others via IM. It really pisses me off and it's more of burden than anything. After all, auto messaging isn't going to get you laid any faster.
Contractors Working
If you read the terms closely, you notice that the website hires contractors to communicate with their members. It's another practice that I like to stay far away from when I find out about it. Nothing good has ever happened to me when I messaged or spoke with a contracted worker on a dating site. I didn't get laid by them, that's for sure.
All In The Terms
Last but not least, the PassionDesire.com site specifically states everything in their terms and conditions. For that reason alone, it's not okay (from a legal perspective) to call them scam artists. Technically, they are revealing everything to you within their terms and conditions. Since they have done so, I cannot state that they are a scam. What I can say is that the site didn't result in me getting laid. Simple as that really.
Company Information
Address: PO Box 142, The Beehive Rohais, St Peter Port, Guernsey, GY1 3HT
Phone: 1-866-883-4978
Email: support@passiondesire.com
Bottom Line
I'd say that it would be in your best interest to avoid PassionDesire.com. Why? Please do not make me repeat myself again! I just listed off a number of things that I disliked about the website and for all those reasons, you should not use it. You're free to do as you please but I personally wouldn't waste my time joining. If you want to use sites that don't do the things mentioned above, then check out the top 5 dating sites shown below. You'll get lucky using one of them. I'd bet my precious life on it!