I typically do not use mobile apps given that I prefer to use a computer, but I wanted to share my thoughts on this popular Bumble app. Currently, Bumble is available for those that have iPhone or Android operating systems. Anyone that's into use the Windows phone is shit out of luck, sorry. I'm going to give you a quick rundown of everything I learned using this app. Heck, a few of the things that I'm about to share with you might actually surprise you. Find out everything there is to know before joining today.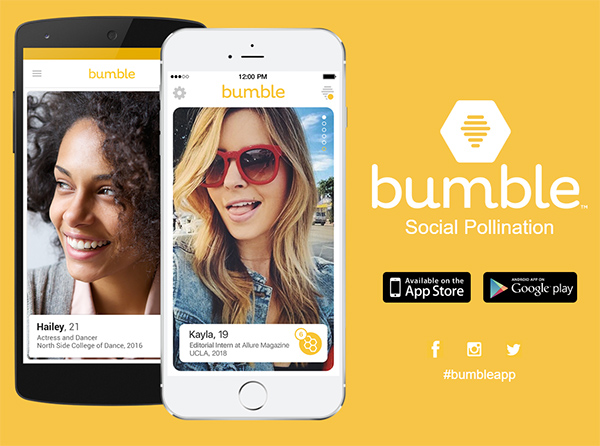 My Bumble App Experience And Complete Review
As you know, this mobile dating app is taking the industry by storm. So many users are registering on it that it's pretty much impossible to tell just how many. Here's the thing though. I don't care about numbers, I care about effectiveness. If an app has 100 million users and I can't get laid, then it makes no sense to use it. Let me tell you how Bumble works.
How It Works
The Bumble app essentially gives females full control over the dating playing field. It's not your typical casual sex app. Instead, it's a tool that women can use to connect with men that they want to connect with without being slammed with requests.
They operate under the slogan social pollination and they have one of the biggest network of single people in both the US and UK. I used the iPhone app so I'm going to share my experiences on that one.
My Experiences Using Bumble
First off, the app is unique and has a decent rating in iTunes. It's 100% free to download and register. Women must make the move on men that they find attractive. Men, it's our responsibility to communicate with those that wish to connect. As I began using the app, I found that girls were very fucking picky. They didn't want to swipe or connect unless there was a strong connection. Since all I care about is sex, this didn't work out too well for me.
Features
The Bumble app looks and feels a lot like Tinder, only simpler without any crazy ugly orange color. There are a few things that you need to understand about Bumble if you want to use it correctly.
Swiping exists, right to start a conversation and left to opt out of one. You can log into the app using your Facebook credentials. I didn't really like this since I like to keep a low profile. You can extend connections with people for up to a period of 24 hours. The profile information that is posted is shown from Facebook information. Like I said, I don't like to tie them to one another. They have a local geo search function that you can use if you decide you want to see who's a member while on the go.
Find Judgement
The Bumble app might not be for me. Sure, it's big and the customer service is top notch but there's too strong of an emphasis on girls having to make the first move. I don't have time to sit around and wait for women, I want to approach them!
Feel free to give the Bumble app a try but I will not be doing so just for the mere fact that I can get girls on many other sites that I know work quite well. Oh, and there is no waiting involved either.
Better yet, you can always just join one of the few listed below. If it were me, I'd suggest joining the very first site over all the others. Why? Well, the app is pretty much flawless and the company behind it is top-notch in this space.