The internet is full of dating sites that are simply fraudulent, one thing they all have in common is that they are created to look as genuine as possible. They will go above and beyond to make you believe it's all legit, and they will even pay marketing agencies that manage online ratings to write fake reviews and boost their popularity. In this text we will analyze the information on SeekingNaughty.com and show you why it's a waste of your time and money. So, continue reading.
SeekingNaughty.com is not legit
SeekingNaughty.com does not deserve your trust. It has been reported as being untrustworthy, it has a low reliability rating by other websites, and it's suspected to be linked with other risky online dating sites. As many other dating sites known for their scamming, SeekingNaughty.com also uses the same tactics to fraud people. These tactics include: fictitious female dating profiles, computerized instant messages, automated fake emails, as well as paid employees to communicate with you. All this work is needed to deceive people into thinking this website is legit and pay money for monthly memberships.
The prices aren't small, especially when you realize that all the time you've been paying your money for nothing. Here is how much SeekingNaughty.com will charge you for membership on the website:
$29.95 for a monthly subscription
$69.00 for 3 months of paid subscription
SeekingNaughty.com terms and condition of use
Did you see there was a little checkbox that you tick upon creating your free membership profile? Even if you don't remember, you have agreed to the terms and conditions of the site, which also means that you have agreed to the use and nature of "Online Cupids". And we bet you didn't read the terms and conditions page. That's why we'll explain how exactly you are being scammed on this website.
What are "Online Cupids"?
"Online Cupids" are basically fake dating profiles. If you are a member of SeekingNaughty.com you will see that every single dating profile has the "Online Cupids" logo, which means that it's been created by the site. The "Online Cupids" dating profiles have nothing to do with any real members of the site; they are not even real people. You can only view them on your computer screen, you can never interact with them, you cannot connect with them nor have any interaction with them. The purpose for the existence of the "Online Cupids" is to lure male members to buy paid membership.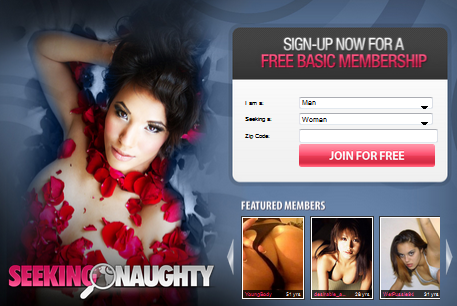 Want more solid proof? Just visit the website's page for terms and conditions, and number 9 on the list points out "FOR AMUSEMENT PURPOSES ONLY". Here, you can see with your own eyes:
"THIS SITE USES FANTASY PROFILES CALLED ONLINE CUPIDS®: You understand, acknowledge, and agree that some of the user profiles posted on this site may be fictitious and operated by the Site or its contractors. These profiles and related messages are conspicuously labeled with the "Online Cupids" logo."
SeekingNaughty.com hires people to chat with you
These are actual people hired and paid by the website to string you along for as long as they can. Why? So you will continue paying monthly fees for membership. The employees are just doing their job and they will send you emails, to interact with you, chat with you and pretend to like you. Once again, the terms and conditions document will verify this claim, and we quote:
"Online Cupids® messages and/or correspondence may be generated by third-parties hired or contracted by Us"
Emails are automatically generated
Any emails and instant messages that you receive from women are 100% fake and are actually automatically generated email messages that have no human involvement. Read section 9i of the page that explains the terms of use and you'll find out that:
"Messages sent from our Online Cupids® service may be automatically generated with no human involvement."
The take home lesson
SeekingNaughty.com is not a legitimate dating site. It's a scam pretending to be a dating service and doesn't really want to help people connect for a good time.
We have warned people in our previous reviews about the schemes of dating websites. Although they tend to look real, you should always do your research before you use your credit card. You can never be too careful when these sites count on your naivety to make lots of money. We advise you to always read the terms and conditions of use and you would most definitely avoid getting scammed.
SeekingNaughty.com Contact Info
Addresses: Dositheou, 42 Strovolos, P.C. 2028, Nicosia, Cyprus
Email Contact: support@seekingnaughty.com (or through the online contact form)
Phone Number: 1 (888) 649-9178