Sex-Flow.com is not a legitimate dating site. We have done our investigation and in this review we will present to you why we think you shouldn't trust this so called "dating service".
The weird Sex-Flow.com registration process
When we opened Sex-Flow.com, we didn't encounter any nude or provocative photos of women on the site. Instead, it's a white screen with text you need to read. Not typical for a dating site, isn't it?! In fact, as you can see in the image above, their first sentence tells you that this is NOT a dating site. Still, you need to answer a bunch of questions, such as:
Are you over 18? (YES or NO question)
Are you using any messaging apps? (see picture below)
Are you comfortable to receive explicit photos on this device? (YES or NO)
What type of body turns you on? (choose one from several body types)
What type of a relationship are you looking for? (choose up to three answers)
What age of women fits you best? (you can set an age range)
What race or nationality do you prefer? (you can pick one)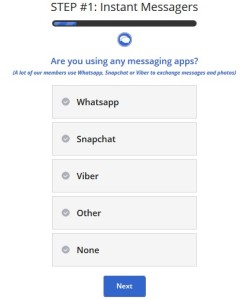 Then the site calculates your matches based on your answers. But, if this isn't a dating site, then why are we answering this questionnaire? We know that it's just a bunch of bogus questions because we went back several times and answered differently every time. We finally concluded that no matter how you answer these questions, there are always "153 women matching your chosen options". Now, that looks like a computer-generated number set up to make you believe that this site is leading you to meet real women.
They also add some rules you need to read before you click that you agree and register to the site. From our investigation we can conclude that it doesn't matter how you answer these questions, you still get access to the site. The end goal is to get you excited about the site and deceive you into believing that you are getting a service tailored to your needs and preferences.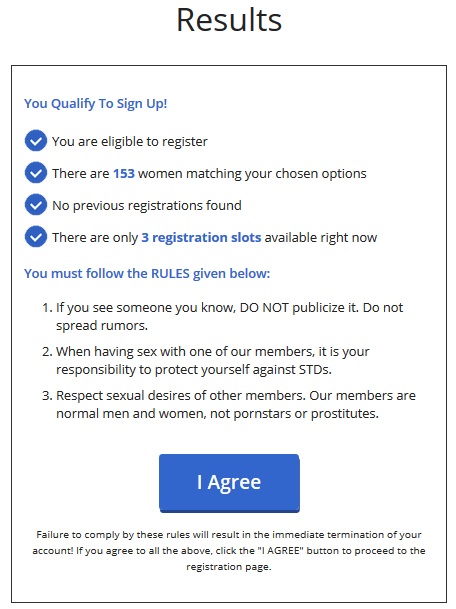 Sex-Flow.com is just a landing page
You will notice that the site has a white background, while actual dating sites usually show you provocative images of nude men and women, but this site doesn't. We discovered that this site is only a landing page that redirects you to other dating sites it has partnered with. We were able to connect Sex-Flow.com with Loveaholics.com, WildMeets.com, NaughtyDate.com, DoUWant.me and QuickFlirt.com. We have done a review on some of these sites, and will soon investigate the rest of them. We doubt that any of these affiliate sites will turn out to be legitimate.
The verdict on Sex-Flow.com
We do not recommend Sex-Flow.com, first of all because it's not a real dating site. Sex-Flow.com makes money by partnering with other online dating sites and redirecting users to them. It's a complete hoax, since the questions you answer are useless and are a complete waste of time. Plus, you are not safe from scam on any of the other sites Sex-Flow.com takes you to.
Sex-Flow.com Contact Info
Addresses: Nelson House, Pitronnerie Road St. Peter Port GY1 2RL GB
Email Contact: crgy7juadaq4yxfh36c@privacyyes.com
Phone Number: +44.1481720924
Report Sex-Flow.com
If you feel that you have been scammed or ripped off by this site, you can report this site and file a complaint by contacting the Better Business Bureau.