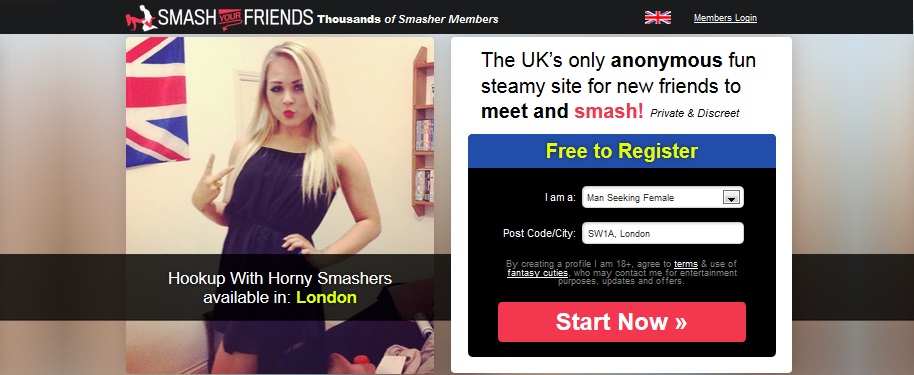 A UK based dating site that promises you'll be able to find local friends interested in smashing with you in a fun and discreet way. But, can you really meet someone on SmashYourFriends.co.uk or is the site just another fraudulent dating service? Well, we set out to find out and did our investigation on the site. In this review we present to you our findings and the evidence of scam. Here is what we found:
the site uses fantasy profiles identified as Fantasy Cuties
the site is intended for amusement purposes only
communications from Fantasy Cuties are computer-generated
third party contractors hired from the site are employees who are paid to interact with you
this is not a free dating service
no in-person meeting will ever take place between you and someone you meet on the site
Proving the illegitimacy of SmashYourFriends.co.uk
At the beginning, when signing up for a free basic membership on this site, you are agreeing to the SmashYourFriends' terms of service and the use of fantasy cuties. But, did you read the content of this document? If not, we will point out the evidence that support our suspicions of scam and fraud.
1. Watch Out For The Fabricated "Fantasy Cuties"
The "Fantasy Cuties" service consists of false women's profiles, which are fictitious and completely made-up, created by the site to help them fill up the site with women because there are no real ones who are members of SmashYourFriends.co.uk . Fantasy Cuties are completely fake profiles, with invented personal information and interests, and no real people are behind these profiles. Here is an excerpt from what we found in the terms of use page.
SCAM EVIDENCE: "THIS SITE UTILIZES FANTASY PROFILES IDENTIFIED AS FANTASY CUTIES. You comprehend, acknowledge, and agree that the interactions, profile information, and content utilized by Fantasy Cuties profiles do not originate from any actual Site member, but are present for educational, entertainment and Site monitoring purposes only. Any similarity between Fantasy Cuties profile information or interactions to any real person is purely coincidental and fictitious."
2. Receiving Automated Messages From Fantasy Cuties
To broaden the scam and further convince you that there are real people on this site who are ready to meet up and date, SmashYourFriends.co.uk starts sending you messages through the Fantasy Cuties service. When you receive an automated message, it looks as if it's sent by a genuine person, who is genuinely interested in you and would like to move things forward. Problem is, these messages, just like the profiles they are coming from are completely fake.
Also, note that there are some real people using the site, but unfortunately they are not genuine site members either. SmashYourFriends.co.uk hires and pays employees to interact with you and continue the correspondence that their computer software initiated. The reason why they need real people is because communicating with computers quickly starts to make no sense and employees can provide a natural flow.
SCAM EVIDENCE: "Interactions originating from Fantasy Cuties functionality could be computer generated or could be created by the Site or third party contractors hired by the Site. Staff of Site or third party contractors hired by the Site could operate multiple Fantasy Cutie profiles and associated communications features. Fantasy Cutie profiles may contact both free users and paid users with computer or human generated interactions. These interactions may be initiated to several users simultaneously or in a small time frame."
3. Paying To Use SmashYourFriends.co.uk Services
When you sign up for free, the site will automatically take you to a page where you are required to pay a fee and upgrade your basic membership to a paid one. Of course you will skip this step, but it's not that easy to escape paying this site. In fact, it resembles extortion. If you want to start a conversation with someone and try to write an email or a chat message – you will be unable to do so unless you pay. Also, you are blocked to open and read messages until you upgrade.
Vip Membership
£8.90 to purchase a 3 day trial membership
£29.95 to purchase 1 month of membership
Gold Membership
£49.95 for 2 months of membership (+1 month free)
£69.90 for 3 months of membership (+3 months free)
4. SmashYourFriends.co.uk Knows You Cannot Meet Anyone on the Site
Of course they know this for a fact, since they know that there are no real women from your area that have signed up or created a profile on SmashYourFriends. Thet also know that no one is actually contacting you, and if you happen to speak to a real person – it's an employee of the site. Basically, you are wasting your precious time and money hoping you will meet someone to hook up with, but you can't and you never will on SmashYourFriends.co.uk.
SCAM EVIDENCE: "You comprehend, acknowledge, and agree that no in-person meeting will ever happen between You and the people providing Fantasy Cuties functionality, and that the interactions You have via Fantasy Cuties functionality is for entertainment purposes."
The verdict on SmashYourFriends.co.uk
All the results of our investigation point towards one thing – SmashYourFriends.co.uk is out there to take your money and not match you with anyone. We do not recommend this online dating service, because it uses fabricated profiles to populate the site and to send you automated messages. This site is basically waiting for naive members who are inexperienced at spotting scamming dating sites to fall in their hands. Beware because it may be too late when you realize you've been ripped off.
SmashYourFriends Scam Questions
Do you have any other questions regarding the work and scamming tools SmashYourFriends.co.uk uses to deceive and rip off users? Feel free to post them in the comments section below. We try to answer all legitimate inquiries personally and promptly. Your feedback and personal experiences are also welcomed and may help prevent other readers from getting scammed.
SmashYourFriends Contact Info
Email Contact: support@fastdatingsupport.com or Contact Page
Phone Number: 844-399-9749 or +1-619-900-1607 or 1-310-645-5810
Report and File a Complaint
Contact the Better Business Bureau to file a complaint and report the site if you feel you have been deceived, scammed or ripped off.