I've been testing sites over and over lately and it's been nothing but a headache so far it seems. The sites rarely make changes even when I reach out to them. In fact, this is exactly what happened to the Up For It website. I've covered this originally in a separate update, but this is one of the follow ups that you need to know. At any rate, here's the most recent update I have for you…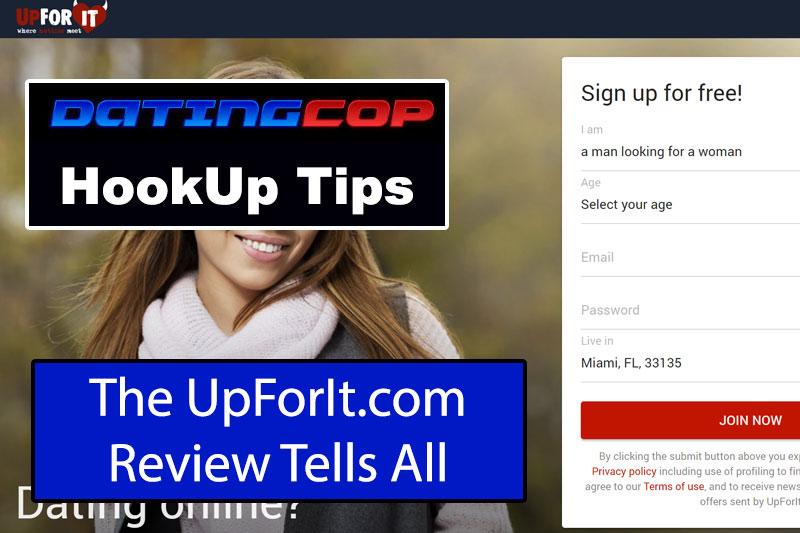 My Updated Review: Up For It Is BAD
There are a lot of dating sites on the internet that do a great job of getting you in touch with available people.
The sites let you talk as much as you want and set up your meetings with them. They make sure that they tell you where the other person is from so you know that you're both close by. Then there are sites that don't do any of that. They don't exist to help you date.
They don't even have enough real people on them to make it a possibility. These sites only exist to scam you out of your money. That's exactly what you get with Up For It. If you want to see how the scam works for yourself, all you have to do is create a profile. It's the best way to see how one of the most common scams on the internet comes together.
Create A Free Profile
The first thing that you want to do is create a free profile for yourself. The trick here is not to enter any information at all about yourself. Just leave all of the fields as blank as you can.
Then make sure that you don't upload a picture of yourself. You want a completely empty profile to see this all happen. Then you just want to sit back. What's going to happen is that you're going to be getting tons of messages.
They're going to come from all over the site. That shouldn't really make any sense to you at all. If the people know nothing about you and haven't seen you, why are they sending you messages? That's not how dating sites work. You don't talk to people with no information. It's just a massive waste of time.
Check The Profile Pictures
Now you can pick any of the profiles that sent you messages and check out their pictures. You can use Google to run a reverse image search on them.
It won't cost you anything. What you're going to see is that the pictures are from models all over the internet. The site simply created fake profiles and attached pictures that they paid for.
The people you see have never been on the site. They probably don't even know that their pictures are on it. It's all done so the site can scam you out of your money.
Conclusion: Up For It Is A Waste Of Money
The fact of the matter is that Up For It is only sending you fake messages so you'll pay to upgrade your account. You'll have to do that if you want to read.
It's a very common scam. This site isn't worth any of your time. Take the things that you've caught them doing and remember them. Run this little test on any new dating site that you come across.
If you get the same results, stop using. It's just a scam site that's out to take your money and that's it.
For more, visit the Datingcop.com homepage and take action now.