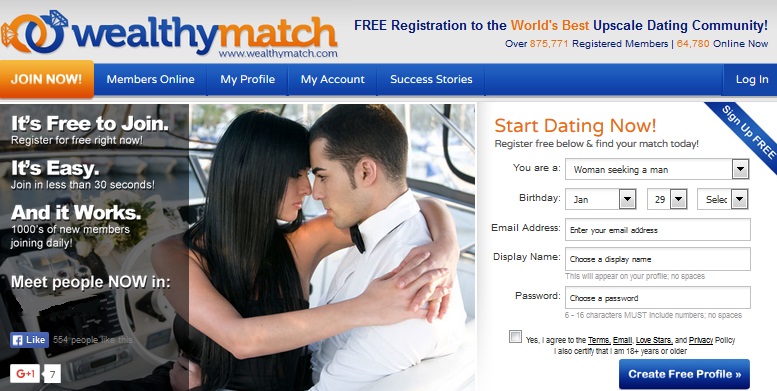 Ever heard of the online dating website WealthyMatch.com created for wealthy men to find beautiful women who are seeking such men. Marketed as a dating platform where women who want to be spoiled can search for upscale men, so a relationship with "mutual benefits" can be created. But, is this for real or just another scam?
Continue reading this review to find out what's really hiding behind the classy exterior of WealthyMatch.com. In the end, we welcome you to share your questions about this website, or write about your personal experience while dating on WealthyMatch.com to help other see if it's real or fraudulent.
The truth about WealthyMatch.com
There are several factors that point towards the total illegitimacy of this online dating service. Basically, WealthyMatch.com baits naive people, scams them and rips them off without them noticing. Here, we will disclose what we found about the workings of WealthyMatch.com.
1) Fabricated Dating Profiles
Did you really think that there are desperate millionaires in the world who have trouble meeting gorgeous women in real life? If you were deceived to believe that any of those people you see on WealthyMatch.com were real, then you should learn that this website utilizes a program or service called Love Stars. This program includes fabricated profiles which are created by the company who owns WealthyMatch.com. They take photographs, descriptions, personal details and correspondence samples from real users and re-create them on other networks. Moreover, in the Terms and Conditions of use we found this paragraph that confirms our suspicions.
PROOF OF SCAM: "You understand, acknowledge, and agree that some of the user profiles posted on this site may be fictitious or models or bots related to our "Love Stars" (LS) program. You understand, acknowledge, and agree that the information, text, and pictures contained in the LS profiles do not pertain to any actual person or member, but are included for entertainment purposes only."
2) Reuse And Distribution Of Your Personal Data
Posting photographs, uploading personal information, customizing your profile or publishing anything in a public area of the site allows WealthyMatch.com to gain all legal rights of that content. WealthyMatch.com also has the legal rights to freely distribute your personal info to other websites, so you shouldn't be surprised to see your photos and data posted on other dating sites that are owned by the same company. Your profile information can be re-worked, translated, mixed and matched with other people's info, and even posted on other dating networks owned by other companies.
PROOF OF SCAM: "By posting Content to any public area of www.millionairedates.com, you automatically grant, and you represent and warrant that you have the right to grant, to www.millionairedates.com an irrevocable, perpetual, non-exclusive, fully paid, worldwide license to use, copy, perform, display, and distribute such information and content and to prepare derivative works of, or incorporate into other works, such information and content, and to grant and authorize sublicenses of the foregoing. Specifically you agree and acknowledge that your profile and related information and content may be utilized and displayed on other sites which are owned by related companies or authorized services providers ("Network websites")."
3) Computerized Communications
Once you sign up and create your profile, you will start receiving many chats, email messages, different notifications, which are informing you that other members of WealthyMatch.com are interested in you. We got a lot of messages, but were blocked from opening, reading, or replying. That's how we figured out what WealthyMatch.com is actually all about. Whenever you try to communicate with another site member, WealthyMatch.com you are taken to a payment page where you have to provide your credit card information and choose a subscription plan. So, unless you give them your money you don't get to message or connect.
PROOF OF SCAM: "Our LS work for the site in an effort to stimulate dialogue with users and to stimulate user participation on the Website and Services, advertisement of the Website and Services, and the creation of user profiles. You further understand, acknowledge, and agree that, from time-to-time, LS may contact Website and Services users and members via electronic messaging, including for example, email, instant messages, and SMS, for purposes of encouraging further or broader participation in our site's Services and/or to monitor user activity."
4) Paid Subscription And Automatic Billing
As we said in the section above, if you see a millionaire you'd like to start a conversation with, you'd have to pay to be able to send them a message. And, when you get tons of messages in your inbox (from millionaires-so they say), you have to upgrade your membership to be able to read the content of the emails or to write back.
WealthyMatch.com will ask you to provide your credit card information and upgrade your membership. However, subscription is not a one-time-thing on WealthyMatch.com. You will be automatically charged every following month and your membership will be prolonged for as long as you don't cancel your membership. Check out the subscription plans and price list on WealthyMatch.com:
$2.97 to buy a 3 day trial membership (automatically renews at $39.95 monthly)
$29.95 to buy 1 month of membership
$74.85 to buy 3 months of membership
$119.70 to buy 6 months of membership
The verdict on WealthyMatch.com
Now you know about the scamming truth of WealthyMatch.com. We caringly advise you to always read the terms and conditions of use before giving your credit card info to an online dating service. Dating websites tend to hide many important facts in this document.
WealthyMatch.com Scam Questions
If we left something unanswered in this review, feel free to post your comments and questions in the section below. Also, you are welcome to share your personal experience if you have ever been a member of WealthyMatch.com and warn others before more people get ripped off.
WealthyMatch.com Contact Info
Address: Stasinou, 1 Mitsi Building 1, 1st floor, Flat/Office, Plateia Eleftherias, Nicosia Cyprus 1060
Email Contact: legal@nautellcapitalltd.com and cs@wealthymatch.com
Phone Number: 877-597-3436
Report and File a Complaint
Contact the Better Business Bureau to file a complaint and report the site if you feel you have been conned and/or ripped off.