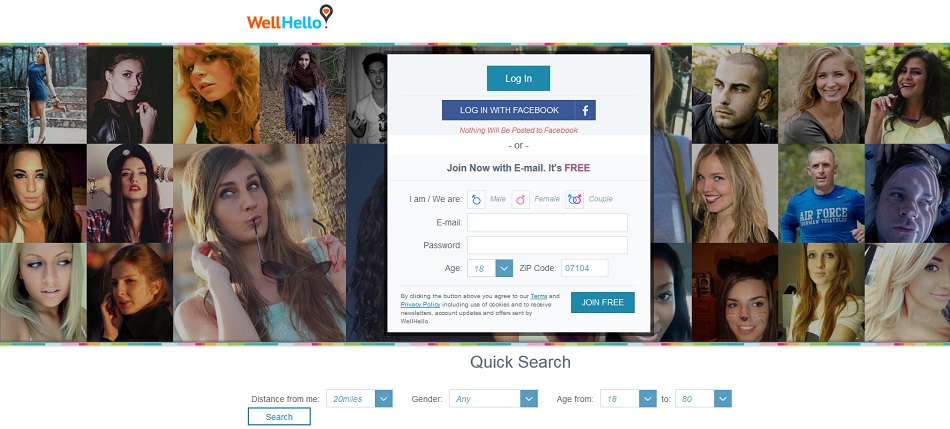 As many other people who have gotten scammed and ripped off so far, we hope it's not too late for your too before you realize that WellHello.com is not a legitimate dating site. We believe that if you are well-informed, you won't fall in the hands of scammers. In this case, damage can be easily avoided if you'd read the terms and conditions of use before signing up, or at least before giving your credit card info and upgrading to a paid membership.
In this interview we explain the findings of our investigation and reveal all you wanted to know about WellHello.com, which the site is carefully hiding from you.
Why Well Hello Reviews Are So Negative
Fake and fabricated profiles of women are called "Love Hostesses"
Automated messages sent by computer software
Employees of the site may be sending you messages through "Love Hostesses" profiles
You have to pay to use WellHello.com's services and features
Backing up the WellHello.com allegations for disingenuous acts
This is a tip for all dating site users: When signing up and creating a profile on an online dating service, try to search the internet first for reviews such as this one. It may save you from a lot of headaches later on. Also, never forget to carefully read the Terms and Conditions of use, since the proof of the site's fraudulent actions is usually hiding in this document. So, what did we discover on WellHello.com?
1) Love Hostesses Profiles are Fabricated by Smoochy Brands
Smoochy Brands Ltd is the company behind WellHello.com, and we have found the evidence that suggest this company creates fake dating profiles of women and fills them up with fake photographs, made-up personal information, fictional interests, etc. These profiles are called "Love Hostesses" and are indicated by a green heart icon. This is a signal that the person you see on the photos is most likely not the one behind the profile.
FROM THE TERMS OF USE: "You acknowledge that Smoochy Brands creates and maintains some of the profiles on the site, and that some 'members' of the site are actually fictitious persons created by employees or agents of Smoochy Brands, who we refer to as 'Love Hostesses'."
2) Automated Communications from Love Hostesses
If WellHello.com goes above and beyond to deceive you, they are certainly not going to stop at fake profiles. Next in line are the fraudulent emails. Basically, the email and chat messages you receive are automatically sent to all free members on the site. The goal is to lure you into paying a membership in order to use the site's services. We advise you to be cautious and don't get fooled into believing that those women are interested in you and want to communicate with you. If you do respond, you are basically communicating with computer software.
FROM THE TERMS OF USE: "You further acknowledge and agree that smooch brands may respond to your communications to Love Hostesses through employees, agents or chat bots that impersonate the fictitious persons portrayed in such 'Love Hostesses' profiles."
As you can read from the excerpt, not only do they generate computer-automated messages, they hire and pay people to start conversation with you or respond in case you send messages directed at Love Hostesses profiles on WellHello.com. While these people may only be doing their job, they are employed to string you a long and make you believe they are real people you might meet in real life.
3) Extortion of Money
If you are wondering why are the owners of WellHello.com going through so much trouble with creating fake profiles and using employees or bots (robots-meaning computers) to further deceive you, then you should know that you need to pay to use WellHello.com. While becoming a member is for free, you cannot use any features of the site, read messages you get in your inbox or sent messages to other site members – unless you pay for subscription. Here are your choices:
$1.00 for a 24-hour trial membership period
$29.95 for 1 month of site membership
$119.40 for 1 year of site membership
Now, if you already know that these messages are as fraudulent as they come and sent from non-existing people, you may not pay your hard earned money for a bunch of lies. Unfortunately, everything about this site looks very genuine, that many people do fall for the scams and end up ripped-off.
WellHello.com Scam Questions
We hope that we answered all your questions about the workings and legitimacy of WellHello.com. If you do, however, have anything else you'd like to ask, feel free to post in the comments section below. Also, we welcome your personal experiences if you are a past user of the site. So, share your story to help other readers.
WellHello.com Contact Info
Addresses: 6, Flat/Office, 202, Ioanni Stylianou, 2003 Agios Dometios, Nicosia, Cyprus
Email Contact: info@wellhello.com and ADMIN@WELLHELLO.COM
Phone Number: 1-888-414-3752
Report and File a Complaint
Contact the Better Business Bureau to file a complaint and report the site if you feel you have been deceived, conned and/or overcharged.
Join A Hookup Site That Works!
If you're interested in joining a dating site that can actually help you hook up with someone local, then I strongly suggest that you take the opportunity to join one of the sites below. Why? Well, because they are incredibly effective at helping you connect with someone to bang and that's what matters most here! Check them all out…