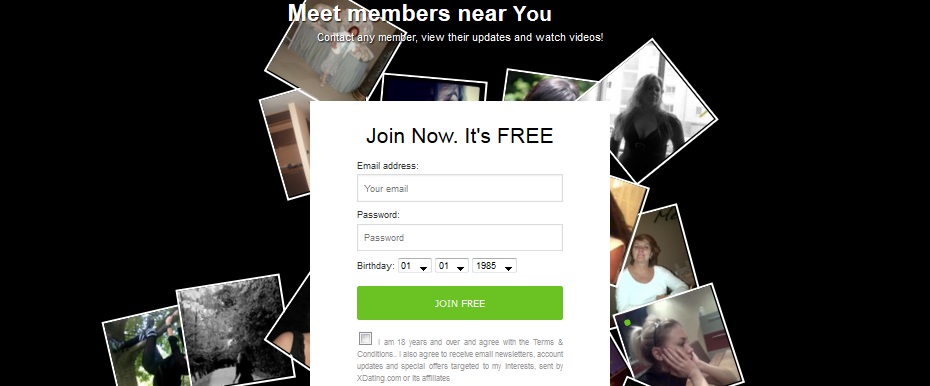 In this article we will review the online dating service XDating.com. We hope our findings will warn you about the scamming tricks used by this site, and prevent you and other site users from getting scammed and ripped off. We invite you to continue reading as we expose all the cheating tools of XDating.com.
What we will focus on in our review:
(a) Are the women's profiles on XDating.com real or fabricated?
(b) Does the site send computer-automated messages to real site users?
(c) Is XDating.com really free or a rip-off?
(d) Can you find a real date on XDating.com?
Uncovering the true face of XDating.com
Usually the evidence that back up our suspicions can be found in the Terms and Conditions of Use on dating sites we are reviewing. For your convenience, we present the important evidence found in XDating.com terms of use page and explain them here.
1) Fantasy Profiles Called "Online Flirt"
The women you see on XDating.com are not real members of the site and their dating profiles have been fabricated by the site itself. The women you see are marketing tools, used to lure you into thinking you can really meet people on the site. Everything from their photos to their personal interests and information has been completely made up. XDating.com needs to fabricate dating profiles to fill up the site with gorgeous women and deceive men into believing they can actually find a date there. But, the reality is crueler, as we found evidence in the site's Terms and Conditions of Use that back up our suspicions.
FROM THE TERMS OF SERVICE: "THIS SITE USES FANTASY PROFILES CALLED "ONLINE FLIRT". In order to enhance your amusement experience, to stimulate you and others to use our Services more extensively, and to generally sprinkle some sparkle and excitement into the Services of XDATING.COM, we may post fictitious profiles."
2) Communications Are Electronic
It's actually not that easy to spot fraudulent messages if you are unexperienced at detecting this kind of frauds, and that's what sites like XDating.com are counting on. They use computer software to send out different messages and communications to free site users to make it look like women are interested in them. You can see that someone sent you a message, you can see their photograph and their name, but you cannot read the content of the message or reply back. The "Online Flirt" profiles are used to reinforce this scam, as they are successful in deceiving people that a real woman is trying to start a conversation and is truly interested in them. But, not only will these computerized messages have you upgrade your membership – they will have you chatting with a robot (computer).
FROM THE TERMS OF SERVICE: "We generate or respond to communications by means of automated programs or scripts that simulate or attempt to simulate your intercommunication with another real human being (though none really exists and any dialog is generated by programming). While these communications may seem genuine, authentic, and personal, they may be broadcast simultaneously to a large number of persons and possess none of these qualities. While their contents may appear to be true, they may be quite false; while their contents may appear too sincere, they may be quite disingenuous."
3) XDating.com Is Not Free
One way XDating.com tricks you into paying for membership is by tempting. They show you all the gorgeous women and send you automated messages that look like they are coming from those beautiful local women. Then, XDating.com doesn't allow you to read or write back unless you give them your money. This means that XDating.com basically extorts your money by limiting your access to the site's services and features. Here is a list of your payment options and subscription period choices:
$29.95 for 1 month of site membership
$59.95 for 3 months of site membership
$89.95 for 6 months of site membership
4) Paid Employees Hired To Communicate
These are actual people hired and paid by XDating.com to string you along for as long as they can. Why? Because their job is to keep you entertained, while the site keep charging your credit card for as long as possible. But, these employees are also a part of the "Online Flirts" and are just doing their job and they will send you emails, interact with you, chat with you and pretend to like you.
FROM THE TERMS OF SERVICE: "…and we may employ or contract for the paid services of real persons who may interact with you as part of their compensated employment."
The verdict on XDating.com
We advise you to stay away from XDating.com, since it's not as legitimate and well-intentioned as it seems. We advise you to always read the Terms and Conditions of use on online sites before agreeing to them or paying to use a dating service.
XDating.com Scam Questions
Got more questions to ask about this dating site? Feel free to share them with us and we'll reply back as soon as possible. Also, if you have a personal experience with this site and would like to share it, please write your comments in the section below.
XDating.com Contact Info
Address: Victoria Road, Basseterre, Saint-Kitts, Saint-Kitts and Nevis.
Email Contact: support@xdating.com
Phone Number: 1-661-705-5088
Report and File a Complaint
You can contact the Better Business Bureau to report this site and file a complaint if you feel that you've been conned or ripped off.
What actually works the best is shown below. There are plenty of dating sites out there that you likely haven't heard of before. These are all my absolute favorite. I use the premium memberships on a regular basis…check them out!