I've seen way too many dating sites pop up on the world wide web with the intentions of doing nothing but taking your money. Now, I'm not saying that 2Fuck.com is doing just that. I'll give you my personal opinion of the site and let you make your own judgment of them. What I can say is that I've seen this type of dating marketing technique on multiple occasions and you need to know what I'm referring towards. The only way to properly explain things is to share my thoughts on the site in general.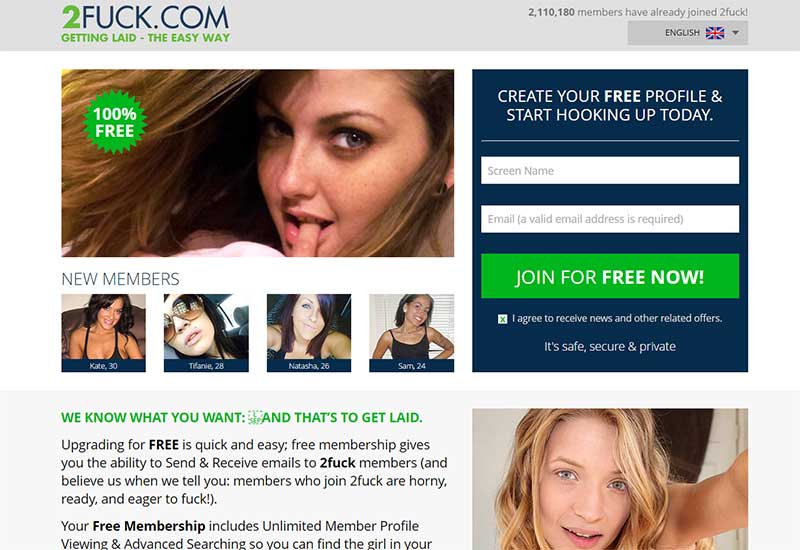 Overview of 2Fuck.com
The focus of my review today is on one site only, which is called 2fuck. My interpretation of the site is that it's basically being used to help funnel site visitors to other dating offers that exist today. Let me explain exactly how the people or company behind this site operates. In my review, I'll be covering the following topics:
Redirects
Company Background
Terms & Conditions
Redirects Involved
Let me start with the redirects that occurred. Okay, so I decided to join 2Fuck.com and did whatever average joe does. I submitted my information to the website. They asked for my desired screen name and email address. Surely enough, within a matter of seconds after dumping that information in, I was redirected to a site called XXXPersonals.com.
Basically, what they've done is collect my email address and screen name so that they can create a user profile on another dating website. They do this because 2Fuck is not a real dating site at all. It's simply a landing page built to fool surfers into submitting their information.
This site isn't the only site out there that's doing this. Nope, not a chance and if you think otherwise then you're foolish. Anyway, enough about that nonsense, let me dive into the company behind this site.
Company Background
So, 2Fuck.com is owned and operated by a company that runs Crakrevenue. For those unfamiliar with who Crakrevenue and Crakmedia are they are a successful Internet marketing company that helps companies generate leads. That being said, I believe the site is used to help generate leads for other dating sites. I'm not saying that this is a bad thing in general, especially if the sites that are connecting users with actually work. Before joining 2Fuck, I'd suggest you look into the company a bit more to learn more about them.
I Dislike The Terms
As far as the terms and conditions, this is where I have a really big problem with this site. Let me further clarify things for you. It's not that I completely disagree with the terms because there aren't any that exist! I have a big problem advising someone to visit a site that doesn't properly display terms and conditions, especially when they're requesting that personal data be submitted to the site.
Since 2Fuck is sending you to so many other third party dating services, it's difficult for them to actually publish a terms and conditions page. The terms may vary from site to site. Anyway, that's why I'm not a big fan.
Conclusion
I would advise against using this site. Reason being is quite simple. You're submitting your personal information only to have it passed along to another dating company that may or may not have a good service. Until you submit your information you will never know. Don't take the chance. Simple as that.
If you're looking to bypass the redirects completely, then I've got a suggestion for you. The best thing for you to do would be to join one of the sites that I've personally recommended over the years. I'd suggest that you start with this site first. Once you've had your fun over there and you want to move on to more mature women, then click here. I have many other sites that I use, but those two are legit and can help you get laid faster than any others I use.
Best Dating Sites To Consider Joining…
If you're looking to join only those which have been ranked as top sites, then your best bet is to start with the sites listed below. I can cofidently say that each one of the sites as resulted in me getting laid. My guess is that you will have similar luck if you do things right and take my advice. There's no way you can lose with this here!