I've taken the time today to share my experience with you on the Naked Locals dating site. If you ever decide to visit NakedLocals.com, I want you to remember what I'm about to share with you. There are some sites that you simply cannot afford to use because they don't work well. This site might be one of those kinds of websites.
Before you go forming your own opinion on it, I suggest that you take the time to read this in-depth review where I share everything that I know about the site. I'll start with a summary of the features, the costs, some things that totally turned me off and a conclusion as to whether or not you should join the site. Let me not waste any more of your precious time…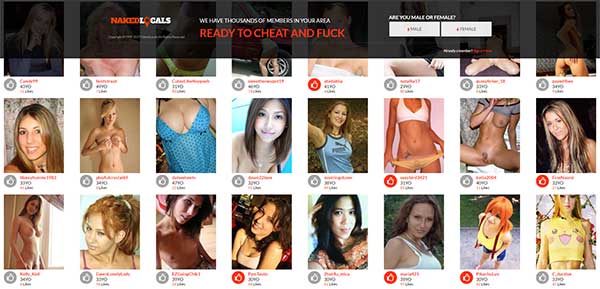 Naked Locals Overview Website Review
Okay, so you already know that the site is called nakedlocals.com. I visited it once and decided to spend some cash to test it out. When I did, I came across a number of different features. They've got the following types of services that they provide for paying customers:
Live Webcams
Chat Locally
Adult Movies
Search Filters
Online Now Feature
Pretty basic stuff as far as dating sites are concerned. I decided to dig into things a bit more and see what it was that this site was really up to. I'll go over everything that I know about it, including the following:
Trial Cost Auto Upgrades
Fake Profiles
Repurposed Images
Bot Messaging
Employees
Terms and Conditions
I'll start with the moolah as we know money is super important today.
Money Trial
Okay, so what I learned pretty quickly was that the Naked Locals trial offer for $1.95 doesn't really allow you to do much of anything. Maybe I'm a complete idiot but I could've sworn that it was a heavily restricted membership that did not open up all features to you as a paying user. Granted, I joined a while ago and they may have changed the process but what do I know, right!
Well, I know that the trial automatically upgrades you and rebills you to a $29.95 per month subscription. Oh, and good luck canceling that subscription!
Fake Profiles
Now it's time to get down and dirty here. This site is pretty damn grimy far as I'm concerned. Yes, it's my personal opinion only, but I do not like it when I come across fake profiles on a dating site. To me, it screams scam. Now, I'm not saying that this is a scam. I'm simply stating that I'd never use site with fake profiles on it willingly.
Here is what this site does. This site adds a massive amount of users to their database flagged as Online Cupids. These online cupids look and act like real users, only you'll never be able to fuck them.
The shitty part about all of this is that you essentially signed a contract stating that you agree that the site incorporates these online cupids.
If you want to identify them on the site, you can easily point them out. Each fake profile has the words, "online cupid" on the profile page.
Images From Everywhere
As if the online cupids were not enough. They use images that you'll find all over the internet. How do I know this? Simple, you can use a program called Tineye to do a reverse image search on the site. What I learned was that the site basically takes images that are on other sites and uses them to create profiles.
I'm not sure if they are stolen images or not. Nor am I saying that the company stole all these images. I'm simply stating that it's quite possible that they've done so and that they've created a bunch of fake profiles or online cupid profiles with the images. Again, just a personal observation and nothing that I can completely confirm.
Bots Sending Messages
What I believe I can confirm are that bots or auto messages get sent to new users. I think that they do this to entice new registered users to upgrade immediately. They give the perception that these users really want to hook up with them. When in reality, it's most likely just auto messages sent from online cupids.
Most men probably join this site frantically thinking they will connect with someone for sex that night, suckers!
Employees Chatting
Shocker, they have employees that are hired to chat with you! I would have never guessed that one, hahaha. Anyway, it really wasn't that funny when they got my money out of me. Tell you what, I don't need to pay for friends, especially people that are employees posing as dating site users. Screw all that noise!
The Terms
While Naked Locals is not doing anything illegal and they're disclosing all the information necessary, they aren't being 100% moral or ethical, in my personal opinion. I'm not a huge fan of the terms and all the legal jargon with Online Cupids etc. I'm not going to go through the entire thing. If you want to read it, then be my guest!
Company Info
Want to call the company to ask for your money back? Here is the number and any other info that you need. It's a company based in Cyprus, so not really sure how far you're going to get with them.
Address: Dositheou, 42 Strovolos, P.C. 2028, Nicosia, Cyprus
Email: support@nakedlocals.com
Cancel: 1-877-261-8392
Conclusion: Do Not Join The Naked Locals Site
If you're still contemplating joining Naked Locals after reading everything I just shared in my review, then you're out of your mind. It's not going to get you laid and you're not ever meeting any Online Cupids in person. If you're looking to join a dating website that actually works, then I can only suggest a handful of them to you. They're proven to work and are the only sites I use when not testing out new ones. All you need to do is click on any one of the review buttons shown below to read the reviews of the sites. My guess is that you'll find at least one that tickles your fancy. Good luck!