Yes, there is a dating site out there called Adopt A Brat. It's a weird name for a hookup site, but not really when you think of how popular sugar daddy dating is today. This is one of the I give you something and you give me something in return sites. This means that basically, you can find girls who will have sex with you in exchange for something. At any rate, this is my review of AdoptABrat.com and everything I learned about it.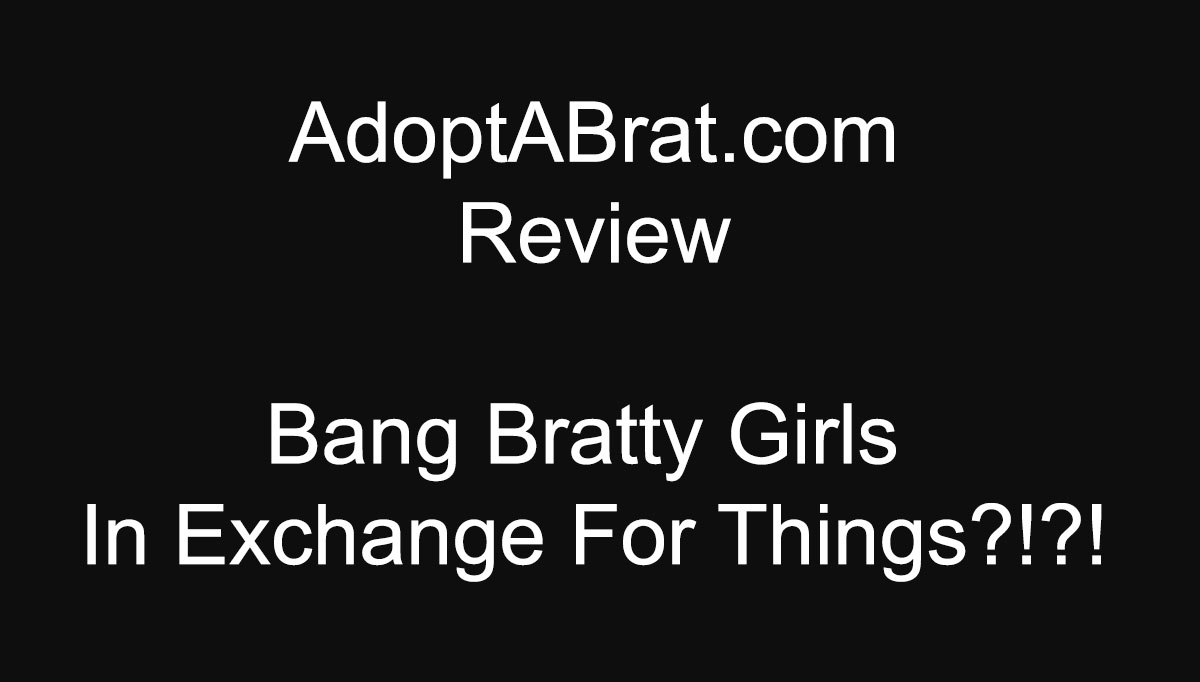 Adopt A Brat Review
Adopt a Brat is a long-term and casual sex dating site that focuses on sugar relationships. These are relationships where an older man or woman takes financial care of a younger man or woman, in exchange for their company.
It is open to straight men and women who prefer an age difference in their relationships. The homepage does not contain nudity but does show terms related to sugar dating. So you've been warned…
AdoptABrat.com Site Details + Cost
This one has been around since 2019 and it's ready to change your entire life for the better as soon as you realize that it's what you've always been missing. If you think about a girl who's going to do anything you want in return for the way you take care of her then you're never going to find a better place to actually get it.
You can buy 15 coins for just $5.00 right now and you'll be able to use them to send off messages to anyone that you want. You can also buy 30 of them for $10.00. There's also an option to buy 65 coins for $20.00. Finally, you can get 110 coins for just $35.00 and you'll never regret being able to talk to these sugar babies.
Close Your Account After You Find Her
Once you find the sugar baby or sugar daddy that you're after on Adopt A Brat, it's very easy to simply shut down your account. There's a button right at the bottom of the preferences page that's easy to find. Simply click it and start the process.
All of your information will be deleted from the site's servers, and no one will be able to find your old profile on it. It makes it very convenient to use the site, find someone to date and shut down your account. That's really how a dating site like this is really supposed to work for you.
Anyone Can See You
The only real problem with this site is the fact that anyone can see your profile on it. That means that non-members are able to look through the members and see who's on the site. This can be a huge problem for most people.
There's no reason that someone else should be able to see what you're looking for on a sugar dating site. The best way around it is to make sure that you're not posting any pictures that really identify you.
Private Photos Keep You Anonymous (If You Set Them)
Since the site is public and open to anyone, they make sure that you can keep your sensitive profile pictures private.
You can set a photo album to private access so only certain people will be able to see them. That means that you'll have to give them access so they can see the photos that you keep off of your public albums.
It's the easiest way to make sure that only certain people get to see the photos that you don't want to show off to the entire internet after you post them, and you never have to worry about being found out.
Conclusion: Let Yourself Adopt A Brat Right Now!
You don't have to just fantasize about being a sugar daddy anymore. You also don't have to wonder what it would be like to be a sugar baby. All you have to do is sign up for Adopt A Brat and you can live out your deepest fantasies right now.
It's an easy-to-use site where you use coins to send messages and you can talk to anyone you want. Just give the lifestyle a shot and you'll love the person that you get turned into!