This is my official Sexy Gamerz review. I cover just about everything under the sun and anything that you can imagine in this. If you're into cosplay and gamer girls, then this is one you'll want to read…
As much as dating online has expanded the avenues, we meet others and find romance, even just sex. However, there remain some disgraces in the world of online dating, which can make finding a special someone harder for some people. Ironically, it is one of the most popular cultures on the internet; people who love video games, or gamers for short, often find it hard to meet others on a typical dating platform with the same interest; this is where Sexy Gamerz came in handy.
This dating site for gamers is intended for hot and sexy gamers and anybody else who falls into the same classification as those who love anime, video games, and fantasy. This site gets rid of the disgrace by providing a dating environment online packed with users proudly flying their flag. It enables video game fanatics to find the match in a judgment-free and positive zone.
This dating site doesn't just do away with the usual gamer stigma; it really encourages gaming passions, with many enabling you to come into special fields of a profile which just a gamer would value response to, like your dream house, or allow you show your preferred video games, so you are able to look for other members with the same interests. This site even gets as thorough as not just allowing you to showcase what video games you want, but on the platform, you choose to play so that you can meet others you can bond with.
Keep on reading this SexyGamerz review to learn more about this product to find and meet a special someone with the same interest.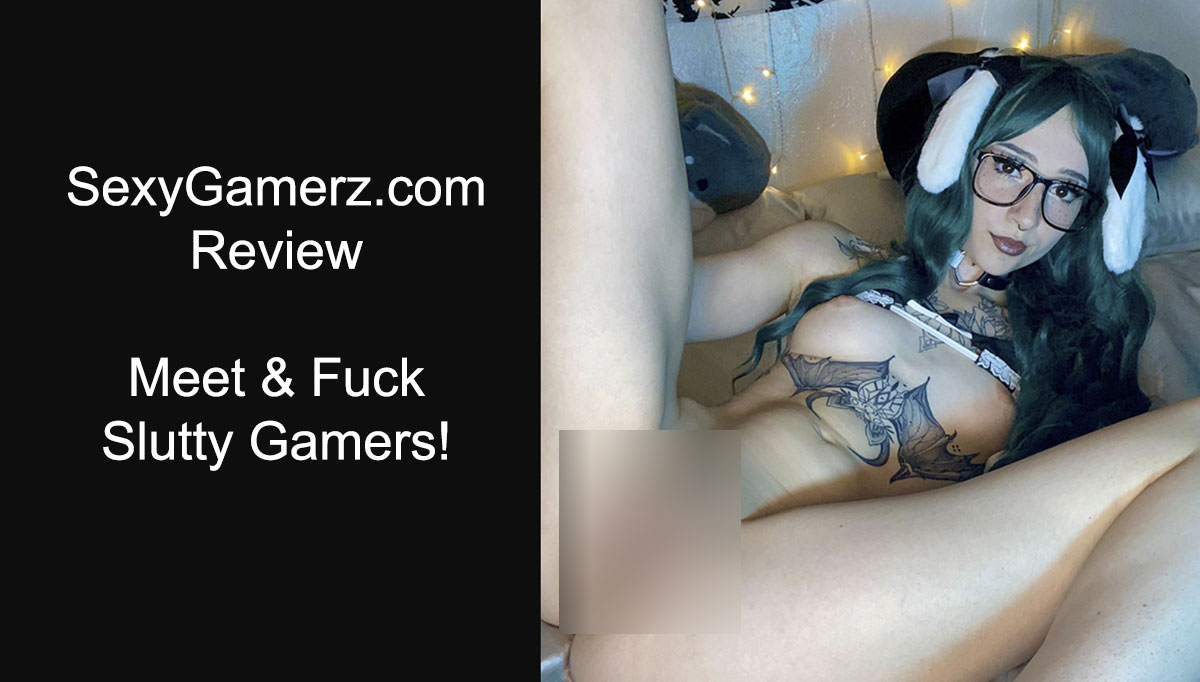 SexyGamerz Overview: What You Need to Know
Sexy Gamerz is a popular dating site geared toward gamers. With many users and members from different countries like Canada, the USA, etc., Sexy Gamerz will surely help you find someone with the same interests. This is also considered one of the most modern online dating apps in the market for gamers, and many video game players are sure to gravitate to it as one of their choices.
Who Created Sexy Gamerz
Global Personals Media created this online dating platform. This is a safe and friendly site, and the company behind this dating platform sees that every user is safe.
This is integrated with the best features, including the latest live streaming that allows gamers or users to show their gaming skills and prowess to potential partners. It doesn't matter if you love adventure games like sexy brutal or murder mystery or any kinds of games, you will indeed find this game very friendly.
Thanks to the identity verification process, if you are familiar with the old gaming meme, that isn't the case with Sexy Gamerz. Thus, it is considered one of the best and safest dating sites today for gamers. With Sexy Gamerz, a member is free of cost, and what is more, it is also easy to use.
But, looking for the best gaming partner is a big challenge and would need the best platform. Of course, a paid membership can unlock those features and tools like sending hot pictures, profile boosting, live chat with other hot and slut gamers, and more. With a paid membership, the chance of finding the best partner is increased.
The Sign-Up Process
Registration on SexyGamerz is fast and simple and does not cost you anything. You need to give the basic information like age, address, etc. You are free to browse profiles to look for some gamers to hook up with. You have to provide an email address, but it is advisable to use a separate account that doesn't include a real name or identifying information.
If you're not ready to commit financially, worry no more, as you can join the site for free. There are a lot of ways to try this site without spending any amount. Sexy Gamerz provides free registration. In short, there is no need for you to provide your credit card to make an account. This site enables you to create an account, fill in the information needed, and begin to utilize the basic version for free.
You can check members' profiles and browse some of the features of the site. You can also search for other members depending on your choice or preference and see which one is ready to hook up with you. You can send a free message after registration, but you have to buy credit to keep on using the feature.
It is easy to join this site. If you love video games or cosplay and want to meet one with the same hobbies, the good news is you can join this site as easily as possible. All you need to do is to follow the steps below:
Download the app on your mobile device or desktop and click to open
Click registration.
Fill in the information in the box, such as your name, address, age, and email address, for verification.
You need to wait for a few seconds for verification. Sexy Gamerz will send you a notification via email for confirmation. This determines whether you are a real gamer or a real person.
Then, that's it. You can now start browsing the site.
Features of Sexy Gamerz 
Massive Gamers: This site has many gamer members from different countries like Canada, the USA, etc. This makes finding a hook-up easier.
Responsive customer service: Customer service is fast and very responsive. You can keep in touch with customer service via email and phone. They are also responsive; you can get an answer to your questions within 24 hours.
Stern Verification: This site is safe to use. Sexy Gamerz has a stern verification process to make sure that you are dealing with a real person and not scammers.
Pros and Cons
This Sexy Gamerz review is not complete without mentioning its pros and cons. So, let's start with the pros:
Pros
Some of the benefits offered by this online dating site for gamers are as follows:
Extremely active community: Sexy Gamerz claims to have a lot of female users than guys.
Easy to look for a consistent fling or a hookup: Members or users are there for many good reasons. They are not messing around.
Intuitive Design and Interface: Simple to navigate this dating site even when you do not utilize social media platforms often.
Anonymous and Discreet: Members can choose anonymous profiles, discreet billing, discreet desktop, discreet payment methods as well as mobile app access.
There are a lot of members in the area, which makes it possible to find a hookup or a date. All these are certified gamers.
The free registration process allows you to use some of the features like sending messages. Regardless of your character as a gamer, you will surely find this dating site full of fun and enjoyable.
Cons
This online dating platform for gamers offers many perks; however, like other dating platforms, it also comes with some flaws, such as:
There are frauds and scammers on this site, but they're easy to spot as this site has a very stern verification process. This gives you an assurance that you're working and dealing with real gamers.
Some find it very expensive to upgrade the account. On the other hand, this allows you to make the best out of its features. This also enhances the chance of a possible hook-up.
Complex pricing structure: This online dating platform utilizes a combination of subscription and credit to charge users. It can be hard to keep monitoring the amount you need to spend.
How Much You Need to Spend Joining Sexy Gamerz
As mentioned above, you can join this online dating site for gamers for free; however, you need to upgrade your account to make the best out of the features. There are many options to choose from; ensure to find one that meets your budget.
$4.95 for two days
7 Days: Regular price:
$14.95
$9.95 currently!
One month: Regular price:
$49.95
$34.95/month
Currently!
Six months: One payment: $69.95 or $11.65 a month
1 Year: +6 Months FREE –
Best Value: 80 percent off or $6.67 a month
To Sum Up: SexyGamerz.com Is Awesome! 
We have examined Sexy Gamerz and taken a thorough assessment, and we have found that this is one of the best dating platforms for gamers. Provided that you're ready to give out some money on this site, Sexy Gamerz is a superb place to look for a hookup. Sexy Gamerz allows you to register for free, and this allows you to use some of the features like searching for pictures and chatting with other members. You can start seeking male gamers and female gamers alike. They know what they like and aren't ashamed to search for it, but they will still be discreet. If you want a hookup and wish it to be discreet, this is the perfect place to visit. Gamers on Sexy Gamerz aren't afraid to show you what they are searching for, and they are not looking tomes around. These gamers are here for a reason, and that is to hook up and find hot and sexy girl gamers.