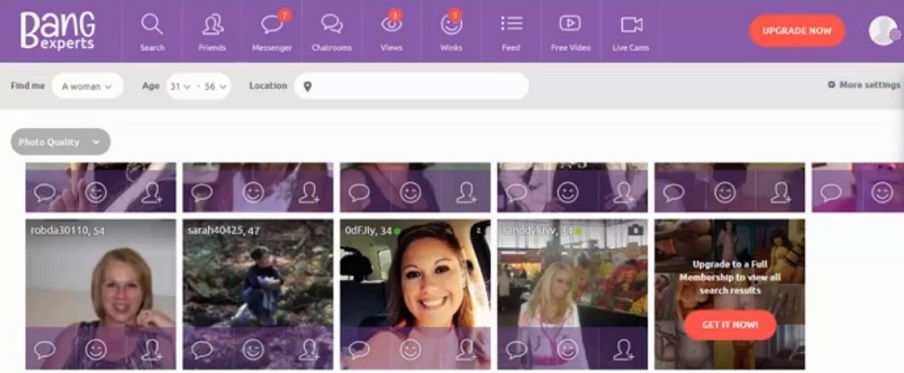 BangExperts.com is one of many other websites that are using all available tools and tactics to get to peoples' money. They claim that the site is free, but if you register for free you need to be careful not to get scammed or ripped off. In this review, we will explain the scamming mechanisms that BangExperts.com uses, so that you will be warned on time not to waste your precious time and money on a scamming dating site.
BangExperts.com says "FREE" but it's NOT
By doing so much research and writing reviews which cover a lot about the online dating site scams, we have the knowledge and experience to say that BangExperts.com is also a dating scam. The first alarm for us went off when we got a huge number of likes, email messages, chat messages, and winks within an hour after creating our profile. This would be great news, if only the site didn't take you to another page (where you need to enter your credit card information and pay for a membership upgrade) every time we tried to write back to any of the women who had contacted us. Here is the price list on BangExperts.com:
$4.47 to purchase a 3 day trial subscription period
$39.99 to purchase a 1 month subscription
$83.97 to purchase a 3 month subscription
$119.94 to purchase a 6 month subscription
Why is BangExperts.com not worth your money?
#1 Computer Software is Sending Messages: Minutes after creating a free account, you start getting emails, chats and other communications from other members of BangExperts.com. But, the catch is that the only information you can see is who sent the email, the subject line and how far or close they are to you. You cannot, however, read the content of the email…unless you upgrade your account to a paid membership. The truth about these email messages is that they are not sent by women who are site members. All the communication on the site is completely computer-automated without any human interference. We found the proof we needed on BangExperts.com, more specifically, in their Terms and Conditions page.
PROOF: "Messages from the user profiles we create attempt to simulate communications so that should you become a paid Member you are encouraged to participate in more conversation and to increase interaction among fellow paid Members. The messages are computer generated. We will, send automatic electronic communications to Users to stimulate conversation between members. Additionally, we will utilize our automated system profiles to communicate with Users to enhance our Users' entertainment experience."

#2 Women's Dating Profiles Are Fabricated: First we revealed that the emailmessages were fake, only to find out that the women you see on the site and who are sending you messages are also NOT real. Actually, nothing is real on these profiles. Their pictures, personal information, descriptions and interests are completely made-up. BangExperts.com creates these profiles for three reasons only:
To make the site look like it is full of gorgeous women who are ready to meet you and chat with you online. This is their bait strategy, but we hesitate there are any real women on the site.
To send you computer automated messages through these fake profiles deceive you into believing someone is trying to start a conversation.
To trick you into paying for a subscription in order to be able to communicate with the gorgeous women who seem to be very interested in you.
PROOF: "Both our live and automated user profiles, allow us to collect messages, instant chat and/or replies from individuals or programs. The user profiles we create are not intended to resemble or mimic any actual persons. We may create several different user profiles that we attach to a given picture. You also acknowledge and agree that the descriptions, pictures and information included in such profiles are provided primarily for your amusement."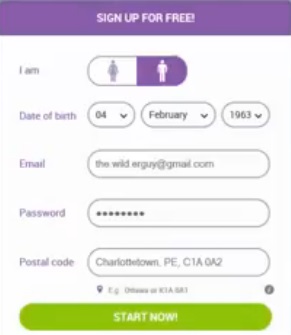 The verdict on BangExperts.com
BangExperts.com is associated with many other dating sites, such as IAmNaughty.com, NaughtyFlirt.com, SpicyMatch.com, WildDate4Sex.com and WildMeets.com. All these are sites with a suspicious reputation and you have no reason trust them either. We strongly advise you to read the Terms and Conditions of Use document, in order to avoid scams.
BangExperts.com Contact Info
Addresses: P.O. Box 146, Trident Chambers, Road Town, Tortola, British Virgin Islands
6, Flat/Office, 202, Ioanni Stylianou, 2003 Agios Dometios, Nicosia, Cyprus
Cancel Your Membership: payment@bangexperts.com
Email: support@bangexperts.com
Free Phone Number: 1-888-414-3752
Report BangExperts.com
If you feel that you have been scammed or ripped off by BangExperts.com, you can do something about it. Contact the Better Business Bureau to file a complaint and report the site.