I'm not one to bypass any dating network. If I see a site and it intrigues me or looks suspect then I do a full investigation. Be2.com is one of the most recent sites that I've come across. I'm not going to lie, the website looks shady and definitely not legit at all.
There are some things that completely rub me the wrong way about this site and I'm going to get into the greater details of things as that's what the Datingcop does as you know.
Some of the things that completely rub me the wrong way from first glance are the main image, emphasis on "free," the need for member "stats" and the awards shown on the Be2.com homepage. Now, let me dive deeper into the things that I learned about this website that totally rub me the wrong way at first glance.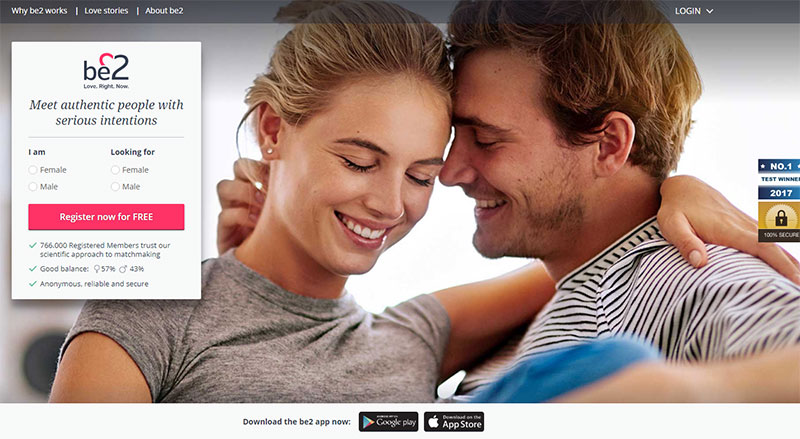 Be2.com Might Not Be Legit, Find Out Now Before Using!
Before diving into some of the things that Be2.com does to potentially scam users, I've got to share some of the features with you first and foremost. Even if you decide to avoid the site completely, I like to share the basics with you.
For starters, here are the basic features that you can expect to use should you stubbornly decide to join the Be2.com website.
Matches – Do a search based on age, gender, height, and some of the other basics that many people look for when establishing a connection with someone.
Profile – You can fill out your own profile, provide personal information, upload a photo, and do a bunch of other stuff.
Messaging – This is where you send and receive messages from people on a daily basis. It's pretty self-explanatory.
Visitors – The homepage shows those who visited the site and recently registered to become a member. Do yourself a solid and don't be one of those people.
Why I Didn't Like Be2.com Right Away
There are a few main reasons why I simply didn't like Be2.com. One of the main reasons I don't like the site is that they advertise themselves as being completely free. However, the site is not free at all. In fact, if you want to connect with people and communicate, then you need to upgrade your membership to a paid status.
Another reason I didn't like it at first was that I thought they might have bots in the member's area. Before getting into the details, I want you to know that I took a proactive approach and registered as a user to determine everything that I'm sharing with you right now.
After creating a very basic profile without any photos or catchy tagines or bio, I went ahead and started investigating the member's area. Upon doing so, I noticed that messages and instant chats didn't begin popping up instantly like on most sites.
Now, you and I both know that there is absolutely no reason why anyone should receive messages as soon as they've completed the registration process. All that tells me is that any site sending immediate messages are doing so in an automated fashion. You should not be receiving any type of chats, IMs, emails or anything of that nature.
Literally nothing at all especially if you are using an incomplete Be2.com profile. The good news is that I did not receive any auto messages using the site. That said, it seems like no real fake bots or auto messaging exists on this website at all.
Why Does It Matter?
The reason you should be completely leery about this is that the sites that send these immediate messages are complete scams. There is absolutely no way that any real person would reach out to you to communicate without knowing more about you and the type of person you are, simple as that.
In the event that your inbox gets flooded with messages, you should expect them to be automated messages from chat bots and nothing more. Sites that put this type of stuff into practice are not worth joining at all.
I Checked Profiles Too
One other thing that I did was check the profiles on the site using a reverse image search technology called Tineye. This helped me determine whether or not the site was incorporating fake profiles into the member's area. There's nothing worse than using a website to connect with users that do not contain real users.
Conclusion: Be2.com Might Be Okay But Not Great!
There are certain things that I look for in a good dating site. This site might be one of the dating sites that actually works but it doesn't work as good as some of the sites that are on my favorite sites. I strongly suggest that you do your best try those that I suggest if at all possible and more importantly, avoid all those that I say to avoid.