If you've taken even a few seconds to review some of the Kik related sites that exist on the Internet today, you'd quickly realize how big of a scam these really are. Today I'm covering a website called Kikpals. It's a site that claims to be the mecca of Kik sexting and connecting with girls using the Kik Interactive technologies, however, I'll be the first to tell you that these are nothing of that sort.
In fact, they are complete scams as far as I'm concerned.
I'll get further into that though as things progress with this review of the website. For starters, I will simply describe the kikpals.com website and everything that they claim. Here's what's most important though and I cannot stress it enough. Do not join or visit Kik Pals without reading this entire review that I've published here on Datingcop.com. Assuming you stubbornly skip out on half of the review, I'm not sure that I can truly help you. Now, if you do stick around and read my review to the end, then you'll be happy to learn that I've got something that can 10x this in terms of hookups and sexual encounters.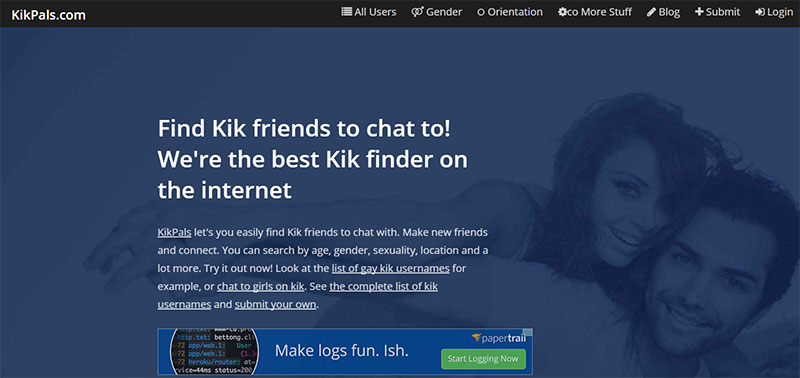 Now For My Official KikPals Site Breakdown
I'll kick things off by sharing some background on Kikpals and a close site called KikFriender. I've used both of these sites and they are nothing but a huge waste of time and money. How do I know that to be true? Well, it didn't take long for me to realize that there were no real dirty kik pals on this site at all. It was nothing but what I'd consider being a fake kik aggregator.
Now, the very first thing you're going to notice when you land on Kikpals is the fact that some cheesy Shutterstock photo is used as the background image of the site.
The second thing that you'll notice is that the Kikpals site claims to be some way to miraculously connect you with friends to chat. They claim to have the most advanced search function in terms of searching for kik users via age, gender, sexual preference and so much more. What I can tell you is that this is all nothing but a bunch of crap (in my personal opinion).
The reason I feel so strongly about this being a hoax is due to the fact that it's not even affiliated or associated with the parent company Kik Interactive. That's the official Kik company given that this company has yet to approach Kik to partner with them, I'm skeptical at best.
Now, I did some further digging and learned more about this website. The second that you click on over to "View All Kik Usernames," you'll notice that the site redirects you to a page claiming that your computer has been hacked or something. This is what's known as malware and they do this to try and squeeze money out of you. Of course, there are no real issues here with your computer. It's all just a scam that Kikpals runs and it's part of the process. If you take a look at the terms of the site, you'll notice that they specifically state that Kikpals is not responsible for any lost data of any kind. That goes for whatever happens when you try and download things from the website.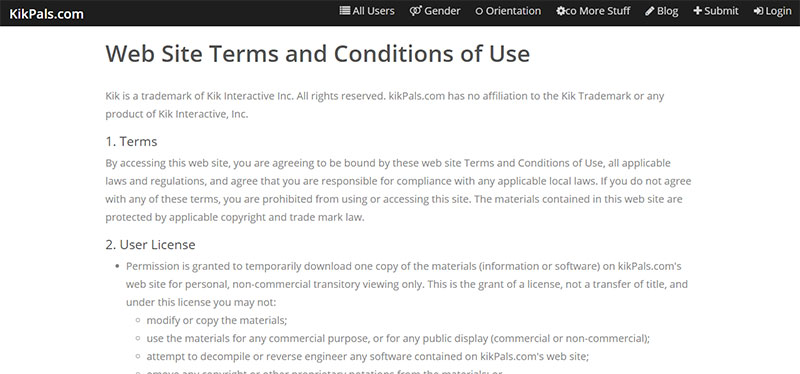 The Kik Pals website also admits to being an affiliate of other websites which display links on the site. What exactly does this mean? Well, all it means is that they make money off of users taking action on their website. So, although they claim to be an awesome Kik username search engine, they are nothing of the sort. In fact, they are simply the epitome of what I'd call a terrible marketing aggregator scheme.
Banners On The Site
You'll also notice that this website had two huge advertisement banners posted on the homepage. This is another way for the company to make money off the foolish visitors surfing the web.
Real Sexting or No?
I'll tell you right now, there is absolutely no real sexting on this site at all. In fact, I did not meet a single person while using the Kikpals website. Not one single real Kik user and although it might just be my lack of effort, I still think that this site is a complete waste of time and effort. They aren't really concerned with you carrying on sexting conversations with real locals. Instead, they act as a marketing tool for other websites to try and squeeze money out of people. It's truly a shame and one that I had to mention something about.
Conclusion: Kikpals Is Not Going To Help You Find Any Pals To Bang
If you think that this so-called Kik aggregator or search engine is worth using, then think again my friend. It's nothing of the sort and something that you need to think about completely avoiding forever. Having spent the majority of my adult life using dating and hookup sites, I know what works and what doesn't. I'll be the first to say that this and any other Kik username search aggregator is a huge waste of time. Simply put…
What The Heck Works Then?
The good news is that there are plenty of other sites out there that work very well. All you need to do is make it your duty and obligation to find them. Good news is that I've done just that and can help you find what works within minutes. Check out this page for a full rundown of sites that work!