It seems that a day doesn't go by where I don't come across some below average dating site. Speaking of sites, I'd say that Looking4Hotties.com falls in that "below average" category. I'm going to share a few simple reasons why this site is not all it's cracked up to be. Ever since I started datingcop.com, I made it my duty to point out the worst of the worst and the best of the best when it comes to hookup sites. For this reason alone, I must share everything I know about Looking4hotties. Will you find local hotties? Don't get your hopes up!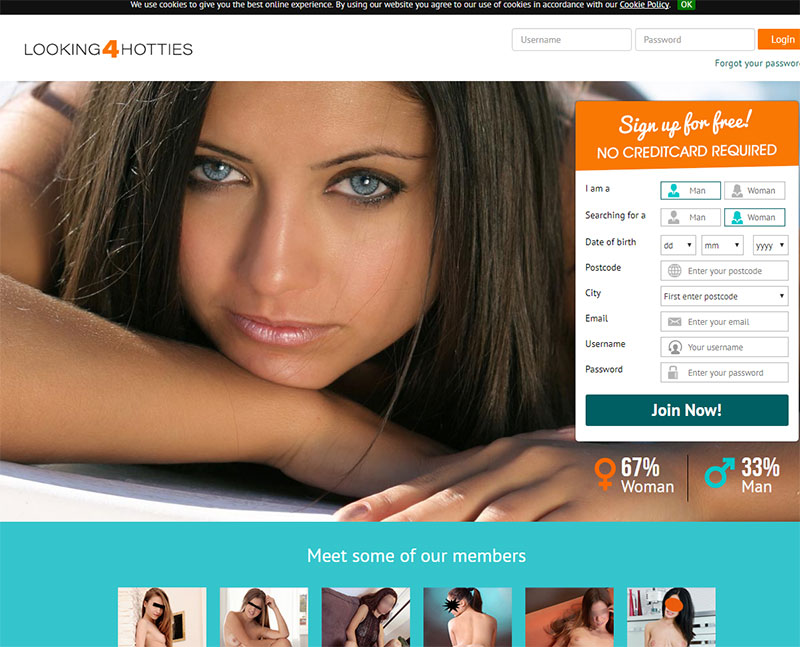 Is Looking4Hotties A Legit Hook Up Site? Find Out Now!
Before I get into the main details of the site, I'm going to cover something that truly matters to everyone that reads this. I'm referring to the cost to join.
Looking4hotties.com is not free. In fact, it's pretty much overpriced to the fullest extent possible. Here's what you can expect to spend if you join and upgrade.
$23.99 – 10 Credits for 10 messages.
$54.99 – 25 Credits for 25 messages.
$98.99 – 50 Credits for 50 messages.
$179.99 – 100 Credits for 100 messages.
$349.99 – 200 Credits for 200 messages.
Now For The Site Features
Here are some features of the site that I need to share with you. Regardless of whether or not I feel a site is good or bad, I still share the features. Here's what I know about the features.
You can search for members based on location and other search criteria.
Your profile is editable where you can upload photos and personal information.
There's a messaging system that allows you to send and receive private messages.
You can send "flirts" to people that you want to connect in order to let them know you are interested.
Add users to your favorites list if you want to visit their profiles at a later date.
Adjust your settings and block emails from the main settings section.
Site Overview
Here's what I have to say about the Looking4hotties.com website. I've got personal proof that shows the site is not a legit site. It's definitely not one that I would trust and it's even connected to many fake dating sites that exist today. Sites like UKSexMatch.com, MySecretFling.com, ShagCity.co.uk and much more.
What you need to understand about this site is that they do just about everything possible in order to persuade you into spending money. They even send messages to you and bombard you with chat notifications to get you to upgrade. It's lackluster at best.
At First Glance
So, at my first glance, there were things that didn't rub me the right way about this site. For starters, the homepage reads "Sign up For Free! No Credit Card Required." That alone pisses me off for the fact that you have to pay to do almost anything on the site.
Another thing that was shady about the site is the fact that they advertise that more women are members versus men. No one wants to see that and that stat makes me realize how much of a scam this really is.
If you look at the images in the slider on the site, you'll notice that most of them are professionally done. This makes me feel as though these are not real members. Now for some other stuff, I learned about the site…
Female Members Contact You
The fact that female members try and contact you when you don't have a photo or profile completely set up. Legit dating sites don't have profiles of women that reach out to you when you haven't even uploaded a photo. That's a surefire way to pinpoint that this isn't legit. It means that they have fake bots or fake messaging in place.
Fake Flirts
On top of the female members contacting you, they also send you "flirts" which are similar to "pokes" on Facebook. I don't care how attractive you are, then you get 100 flirts in a week, it's just totally suspect. The truth is that no one is that interested in you and 100 flirts in a small-time frame should make you question the authenticity of Looking4Hotties.com.
They Steal Photos
You'll notice that the website uses photos which look like they come from amateur porn sites. They look so staged that you'd have to be an idiot to think that they are real. I mean, they even have legit pornstars on the website that we all are familiar with. Some of the women are famous porn actresses that many people will recognize. There's no chance that these porn stars are real members of this site.
All you need to do is check out a site like Tineye and do a reverse image search on the site. You'll quickly notice that the profile photos on the site are not unique and that they're posted on many other sites out there.
Cancel Your Membership
If you want to cancel your membership, all you need to do is reach out to them by emailing support@looking4hotties.com and telling them that you want your money back for being totally fake. Another option is to check out the contact page and fill that form out that they have.
Conclusion: Looking4Hotties.com Is A Horrible Dating Choice
The bottom line is that the website is not a good one. I can't think of any reason why you should join this site. It's not going to do anything good for you. Should you decide to join, then you're simply throwing your money out the window.