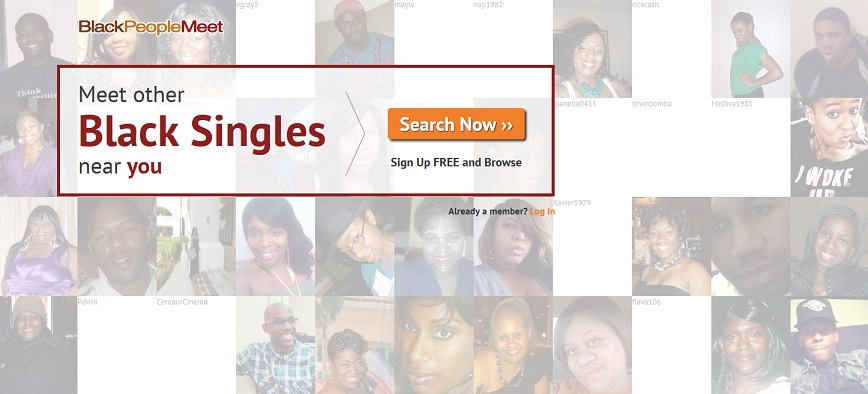 BlackPeopleMeet.com is another online dating service we came across while previously reviewing the OurTime.com dating site also owned by People Media, Inc. Company. We discovered many irregularities during our previous investigation, and we thought that BlackPeopleMeet.com should also be looked at. Here we will examine the legitimacy of BlackPeopleMeet.com and we invite your questions or feedback at the end.
BlackPeopleMeet.com investigation and findings
In the following text, we will explain our experience while using the site, followed by excerpts from the Terms of Use and Privacy Policy agreements to show you evidence. Continue reading this review to learn how BlackPeopleMeet.com scams you and rips you off.
Scam No.1 – Collection of Member Profile's Data
While reading the terms of use we came across the paragraphs you can read as excerpts below. Basically, what these parts of the terms and conditions are saying is that from the moment you create your dating profile on BlackPeopleMeet.com it will be also made available on affiliated dating websites that are owned by the company. Also, if you decide to stop dating on BlackPeopleMeet.com or want to take down your profile, you won't be able to because it remains posted even after you have stopped using the service. In the last excerpt (3) you can read that once you post any personal data on a public area of the site (which includes personal dating profiles) these information are automatically owned by BlackPeopleMeet.com. Thus, they can do whatever they want with these information, including reworking, distributing and selling your photographs, personal information, descriptions, etc. to other dating sites and dating site networks.
SCAM EVIDENCE: (1) "For purposes of this Agreement, the term "Service" contemplates that a Member of one Website may also participate with Members of other similar Websites, when applicable."
(2) "A Member profile (both subscribers and non-subscribers) may remain posted on the Website even if that Member is not actively using the Service."
(3) "By posting Content on the Website or as part of the Service, you automatically grant, and you represent and warrant that you have the right to grant, to the Company, its affiliates, licensees and successors, an irrevocable, perpetual, non-exclusive, fully paid-up, worldwide right and license to (i) use, copy, store, perform, display, reproduce, record, play, adapt, modify and distribute such Content, (ii) prepare derivative works of, or incorporate into other works, such Content, and (iii) grant and authorize sublicenses of the foregoing in any media now known or hereafter created."
Scam No.2 – Subscription and Billing
We don't think that paying for a good service is not an option, but we find the way BlackPeopleMeet.com does that is deceiving and conning. You see, if you find someone you'd like to meet and talk to – you are unable to unless you upgrade to a paid membership. Also, when you get messages you cannot reply or open them – and you are required to pay a subscription fee.
Then, when you choose your method of payment and subscription period, you are charged the same amount again and again for equivalent subscription periods. This is done automatically and will continue until you realize what is happening and cancel your membership.
$14.99 to buy 1 month of subscription (automatically renewable)
$35.97 to buy 3 months of subscription (automatically renewable)
$62.94 to buy 6 months of subscription (automatically renewable)
SCAM EVIDENCE: "Your subscription will continue indefinitely until cancelled by you. After your initial subscription commitment period, and again after any subsequent subscription period, your subscription will automatically continue for an additional equivalent period, at the price you agreed to when subscribing. You agree that your account will be subject to this automatic renewal feature."
Scam No.3 – Automated Messages and Created Profiles
Not directly, but they inform you that BlackPeopleMeet.com will be contacting you directly and the messages you get may be misleading or as they call them "relationship communications relating to the Service". These are not messages sent to you by real members of the site, but are previously drafted and computer-generated to look like they are coming from someone interested in communicating with you (the goal is for you to pay for a subscription). Also, they admit to creating dating profiles, which isn't that unexpected considering that they take your profile data with the intent to reuse them and spread them to other websites.
SCAM EVIDENCE: "When you become a Member, you agree and consent to receive email messages from us. These emails may be transactional or relationship communications relating to the Service. From time to time, employees of the Company (or its parent or affiliated companies) may create test dating profiles for the purpose of testing the functionality of our Service and website processes to improve service quality for our Members."
The verdict on BlackPeopleMeet.com
We hope this was enough information to war you against the scams and frauds that exist on this so called "dating service". Here are a few conclusions we've made:
You cannot be sure whether someone on BlackPeopleMeet.com is real or just a dating profile shared on this website, but taken from a different one.
You also can't know if a person you like on BlackPeopleMeet.com is real or just a dating profile of someone who is not using the service at all.
You will get "relationship communications" that aim to deceive you into believing someone real is interested in meeting you.
You are charged your hard earned money over and over again for services that you don't get because BlackPeopleMeet.com is only after your money and not a real matchmaking service.
BlackPeopleMeet.com Scam Questions
Did we answer all you wanted to know about BlackPeopleMeet.com? If you have more questions, you can post them in the comments section below and we'll try to find a suitable answer promptly. We also welcome your feedback, as well as any personal experiences you can share with others if you are a past BlackPeopleMeet.com user.
BlackPeopleMeet.com Contact Info
Address: P.O. Box 12627, Dallas, TX 75225, USA
Email Contact: Contact Page
Phone Number: 1-866-727-8920
Report and File a Complaint
Contact the Better Business Bureau to file a complaint and report the site if you feel you have been scammed and/or overcharged.