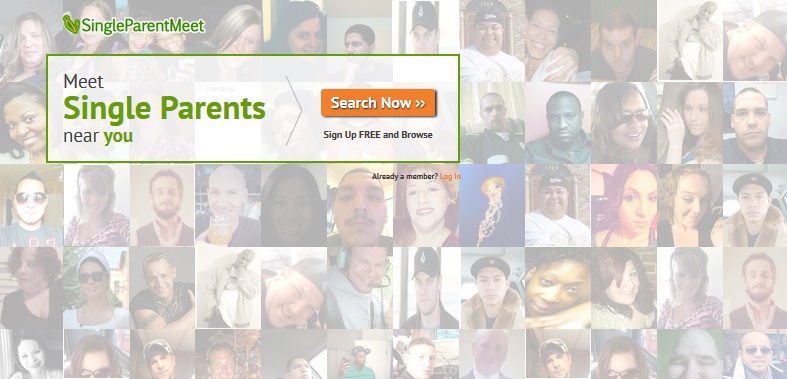 Since online dating sites are working out ways to look more natural and genuine in order to carefully hide their scamming tactics. That's why companies who own many dating sites, just like the one who owns SingleParentMeet.com, are ready to go to the extent of using different scamming tools.
We believe we have solid reasons to doubt the workings of SingleParentMeet.com, as you will discover in our review. We invite you to keep reading and post any questions or feedback in the comments section at the bottom of the page.
The treatment of content posted by you on SingleParentMeet.com
This is basically the core problem on this site and the one, from which we believe, that all other scamming mechanisms come from. SingleParentMeet.com treats the content posted on the site by site members in a very scamming manner. We explain more here.
1) Re-posting Of Your Dating Profile
When you sign up and create your profile on SingleParentMeet.com, you automatically get a profile on the other dating websites owned by the company. And, trust us; the company that owns and runs SingleParentMeet.com owns many other dating websites. The problem is that you do not manage these accounts in any way and they are completely independent from your activities on SingleParentMeet.com.
FROM THE TERMS AND CONDITIONS: "You acknowledge and agree that Members of the Website may be part of the same online community of another Website of the Company with a similarly targeted audience, and that profiles on any such Website may be viewable on these other Websites and that paying subscribers of one Website may be able to communicate with other paying subscribers such Websites."
Plus, if you ever decide to stop using SingleParentMeet.com, your profile may stay viewable and in use on the site.
FROM THE TERMS AND CONDITIONS: "A Member profile (both subscribers and non-subscribers) may remain posted on the Website even if that Member is not actively using the Service."
2) Complete Proprietary Rights Over Dating Profile Content
The scariest fact is that once you post any information on any public area of the site, you no longer own those information completely, and SingleParentMeet.com gains all legal rights to take these data, re-work them, translate them, distribute them to other dating sites within their network, and sell such data to other websites or networks. Public information include:
your photographs
personal information
descriptions and preferences
shared communications
FROM THE TERMS AND CONDITIONS: "By posting Content on the Website or as part of the Service, you automatically grant, and you represent and warrant that you have the right to grant, to the Company, its affiliates, licensees and successors, an irrevocable, perpetual, non-exclusive, fully paid-up, worldwide right and license to (i) use, copy, store, perform, display, reproduce, record, play, adapt, modify and distribute such Content, (ii) prepare derivative works of, or incorporate into other works, such Content, and (iii) grant and authorize sublicenses of the foregoing in any media now known or hereafter created."
3) You Are Charged Continuously
Upgrading to a paid membership to be able to connect with other members of SingleParentMeet.com may get you into trouble. What the site doesn't tell you when you initially select a subscription plan and price is that the subscription is automatically recurring. So, even if you subscribe for one month only, at the expiration day you will be automatically charged for another month. Your membership will continue to prolong for future months until you notice the scam and cancel your membership. Here is the price-list and subscription periods offered on SingleParentMeet.com:
$14.99 for 1 month of site membership
$35.97 for 3 months of site membership
$62.94 for 6 months of site membership
FROM THE TERMS AND CONDITIONS: "Your subscription will continue indefinitely until cancelled by you. After your initial subscription commitment period, and again after any subsequent subscription period, your subscription will automatically continue for an additional equivalent period, at the price you agreed to when subscribing. You agree that your account will be subject to this automatic renewal feature."
The verdict on SingleParentMeet.com
SingleParentMeet.com is definitely not a legitimate dating site. You can read the rest of the reviews to see that the People Media, Inc. Company – who owns and runs this site and many other sites, uses the same conning techniques on every dating service they create. For your own safety, never forget to read the terms and conditions of use before using a site or giving your money online.
SingleParentMeet.com Scam Questions
If you have any further questions, feel free to post in the comments section below. You can also share a personal experience about using SingleParentMeet.com or any of the affiliated sites to warn and help other readers.
SingleParentMeet.com Contact Info
Address: P.O. Box 12627, Dallas, TX 75225
Email Contact: Contact Page
Phone Number: 1-866-727-8920
Report and File a Complaint
Contact the Better Business Bureau to file a complaint and report the site if you feel you have been deceived, conned or overcharged.
How To Bang Hot Single Parents In Your City
Just because someone is a parent doesn't mean they don't have time to meet for sex. I've been lucky enough to hook up with tons of single parents in my local city just because I use certain tools to help me connect with them. Single parents looking for sex typically prefer to use discreet sex websites that are not going to put them on blast for the world to see. They join these local sex networks to help increase their chances of hooking up and as a result, they end up getting laid time and time again. I'm going to suggest that you join one of the sites below if you want to meet a single parent that wants to bang.