CougarCrush.com is an online dating service that promises free adult adventures through the site's features. They say CougarCrush.com is a chat community that will connect you with amazing site members to date hook up with. But is this all true? In this review the Dating Cop team will reveal how this site operates. Continue reading, as we answer all you want to know about CougarCrush.com in this article.
Did you read the Terms of Use?
In the very beginning, when you are signing up and creating your account on the site, you automatically agree to the terms and conditions of use. We are all used to just skipping and overlooking this part, but reading the terms and conditions document is important. We have done a lot of reviews so far, and we know that the proof of scam is commonly found in the terms of use page and that was the case with CougarCrush.com too. Here is what we found:
#1 FAKE USER'S PROFILES: CougarCrush.com is NOT a legitimate dating site because it creates and uses the dating profiles of their own users. These company generated profiles are called "Cupids", which the site creates for two reasons only:
To deceive the real site users and make them believe there are many potential dates and people to communicate with on the site. After all, what is a dating site without people you can actually socialize with?
To send you automated messages from these fake "Cupid" Profiles and deceive you once again into paying for a membership upgrade. Of course, there is no way anyone would pay if they knew the site didn't have real people on it.
PROOF: "Company Generated Cupid Profiles (marked with "C") are created automatically and in order for our Registered Users to experience the type of communications that they can expect as paying Members. The Company Generated Cupid Profiles encourage conversation between members by making introductions or recommendations or just by chatting with Users, for entertainment purposes."
"The user profiles we create are not intended to resemble or mimic any actual persons. We may create several different user profiles that we attach to a given picture. You understand and acknowledge that we create these profiles and that these profiles are not based on or associated with any Registered User or Member of our Service or any other real person."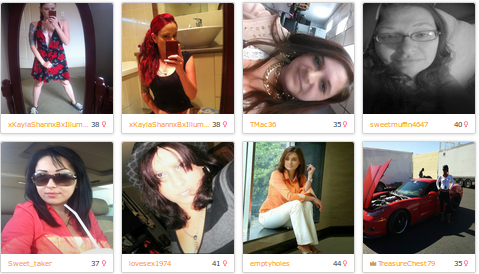 #2 COMPUTERIZED EMAIL AND CHAT MESSAGES: The minute you create your dating profile, even if you have no personal information or picture yet, "Cupids" start contacting you through emails and chat messages. When you open the message, you can only see a photo and the user name of the Cupid sending you the message. One thing the site doesn't allow you to do is to read the whole message or write back…unless you upgrade your profile. We tried to click and communicate with the women that contacted us, and the site took us to a different page where we could enter our credit card info and upgrade to a paid membership. Here is CougarCrush.com pricing list:
$29.95 for a monthly membership
$14.95 for 3 months of membership
$95.40 for 12 months of membership
$199.95 for a lifetime membership
BUT there is a catch to these messages. They are actually computer-automated messages, sent to all users like you and me by the site's software. If you think it is quite logical: Who would ever contact someone without any info or photographs on their dating profile.
PROOF: "Messages from the user profiles we create attempt to simulate communications so that should you become a paid Member you are encouraged to participate in more conversation and to increase interaction among fellow paid Members. The messages they send are computer generated."

#3 YOU CANNOT MEET ANYONE: If the previous facts weren't enough, there was tiny little paragraph towards the end of Section 1 in the Terms of Use page that caught our attention. CougarCrush.com admits that they fabricate user's profiles and use them to send you fake messages in order to cheat you and rip you off. But, they also know that you can never actually meet anyone on this site. CougarCrush.com operates and exists only to scam the honest and naïve site users that fall for their deceptive tactics. Here is the final proof we believe you need to know.
PROOF: "We will utilize our automated system profiles to communicate with Users to enhance our Users' entertainment experience. You understand and agree that there is no guarantee that you will find a date, a companion or an activity partner, or that you will meet any of our Users in person."
The verdict on CougarCrush.com
We kindly advise all our readers to stay away from this site. It is created for one purpose only and that is to take your hard earned money and offer nothing in return. The ultimate insult is that CougarCrush.com claims their activities are intended for entertainment purposes only, but we cannot see how a rip off can be mistaken for "fun" or "entertainment". We highly recommend you should always read the Terms and Conditions on a website before agreeing or paying for anything.
CougarCrush.com Contact Info
Address: Cargo Media AG Untere, Rebgasse 22, 4058 Basel, Switzerlad
Email Contacts: support@cougarcrush.com; complaints@cougarcrush.com
Phone Number: +41 (0) 91 60 464 86
File A Report
Contact the Better Business Bureau and file a complaint if you feel that you have been scammed or ripped off.