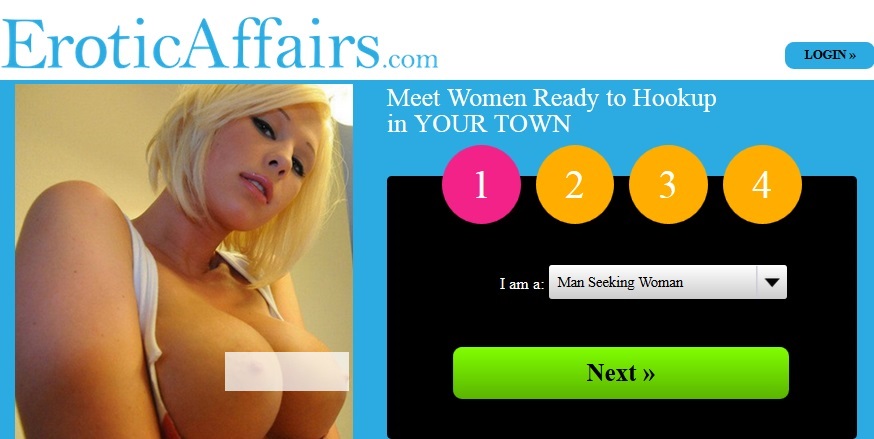 This dating site seems like a regular online dating service created to appeal to those who are looking for gorgeous women close from the same are. But is it really? We did our research and will provide you with all you want to know about EroticAffairs.com. So, continue reading to find out if this is a legitimate site for dating real women or not.
What we found out about EroticAffairs.com?
Here are the six talking points that we believe are reasons enough to suspect the legitimacy of EroticAffairs.com. Each point is more elaborately explained in the following text.
EroticAffairs.com creates fake dating profiles called "Online Legates"
"Online Legates" are completely fictitious and used to communicate with you
Their email and chat messages are computer-automated
EroticAffairs.com is aimed at only one thing and that is your money
Employees are hired and paid to contact you and string you along
Your engagement on EroticAffairs.com will never result in an actual date
How does EroticAffairs.com scam you?
1) Using the "Online Legates" Program
Looking at the photos of women registered on EroticAffairs.com, we began to wonder why all these gorgeous women would be looking for dates on an online dating site. Plus, how come there are that many women from our town and area on this site? In our practice this is actually the first sign of scam. EroticAffairs.com admits in the Terms of Use to fabricating female dating profiles also called "Online Legates", which are not real members of the website. Everything from their pictures to their personal interests and information on the profile is completely fake and made-up, and they merely serve as marketing tools to deceive and trick you-the real site members.
FROM THE TERMS AND CONDITIONS OF USE: "EroticAffairs.com UTILIZES VIRTUAL PROFILES THAT DO NOT CORRESPOND TO ACTUAL MEMBERS: An ONLINE LEGATE may be a digital actor, an avatar or a synthespian (e.g. a computer generated "person" or "character"). You acknowledge that You understand that some of the profiles and Members displayed on them are not actual members of the site. ONLINE LEGATES are not associated with any other user of the site, but are sent to You in an effort to promote broader enjoyment, additional activity and fuller participation in all our Services."
2) Sending Automated Messages from Online Legate Profiles
If you are wondering why a dating site would need to fabricate profiles, we believe we have an answer. The "Online Legate" service is a deception that also includes sending computer-automated email and chat messages. Even the women on the videos are paid models that are hired and only doing their job in front of the camera. If you don't pay attention, you won't even realize you are receiving emails from fake members of EroticAffairs.com, when in fact they are coming from computer software programs.
FROM THE TERMS AND CONDITIONS OF USE: "The ONLINE LEGATE services can include the posting of information, pictures and/or communications directed to You. Such messages may take the form of any communication currently permitted on the Website. ONLINE LEGATE may contact both free Members and paid Subscribers via text based communication either within the site and/or via email notifications in order to increase activity and to monitor the compliance to these Terms."
3) It's All About the Money
After you have signed up, created your profile and started checking out the site, you are asked to pay with your credit card to upgrade your membership. If you see a woman you'd like to start a conversation with, you'd have to pay to be able to send her a message. And, when you get tons of messages in your inbox, you have to upgrade your membership to be able to read the content of the emails or to write back. Here EroticAffairs.com payment options:
Gold Membership
$34.95 for 1 month of membership
$69.95 for 3 months of membership
$149.95 for 12 months of membership
Silver Membership
$1.95 for a 3 day trial membership period
$29.95 for 1 month of membership
$59.95 for 3 months of membership
4) Employees Are Hired to Scam You
Well, some people on EroticAffairs.com are real. This would be good news if they weren't people contracted and paid by the site itself to give a more natural flow to the communications. While the cams models are definitely paid, there are some people whose job is to keep the correspondence going for as long as you keep paying. The problem is, computer software starts to make no sense after a while, so real people get behind these false profiles and chat you up.
FROM THE TERMS AND CONDITIONS OF USE: "ONLINE LEGATES may be employed by eroticaffairs.com or a third party to enhance Your online experience. Additionally You understand that You are not guaranteed a response or interaction with any of our ONLINE LEGATES, nor with any other site user."
5) EroticAffairs.com Is Not a Legit Dating Service
Since all the women on the site were fake and created by the EroticAffairs.com, and all the messages you get are computer-generated, coming to you through the fake profiles, then you cannot really meet anyone here. The only goal of this site is to get to your credit card info and making matches or helping you hookup or find a date is not really in their field of interests.
FROM THE TERMS AND CONDITIONS OF USE: "You fully understand, acknowledge, and agree that any response or exchange between the ONLINE LEGATE and You is solely for entertainment purposes, and will not result in an physical meeting between the ONLINE LEGATE and You."
EroticAffairs.com Scam Questions
All evidence points at EroticAffairs.com being a fraudulent and conning site. We hope we provided enough evidence to help you stay away from this scam. If you have any other questions that you might want an answer for, or you'd like to share your personal take on EroticAffairs.com, feel free to post in the comments section below.
EroticAffairs.com Contact Info
Addresses: PO Box 1058 Basseterre,St. Kitts East Caribbean Stallion.com
48 Constant Spring Rd Kingston 10 Jamaica
42 Dositheou Street, Strovolos, Nicoisa 2028 Cyprus
Email Customer Support: support@eroticads.com and Customer support
Report and File a Complaint
Contact the Better Business Bureau to file a complaint and report the site if you feel you have been conned and/or ripped off.