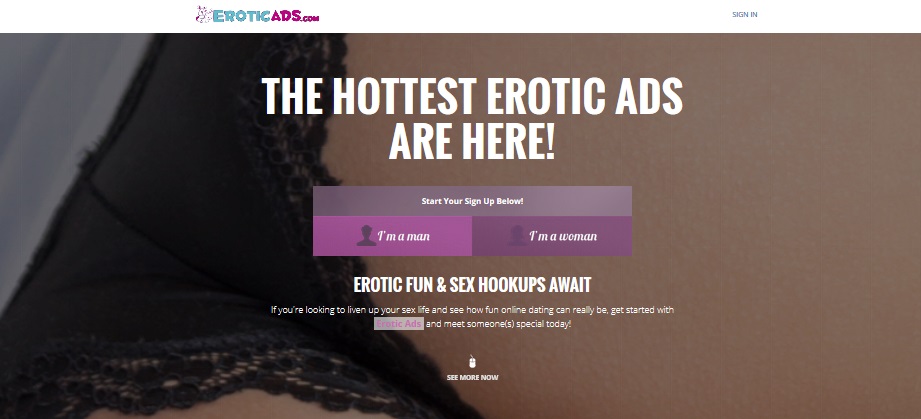 Should EroticAds.com really be your No.1 choice for erotic affairs? The evidence of our research leads us to the conclusion that EroticAds.com is a scam, rather than a genuine dating platform where erotic fun and sex hookups await.
So can you meet someone special on EroticAds.com? Continue reading this review before you make a final decision. We await your feedback and questions in the comments section at the end.
Revealing EroticAds.com Conning Tricks
Our general guideline for anyone using online dating websites is to always read the terms and conditions of use and the privacy policy documents before signing up or paying to use the service. Here is what we uncovered from using the website on the basic (free) membership plan for a few days and from carefully going through the terms of use agreement.
1st Sign of Scam: Online Emissaries
Q: What are Online Emissaries?
A: Online Emissaries are completely made up dating profiles who look like they belong to real people, but no single information they contain is real or comes from a genuine individual using EroticAds.com.
EroticAds.com has the need to create such profiles in order to make the site seem full of members. Having many members means many potential dates, and they understand how compelling that is for new members. The fake profiles are connected with the "Online Emissary" service, which has its own section in the Terms and Conditions of Use document we found and read thoroughly.
PROOF OF SCAM: "ONLINE EMISSARIES: EroticAds.com UTILIZES VIRTUAL PROFILES THAT DO NOT CORRESPOND TO ACTUAL MEMBERS: An ONLINE EMISSARY may be a digital actor, an avatar or a synthespian (e.g. a computer generated "person" or "character"). ONLINE EMISSARIES may be employed by eroticads.com or a third party to enhance Your online experience. You acknowledge that You understand that some of the profiles and Members displayed on them are not actual members of the site. ONLINE EMISSARIES are not associated with any other user of the site, but are sent to You in an effort to promote broader enjoyment, additional activity and fuller participation in all our Services."
2nd Sign of Scam: Electronic Messages
Q: What are Online Emissaries needed for?
A: Besides for deceiving you into believing that there are many potential dates on EroticAds.com, Online Emissaries are also used to send you computer-automated messages generated completely by computer software, but scripted to sound compelling and real.
So, basically, all emails or instant messages that you receive from the Online Emissaries profiles are 100% fake and are actually automatically generated messages that have no human involvement. Even if they are sent from real humans, they are most likely to be employees of the site.
PROOF OF SCAM: "The ONLINE EMISSARY services can include the posting of information, pictures and/or communications directed to You. Such messages may take the form of any communication currently permitted on the Website. Additionally by accepting these Terms, you understand, acknowledge, and agree that, the ONLINE EMISSARY may contact both free Members and paid Subscribers via text based communication either within the site and/or via email notifications in order to increase activity and to monitor the compliance to these Terms."
3rd Sign of Scam: Billing and Membership Upgrades
Q: Why does EroticAds.com go through so much trouble?
A: Well, the fabricated profiles and electronic messages are only a part of their business model and are an investment. You see, the point is for you to think there are many available and interested potential dates that are communicating with you. But, you will first need to pay to connect.
Just think of it, if all the profiles you encounter on the site are Online Emissaries and all messages you receive are sent by computer software, you are basically paying to communicate with computers. Plus, the way the site leads you to give your credit card information is close to extortion. Here are the payment options and time periods you can choose upon subscription:
Silver Membership
$1.95 for 3 days which are automatically renewed at $29.95 a month
$29.95 for a monthly subscription to the site
$59.95 for 3 months of subscription to the site
Gold Membership
$34.95 for a monthly subscription to the site
$89.95 for 3 months of subscription to the site
$149.99 for 12 months of subscription to the site
The verdict on EroticAds.com
Be careful around this kind of dating sites and always read the terms and conditions of use before signing up to a site. In fact, keep in mind that you have no reason to trust an online dating service that claims it is "free" and later asks you for your credit card information. We hope that the Dating Cop team helped you better understand how EroticAds.com deceives you and rips you off, and that you'll be more cautious in the future.
EroticAds.com Scam Questions
We hope our investigation and findings succeeded to shed some light on the scamming fashions in which EroticAds.com is operated. If you have anything you'd like to ask us or share a personal experience you had with this site, feel free to post in the comments section below. We will try to respond promptly to your inquiries.
EroticAds.com Contact Info
Address: 8770 Sunset Drive #190, Miami, Florida 33173, USA
PO Box 1058, Basseterre, St. Kitts, East Caribbean
48 Constant Spring Rd, Kingston 10, Jamaica
Email Contact: info@experiencedinternet.com and support@eroticads.com
Phone Number: N/A
Report and File a Complaint
If you feel that you have been the victim of this site's scams or have been ripped off, you can contact the Better Business Bureau to file a complaint.