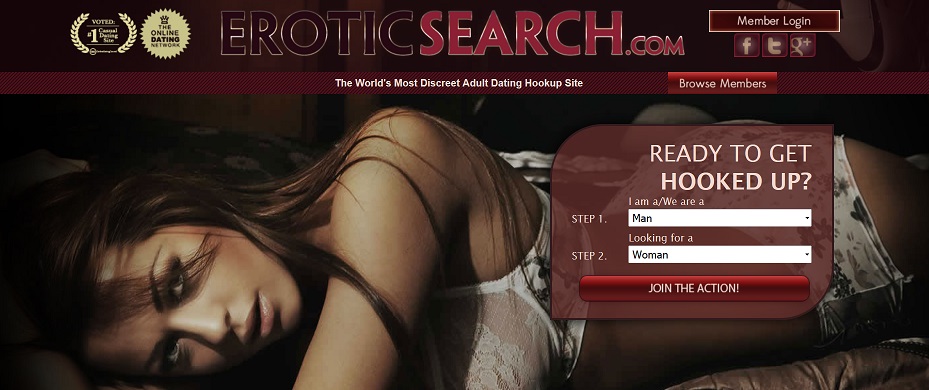 EroticSearch.com invites you if you are searching for sex and proclaims itself to be the world's most discreet adult hookup website. Is this true or too good to be true? Stay with is as we go through this dating service and investigate it's workings to uncover whether it will help you find a match or scam you and rip you off.
Also, don't forget to join us for a conversation in the comments section at the end of the page, where we invite you to share your feedback, personal experiences or questions related to EroticSearch.com.
Is EroticSearch.com a legitimate dating site?
No.
And here is how we concluded that! EroticSearch.com is run and owned by a company that owns many other dating websites that we have already reviewed. In each and every one of their dating sites we found a number of scamming workings that they use to get to your money. Unsurprisingly, we encountered those same conning tricks used on EroticSearch.com.
1) Fabricated Online Emissaries Profiles
We found out that EroticSearch.com is operating in a fraudulent fashion, and hides its scams in the plain. First of all, the female dating profiles are fabricated and they are not real members of the website. They are marketing tools called Online Emissaries and are used to lure you into thinking you can really meet some gorgeous and beautiful ladies who are ready to connect with you and have fun. However, everything from their pictures to their personal interests and information are made up. EroticSearch.com are so good at their job that it's actually really hard to distinguish Online Emissaries from real women (except you know to distinguish them by the way they are labeled with the logo).
FROM THE TERMS OF USE: "ONLINE EMISSARIES: EroticSearch.com UTILIZES VIRTUAL PROFILES THAT DO NOT CORRESPOND TO ACTUAL MEMBERS: An ONLINE EMISSARY may be a digital actor, an avatar or a synthespian (e.g. a computer generated "person" or "character"). ONLINE EMISSARIES may be employed by eroticads.com or a third party to enhance Your online experience. You acknowledge that You understand that some of the profiles and Members displayed on them are not actual members of the site. ONLINE EMISSARIES are not associated with any other user of the site, but are sent to You in an effort to promote broader enjoyment, additional activity and fuller participation in all our Services."
2) Computer-Automated Communications
Another way EroticSearch.com uses its fabricated Online Emissaries, other than deceiving you that there are many potential dates in the site, is to send you messages. The scam gains even bigger proportions, when naive and unexperienced site members may believe that these women are interested and flirting. But, make no mistake; all communications sent to you by the site's profiles are completely computer-generated and distributed by computer software to all members who have subscribed to the service or who use it for free.
FROM THE TERMS OF USE: "The ONLINE EMISSARY services can include the posting of information, pictures and/or communications directed to You. Such messages may take the form of any communication currently permitted on the Website. Additionally by accepting these Terms, you understand, acknowledge, and agree that, the ONLINE EMISSARY may contact both free Members and paid Subscribers via text based communication either within the site and/or via email notifications in order to increase activity and to monitor the compliance to these Terms."
3) Paid Memberships and Billing
EroticSearch.com may not be introducing you to real people, nor providing you with truly interested members, but it will charge you for these services. EroticSearch.com actually wants you to pull out your credit card, enter the needed info and then get charged continuously. Even if you subscribe only for the 3 day trial, you membership will be automatically renewed for the duration of a month (and you will be charged for a month of paid membership). And this continues! At the end of each subscription period you will be charged for another automatic renewal until you notice this scam and manually cancel your membership on EroticSearch.com.
Here is how much you will be charged based on the subscription model and time of subscription:
Silver Membership
$1.95 to purchase 3 days of trial membership
$29.95 to purchase 1 month of membership
$59.95 to purchase 3 months of membership
Gold Membership
$34.95 to purchase 1 month of membership
$89.95 to purchase 3 months of membership
$149.99 to purchase 12 months of membership
The verdict on EroticSearch.com
If after reading the text, there is no room left to continue believing that EroticSearch.com is a legitimate dating service. We wonder how they can even call themselves a "dating site" when they are completely aware that you can never meet anyone of the people you encounter on the site, and they confess to this in their terms of use document.
EroticSearch.com Scam Questions
We understand you may have further questions regarding the workings of EroticSearch.com after reading this review. We welcome you to post them in the comments section below. Also, we encourage those readers who have had a personal experience using EroticSearch.com to share it with others. You never know whom you may help.
EroticSearch.com Contact Info
Address: 8770 Sunset Drive #190, Miami, Florida 33173, USA
PO Box 1058, Basseterre, St. Kitts, East Caribbean
48 Constant Spring Rd, Kingston 10, Jamaica
Email Contact: info@experiencedinternet.com and support@eroticsearch.com
Phone Number: N/A
Report and File a Complaint
Contact the Better Business Bureau and file a complaint if you feel that you have been scammed or ripped off.