Okay, so right out of the gate I want it known that here at the Datingcop.com, I do NOT condone the hiring of escorts. I never have and I never will. However, that being said, I've been doing some research on these companies and websites that promote escort connections such as EscortDirectory.com. I will always be the first to come out and say that hiring girls to sleep with you is a huge waste of time and money.
The problem is…some people just don't get it.
The good news is that you're here on my site and doing your research (as you should). Which only means that you should eventually find yourself getting laid assuming that you take the proper steps to do so. I'm not going to get into all that just yet though. Not now, let me instead share what I know about the Escort Directory site.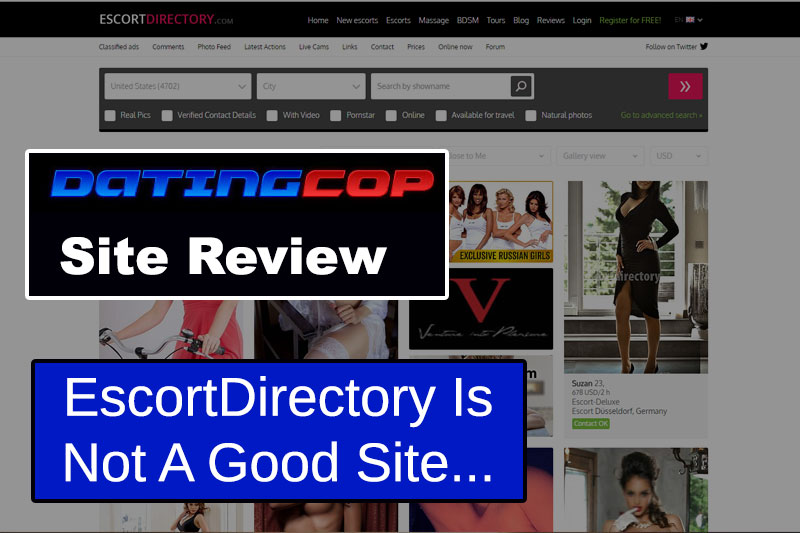 My Honest Thoughts On EscortDirectory.com
Terms Rundown
I'll kick things off with the terms of this site. Honestly, they are about as simple as they get. In fact, they are too simple if you ask me. Some things that I immediately don't like about the terms are that they offer zero protection for consumers using the website. Whether you're seeking out Sacramento escorts, Dubai escorts, Los Angeles escorts, or any girls in any location across the globe, they've got nothing that they will back you on.
I don't know about you, but when I pay for access to information, I want to know that they stand behind me as the consumer. Not escortdirectory.com. They make it clear that you're using this site and they will not stand behind you for anything you do.
I would also like to point out the fact that this site claims that they do not condone the use of selling "sex for money" in countries where it's deemed illegal. That's strange though because it's completely illegal in the United States and girls are selling their bodies for cash all over this site. I recently came across a profile of a girl named Teagan and she was from Virginia selling herself as a prostitute. Pretty disgusting if you ask me. I mean, yes, I like sex but not enough to pay girls to bang me.
The Site's Not That Big
Although the escortdirectory.com might seem like it's a large website, it's not at all. In fact, there are only 580 listings in Las Vegas, NV and less than 1,000 in New York City. Now, I don't know about you, but with huge populations, I can see that most girls in these cities do not use this website. That's just another great reason why you should completely avoid using the website.
Unverified Photos
Most of the photos on this website are unverified. In fact, I did not come across a single profile that displayed a verified photo of a girl. This screams scam if you ask me and reiterates the fact that some of these profiles may not even be real. That's a huge problem when using any website. If the escorts aren't verified then they may either be fake girls, other girls, or even worse guys trying to rob you or arrest you.
Are you seeing how much of a hassle this is and how it's a lose-lose every which way you spin it?
I did some more digging and noticed that many of the girls on this website are nothing but porn stars trying to get you to buy their videos. What a hoax and let down for most people using the site. There's nothing worse than wanting to sleep with a girl and finding out it's never going to happen. I guess that's a good thing considering the other options of possibly getting diseases, robbed, arrested or even killed. Yes – it's literally that dangerous.
Ads Everywhere
Any page that you turn to will have a ton of banner ads and links that lead to shady sites. There's no way of avoiding this. For example, the Live Cams link leads to a webcam site. I hate websites with nothing but ads, especially when I am on the hunt for some booty. The price to advertise on this site is so low that it's only inevitable that some nasty hoes or scumbag scam artists will be in the mix.
Private Messaging
EscortDirectory.com offers private messaging but you must remember that sending messages while logged into the site basically shows the intent of committing a crime to solicit a prostitute. Don't be foolish, don't message any of these girls ever or you'll be sorry.
Meager Review Or Two
Most of the girls listed on the site only have a review or two which gives me more reason to believe that this is a completely fake website.
Live Chat Support
I'd say the only thing this website does right is offer full support via chat online but remember when using that your information is logged along with your IP address. Once again, you'll be setting yourself up for failure, no questions asked.
Conclusion: EscortDirectory.com Is Not Worth it.
Unless you want to get arrested, I suggest you avoid using the Escort Directory website. It ranks among the other horrible escort sites and should always be avoided at all times.
If you're looking to get laid and not pay for it, then all you need to do is join one of the sites below. The girls are real women that are simply looking for someone to have sex with. No strings attached, no issues, no payments, NOTHING. Give one or all a try (if you're serious about finding a sex partner).