Okay, I don't know about you, but I'm absolutely not okay with people paying girls in order to have sex with them. There's perhaps nothing worse than running into a dirty escort that wants money in exchange for sex. Not to mention, it's totally illegal. One of the sites that I suggest you avoid is called Backpage-Escorts.net. I'm going to tell you all the reasons why I suggest avoiding this site and trust me, if you don't take my advice you WILL find yourself in some legal trouble.
I can almost guarantee that 100%.
Now, I know I sound that a party pooper and a Debbie downer but the truth is, there's nothing good that comes out of using this website and definitely nothing good that comes from hiring an escort. Seeing as though I'm the Datingcop, suffice to say that I've dealt with consumers fair share of mishaps. At any rate, time to crack this nut and get to work.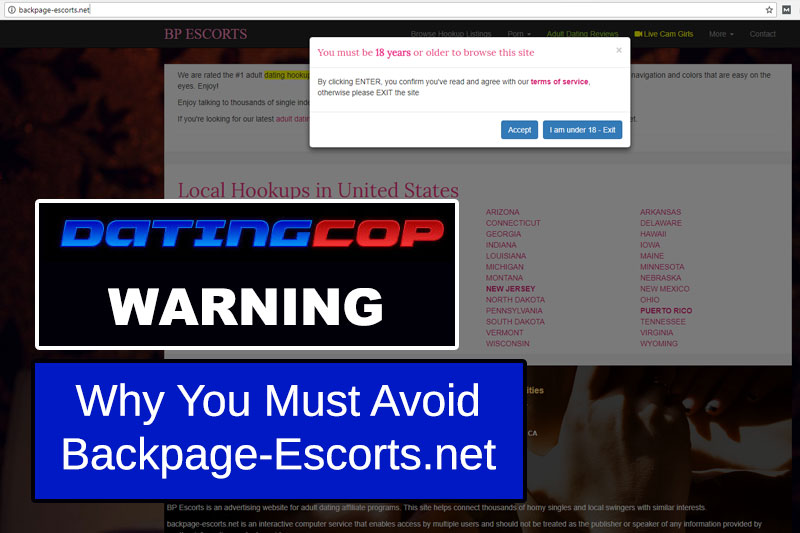 5 Main Reasons To Stay Away From Backpage-Escorts.net
Here are the reasons below…
The Claims Are Ridiculous
The first reason why I suggest avoiding Backpage Escorts is that the claims are absolutely absurd and ridiculous. I'm sure you didn't realize that when you clicked the enter button, you agreed to the terms of service. Within those terms, you've agreed to two specific things which are pretty ridiculous.
One is under section 4 subsection a where it states that backpage-escorts.net "Does not engage in or provide advertising for any illegal activities including, but not limited to, prostitution." I mean are you kidding me? The main purpose of this entire website is to connect consumers with escorts. The definition of an escort is someone that agrees to provide sexual services in exchange for money. You've got to be kidding me with this!
Another claim that the website makes which I think is crazy is that you're agreeing that all legal issues will be settled via mediation and arbitration. Another thing buried within the terms is that the Backpage Escorts site will not stand behind you for any actions that you take or do on the site. Even texting or communicating with people you meet on the site. They leave you liable, not them.
Lack Of Substance
This site was previously listing ads for escorts, but the number of girls they were listing was beyond low. I mean, I took a quick look at many different countries, states, and cities listings and learned that they had next to no ads even showcased here on the site. For example, Montreal, the mecca of strip clubs and streetwalkers had a whopping ten ads. I mean, really? What a complete joke!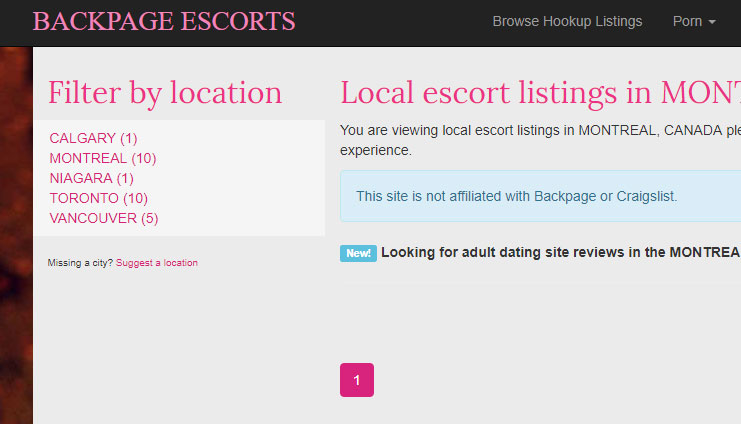 Ads Everywhere
When using the Backpage-escorts.net website all that I could focus on were the crappy advertisements that they had posted everywhere. These ads rotate depending on the time of day, your location and a lot of other factors. I can tell you what didn't rotate, my level of frustration with maneuvering the site. I was frustrated the entire time.
I blurred out the ads, but you'll get the picture below…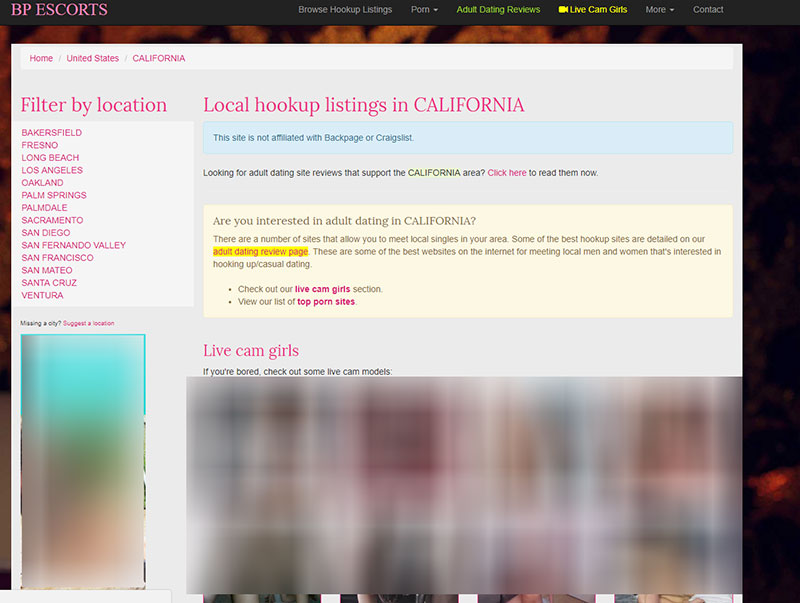 No Meeting Girls
There's nothing worse than being so horny that you're willing to go out on a limb to pay a girl to hook up with you, only to find out that you cannot even meet any girl on this site. Why is that you ask? Well, just about every single profile photo on this website is an awful ad for a cam site.
Last time I checked, people weren't trying to hire escorts to chat with them via webcam. Not that I'm suggesting meeting escorts is good. I've already made my claim on that. I'm simply suggesting that it's totally deceiving and not what you think it is.
Claims To Not Be Associated With Backpage
I don't understand how on earth a website can use a trademarked name in their brand and domain, yet make claims that they are not associated with Backpage or Craigslist for that matter. You'll see that mentioned on literally every single page of this website. That tells me right there that they are simply taking advantage of the name and trying to pull the wool over consumer's eyes. They are doing so in the most legally sound way possible. However, none of it is okay with me.
Conclusion: Backpage-Escorts.net Is Fake As It Gets
If you're looking to meet girls whether they be hookers, escorts, or simply girls next door, I can guarantee that it's 100% not going to happen using this website. Heck, it will not happen using the original Backpage website. How do I know that? Well, Backpage.com got shut down by the government and my guess is that this associated site will eventually get shut down too.
I guess the bottom line is you don't need to pay girls money in exchange for sexual favors. All you need to do is join a real adult dating site that has members looking for the same thing, just sex with no money involved. Simple as that. You'll find a bunch below. In the meantime, stay away from backpage-escorts.net.