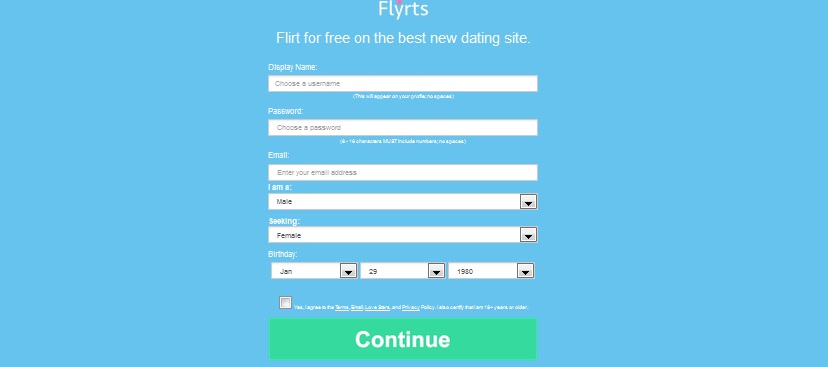 Ever heard of a dating site named Flyrts.com? Be careful when signing up or using this site, as it is one of the many dating sites of the Nautell Capital Limited Company which owns and runs many matchmaking services. So far, many of them have turned out to be scams. Will Flyrts.com be proven as a dating website that only misleads it's users to rip them off? Find out in the detailed review below!
Here are some questions you should ask yourself when signing up?
Does this site really offer a 100% free lifetime membership?
Are the dating profiles of women genuine?
Who is sending me so many chat and email messages?
What Flyrts.com hides from you?
Flyrts.com is not a legitimate site that aims to help you flirt and have fun online. Here we will review how this website scams you into paying money and not getting any of the promised services in return. You will never get any actual contacts or dates on this site, because its aim is not to match you with big busty women, but to rip you off.
1) Asking For Your Credit Card Info
While you may register and join Flyrts.com for free, every following step leads you to a payment page where you'll have to upgrade to a paid membership in order to use the site's services and features. The tactics Flyrts.com uses are basically money extortion, as you are banned from using their services without paying for a subscription. Another tactic Flyrts.com uses to lure you in are the provocative messages. But, when you'll try to reply to any of the email messages you will find out that you cannot do that without paying first. Here is the pricelist on Flyrts.com:
$49.95 a month for a Flyrts.com GOLD subscription
$39.61 a month for a VibeVideo.com subscription
$28.87 a month for a VideoErotic.com subscription
2) Fabricated Member Profiles
Did you really believe that so many gorgeous women would need a dating website to flirt and find dates? The single fact that the women in these photos look so beautiful is evidence that point towards scam. We also ran some of the women's photos that we found on Flyrts.com through Google's image search. Many of the photographs used on Flyrts.com are associated with dating profiles on several other dating sites. Now, from our experience, there are only two reasons a dating site has the need to fabricate dating profiles:
To fill up the site with women because there simply aren't any.
To use these profiles for sending out messages and lure you into paying.
Also, if you agreed to the terms and conditions of use upon signing up, you should definitely take your time to read this document. For your convenience, we took some excerpts that we believe will be eye-opening for you.
SCAM FACT: "You understand, acknowledge, and agree that some of the user profiles posted on this site may be fictitious or models or bots related to our "Love Stars" (LS) program. Our LS work for the site in an effort to stimulate dialogue with users and to stimulate user participation on the Website and Services, advertisement of the Website and Services, and the creation of user profiles. You understand, acknowledge, and agree that the information, text, and pictures contained in the LS profiles do not pertain to any actual person or member, but are included for entertainment purposes only."
3) Computer-Automated Communications
This means that no one is actually sending you emails, messages, chats or requests. It's all computer software created to cheat you and make you reach for your credit card. What is actually happening is that Flyrts.com uses its fabricated dating profiles of non-existing women to send you computerized messages and make the whole scam look as real as possible. The trick is – if you want to communicate with anyone, you need to pay and upgrade your account. Also, if you want to open and read a message you've received – you will be automatically taken to a payment page. Don't fall for it!
SCAM FACT: "You further understand, acknowledge, and agree that, from time-to-time, LS may contact Website and Services users and members via electronic messaging, including for example, email, instant messages, and SMS, for purposes of encouraging further or broader participation in our site's Services and/or to monitor user activity. Messages from LS will contain the uniform designation "LS" or "Love Stars" to notify the user or member that a message has been received from Love Star(s)."
The verdict on Flyrts.com
Flyrts.com is obviously not a legitimate dating service and they have no interest in joining people together to have some real-time fun. What it is serving instead, are fabricated dating profiles that are used to send computer-automated messages. It all leads to your pointless spending of hard earned money for services you are not getting.
Flyrts.com Scam Questions
Got any other questions that were left unanswered? We welcome you to post the in the comments section below and we will try to provide a personal and prompt answer to all legitimate inquiries.
Flyrts.com Contact Info
Address: Stasinou, 1 Mitsi Building 1, 1st floor, Office 4 Plateia Eleftherias, Nicosia Cyprus 1060
Email Contact: cs@flyrts.com and legal@nautellcapitalltd.com
Phone Number: 877-597-3436
Report and File a Complaint
Contact the Better Business Bureau to file a complaint and report the site if you feel you have been deceived, scammed or ripped off.