Do you like free hook ups? That's funny, so do I! In fact, we all love free hookups right. I came across the Freehookupspot site not too long ago and decided to take it for a spin (if you know what I mean). Some of the things that I learned about this site are pretty alarming. I should have know better that if it was free then it probably wasn't worth the time of day. However, I still took the chance to try it out. Here's a quick rundown of what I know about this website. Keep reading below for all the details…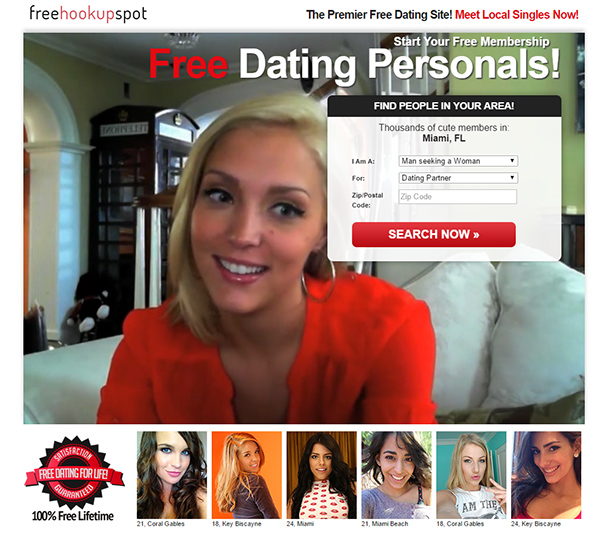 FreeHookupSpot.com Isn't Really Free Here's My Review!
Like I said, the first thing that you need to understand about this dating site is that it's not free. How did I figure this out? Well, first of all, I'm the Dating Cop! I know everything about hooking up online. Second of all, I simply joined the site and was prompted to pay for services. Now's probably a good time to cover that part of my investigation.
The Freehookupspot.com site costs anywhere between $2.97 and $119.70 depending on how long you try it for. The more expensive membership is only for 6 months! Super overpriced if you ask me! As for the features, here is what you get when you sign up.
Personal Profile
Friends List
Auto Notifications
On-site Email
Adult Clips
Webcams
Geo Search
That's about it. I know, it seems like a lot but it's honestly not that much considering the industry standards that exist today. The dating site is owned by a company that runs tons of other sites. They have plenty of video based landing pages where they use a cute girl to encourage you to fill out the form on the homepage. Some of the other sites that they own are Swipehookup.com, BangBBWs.com, and a few others. I'll tell you right now that I don't like this site and that I would not pay for a membership. You're about to find out why now.
Credit Card Required (Yet It's Free?)
One thing that I hate about this site is that they require that you provide a credit card. Why on earth would a free dating site require a C.C. is beyond me. They claim it's for verifying your age to ensure that you meet the requirements. Last time I checked, anyone could get a credit card in their name with written consent. I don't believe in this verification process one bit!
Once you enter all that credit card information, you better take a close look at what you are agreeing on. I'm more than positive that you'll get charged about $119 if you don't uncheck the VIP Membership box. It's probably the biggest waste of time and money ever spent. Don't even think about it. That's not all, though, I'm just getting started.
Do You Like Fake Chats?
Well, if so then you might have hit the motherload here. I have reason to believe that this site utilizes something known as geo-based software. They do it to help make it seem like the person contacting you is close to you. Check out the sites terms and conditions. You may be surprised to learn that the girls sending you messages on Freehookupspot.com are completely fake aka bots. That's just my personal experience using the site. Go ahead and try it out, you might get different results. All I can say is that I hate fake messages. If a site sends me a message using a bot, I rule it out immediately. They're easy to point out.
Fake Chicks?
Girls on this Freehookupspot site may not be real. How do I know that you ask? Well, it's quite simple to tell. All you need to do is take the URL and dump it into an image verification software. The reverse image software will show that lots of the images contained on this site can be found all over the internet. They spell this out in black and white in section 10 of the site. They call these girls "Love Stars" and they will not have sex with you. Trust me on that.
Shady Terms
I'm not going to go over all the terms line by line. I'm not an attorney, I'm a cop! What I can say is that they do some pretty gnarly stuff in my opinion and nothing that I can ever advise someone partake in. Screw using sites with "Love Stars," if you're looking for a nice experience, then you'll want something that only has real female users and that's it.
Company Information
Should you foolishly join and want to cancel, you can do so by contacting them directly. Here's all the info you need. I'd start with an email first.
Email: supp@freehookupspot.com
Phone: 888-671-0945
Addresses: Stasinou, 1 Mitsi Building 1, 1st floor, Office 4 Plateia Eleftherias, Nicosia Cyprus 1060
Final Site Verdict
After my full investigation, I cannot advise that anyone join this site. It's not going to help you meet women and you certainly will not get laid using this site. Instead, do yourself a solid and try one of the sites listed right below. If you don't get lucky using them let me know and I'll do something to help you get lucky!