I've recently come across what I thought was going to be a fantastic dating site. Actually, it was an app, and it was called Mixxxer. I literally had never heard of it so…me being the dating investigator that I am, I had to check it out. These busters are trying a few things that most don't and you're certainly going to want to investigate this site to the fullest extent before joining. I tested out the Mixxxer app instead of using the site. It's literally the same thing, though. Find out what I learned doing so…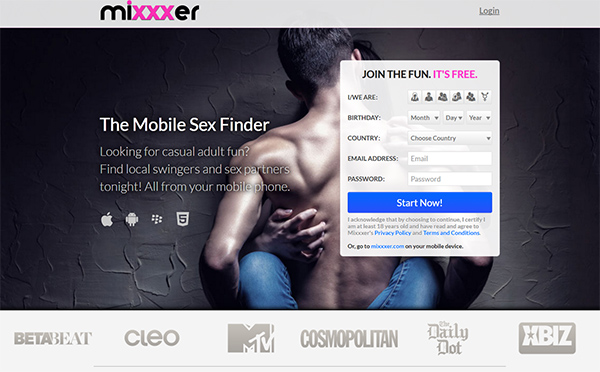 Mixxxer App Review and Rundown After Joining
Before I get into the nitty gritty of things here, let me get down to brass tacks and give you an idea of what I'm going to be covering today. I'm sticking to a couple of very important areas which I've listed below:
Price to play
Member Profiles
Site Terms
Personal Experience
That's all that I need to cover for you to make a sound decision on whether or not you want to join the Mixxxer site. Here's a simple rundown of each area starting with the cost.
Cost To Join
The cost to join this Mixxxer app and site is pretty damn cheap. In fact, it might be the cheapest I've come across in a long time. I'm talking $7.99 a month cheap. That's almost unheard of right! If you want 3-months then you're shelling out a low $19.99. Sounds too good to be true at this point. Am I right? You're thinking the same thing? Well, keep reading…
Member Profiles Aren't All Legit
Okay, so one very important thing that you need to understand about this site is that the profiles are not all real people. Some of the profiles within the members area were created by the company. Not only that, they maintain them and hire people to manage them as if they are real. That means you might get a message or IM from some user that you'll have no chance of meeting in person. The profiles are referred to as "Mixxxer Entertainers" and they are a waste of your time. Every "Mixxxer Entertainer" profile should be considered as fake. You will never meet up with this person and they have no intentions of hooking up with you. Perhaps those that are real, they may have lied on their profiles anyway, I don't know to be honest.
Why do they use these profiles?
Well, it's quite simple really. They do not have enough people joining their site on a regular basis so they probably have to flood the members area with these profiles to make it look more abundant. They can use hot fake photos to get you to think that the girls are smoking hot on the site. It's basically a marketing ploy to get you spending your money to chat with people. I'm telling you, lots of companies scam people all the time through this same tactic. It's legal but it's unethical in my personal opinion.
Terms and Conditions
The Mixxxer.com terms and conditions are pretty spot on. What they do is pretty standard across most dating sites with respect to the stunts they try and pull. See, listing out the various tactics that relieves them from a legal perspective and it's one of those things that quickly becomes more of an ethical and moral issue than anything. I'm speaking with regards to the "Entertainers" specifically that they have working on the site e.g. the contractors. I'm not going to sit here and plagiarize the terms, if you want to check it out, you can do so by reading it right here.
Company Info
The company runs a site called Socialsoft Networks, LLC and their contact info has been provided below.
They are based out of Wyoming. Here's the full address: 1603 Capitol Ave, Suite 310 A130, Cheyenne, Wyoming 82001.
If you want to email them, send a message to staff@mixxxer.com and they will likely respond pretty quickly.
Conclusion: Mixxxer Entertainers Won't Get You Laid
Simple as this, the Mixxxer profiles of entertainers are not going to help you get lucky. Instead, you'll be spending a vast amount of time working on communicating and emails some girl that doesn't have the same intentions. My advice to you would be to simply cut bait if you're using this site. If not, then don't sign up for it. A better idea would be to look into joining one of the sites below. There's a reason why I've ranked them top 5!